RockSTAR Pro Satellite Communication Device
RockSTAR Pro Satellite Communication Device
The RockSTAR Pro Satellite Communication Device Two-Way Messenger is a truly global communication device and tracking system. It allows you to send and receive short messages from anywhere on Earth with a clear view of the sky. It works far beyond the reach of WiFi and GSM networks. This device brings an added convenience to an already long line of convenient devices and equipment. Also, since it is manufactured by Rock Seven, you can always count on it to perform as you want it to.

Overview
The RockSTAR Satellite Communication Device also allows short messages (like SMS, social media updates and short emails) to be sent using a paired Bluetooth device (such as a smartphone) and the Messenger app. This allows for full two-way communication wherever you are, even when out of mobile network range.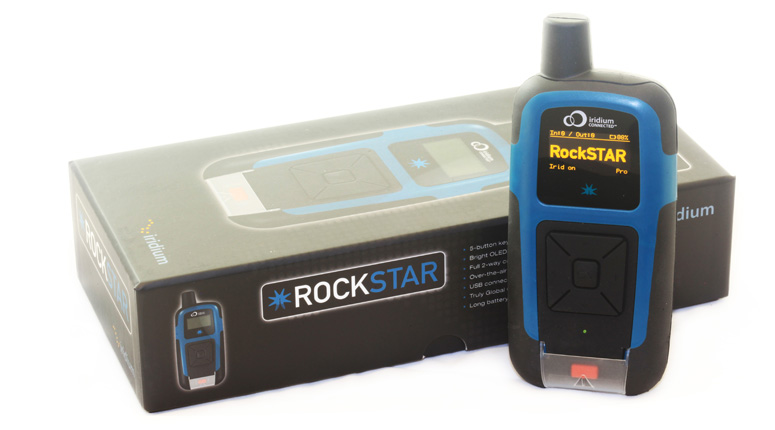 The tracker will wake up on a regular basis, obtain a position using the GPS satellite network, and then transmit that position back to Rock Seven HQ using the Iridium satellite network in seconds.
The message is then relayed from Iridium, and then visualize the positions on an easy-to-use web-based viewer. It is a convenient product and service that can help complete your global communications solution.
space
Product Details
Powered By

Internal battery, rechargeable via USB

Battery Life


Up to 3 weeks transmitting every 15 mins




Up to 3 months transmitting once per hour




Up to 12 months transmitting once per day

Tracking Options

Various tracking options from every 5 seconds to 12 hours

Alert Options

Red Button Alert




Timer Alert




Dead Man's Switch




Temperature (high/low) Alert




External Power Loss

Transmits Using

Iridium

Size

303 grams

Weight

Integration into existing devices

Waterproofing

IP-67 (submersion up to 1m for 30 mins)

Other Certifications

FCC & CE




MIL-810 F/G (Ruggedness)

Ideal For

Handheld use, personnel etc.




Temporary vehicle/yacht mounting using Soft Pouch




Permanent vehicle/yacht mounting using Quick Release Mount
| | |
| --- | --- |
| Weight | 2 lbs |
| Dimensions | 8 x 6 x 8 in |
| Brands | Rock Seven |
| | | |
| --- | --- | --- |
| Bundle |  per Credit |  Bundle Price |
|  100 Credits |  $0.14 |  $14.39 |
|  200 Credits |  $0.13 |  $26.16 |
|  500 Credits |  $0.12 |  $58.86 |
|  1000 Credits |  $0.10 |  $104.63 |
|  2000 Credits |  $0.09 |  $183.11 |
|  5000 Credits |  $0.08 |  $392.37 |
|  10000 Credits |  $0.07 |  $653.95 |
|  20000 Credits |  $0.05 |  $1,046.32 |
What's in the box?
With each RockSTAR unit you will receive
The RockSTAR unit
A multi-country USB charger
0.3m USB cable
Quick Start Card
How does it work?
RockSTAR uses the Iridium Satellite network. Specifically, it uses an Iridium service called 'Short Burst Data' (SBD). There's some official info here. At the heart of RockSTAR is an Iridium 9602 modem.
Can the RockSTAR send email or SMS messages?
Yes, you can use the device to send/receive short messages - either using the device itself, with preset messages, or by linking with an iPhone/iPad/Android device to send custom messages
Messages sent from the device itself are always sent to the group of people you nominate in the management system - i.e. any message will be sent to all configured responders, you can't choose a specific person
Messages sent via the Bluetooth link (using the Messenger app) can be sent to any destination, either e-mail address or cell/mobile phone number
In all cases, people can reply to those messages, via e-mail or SMS, and the messages will come back to either the device or the Messenger app respectively
Does the unit work indoors?
As with all satellite-based devices, the better view of the sky the unit has, the better it will perform.
RockSTAR units use two sets of satellites - GPS satellites in order to get a position fix, and Iridium satellites to transmit that position back to base. The GPS signal is weaker than the Iridium signal
Typically, if the RockSTAR is near to a window inside then it may be able to obtain a GPS fix and transmit, although it will take longer than normal, and will therefore use more battery power.
If the unit is deep inside a building then it is unlikely to be able to get a fix or transmit very well, and will therefore use up a lot of battery quite quickly. However, we have had devices transmit successfully from inside caves, fridges, under the seats of cars etc... it is possible, just not guaranteed, and not as reliable as usual.
As a rule, the better view of the sky you can provide for the RockSTAR, the better it will perform, and the longer the battery will last.
What's the difference between a RockSTAR and a Yellowbrick/YB?
RockSTAR units and YB units are both manufactured by Rock Seven, and they are identical in terms of hardware.
The difference is in the management system access, 'The Core', which you get as part of the RockSTAR package.
RockSTAR, and the accompanying management system, are designed for corporate, government and fleet use - i.e. you have multiple units, and want to manage them all from the same screen, behind a secure login.
YBs come with a cut-down 'blog' which can display one tracker at a time and is ideal for individual adventurers or expeditions, but not for fleets of units.
In short, if you are looking for a fleet of devices then the RockSTAR is the correct choice. If you are looking for a single tracker for personal use, or you are looking to rent units for a short period of time, YB would be the correct choice.