RedPort Halo Long Range WiFi Extender System
RedPort Halo Long Range WiFi Extender System
The RedPort Halo Long Range WiFi Extender System is a powerful tool for taking weak signals and boosting them, repeating it back to you up 7 miles away in perfect conditions. The Halo system then routes the signal through its own high-gain antennas which allow multiple users near each other (on boats or trucks) access your long range Internet connection seamlessly without any buffering issues!

Long Range WiFi Extender
It's a common problem: you're at a marina, truckstop, or camp and while there is free (or cheap) WiFi available, it doesn't extend past the front door of the office. Setting up the RedPort Long Range WiFi Extender on your boat (or truck, RV, etc) means that you can capture that same WiFi signal – even up to miles away.
Internet Ready
Even if you choose not to use ApolloXMail, XGate or XWeb compression web-browsing with the RedPort Halo system, you can still connect to the Internet. A subscription to services is not required for the RedPort Halo Long Range WiFi Extender System to function. Most users do subscribe to XGate and XWeb because the compression and acceleration works excellently over both regular Internet as well as satellite.
GSM and Satellite Phone Compatible
RedPort Optimizer seamlessly works with all current satellite phones and terminals and select GSM-based USB modems. With the RedPort Halo long range WiFi extender on board you can easily and quickly switch between a distant marina WiFi hotspot and your satellite system once you get out of range.
Optimized Apps
The RedPort Halo Long Range WiFi Extender System works with RedPort XGate. XGate email service is your gateway to compression email, accelerated downloads, weather files (like GRIBs) via email, compression web-browsing, and social media posting for Facebook, LinkedIn, and Twitter. XGate works will your devices, including those running: Microsoft Windows, Apple Macintosh, Linux, Apple iOS, and Google Android.
NMEA Compatible
RedPort Optimizer works as a NMEA repeater to broadcast your NMEA data (GPS location, AIS, weather data) to your navigational software on your smartphones, tablets, or computers.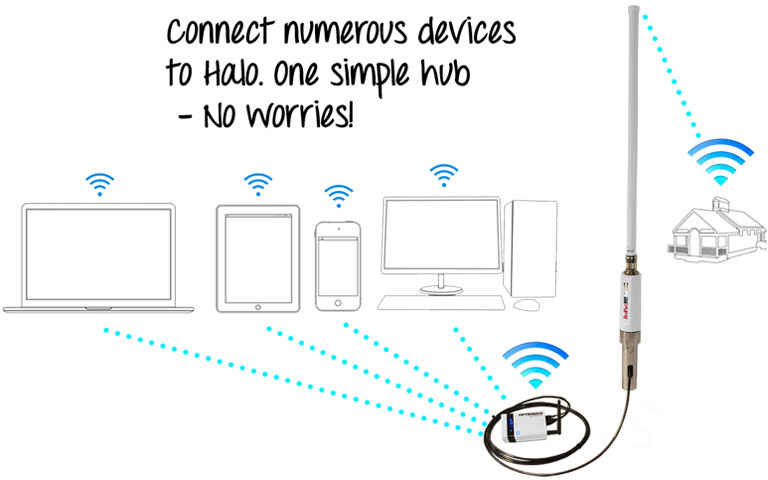 Who Uses Halo Long Range WiFi?
The RedPort Halo Long Range WiFi Extender System is perfect for anyone needing outdoor WiFi boosters to capture long distance or highly-contended WiFi signals.
Recreational Cruisers
Hallo allows cruisers and other marine WiFi users to connect to marina WiFi in ports and harbors where free or inexpensive WiFi is available. The RedPort Halo Long Range WiFi Extender System will allow you to connect to the main marina accesspoint even if you are in a distant slip or otherwise located far away from the main WiFi accesspoint.
Commercial Maritime
From commercial fishing and maritime transport, the RedPort Halo allows ships, rigs, and barges of all shapes and sizes to connect to land-based WiFi while in port or harbor.
RVs
When travelling in remote areas of the world with little or no cell coverage, Halo allows you to connect to distant WiFi accesspoints at rest stops, camps, truck stops, and motels.
Fishermen
Whether you are a commercial fishermen or go sport fishing once a month, Halo allows you to quickly and easily connect to available land WiFi when near shore.
M2M (Machine to Machine)
The RedPort Halo Long Range WiFi Extender System has such a long WiFi range that it is used in remote areas where WiFi may be available at a single hotspot, but not broadcast very far. Halo can capture that signal and rebroadcast it to trucks, teams, combines, oil wells, etc.
Truckers
When you spend your life on the road, you need to be able to sit back and relax in your cab with a good Internet connection. While in remote areas with no cell coverage, Halo allows you to connect to truck-stop WiFi even if you are parked far away.
space
| | |
| --- | --- |
| Weight | 4 lbs |
| Dimensions | 20 x 8 x 3 in |
| Brand | RedPort |
| Range | Up to 7 mile range in perfect conditions |
| Power | 12V |
| Frequency | 2.4 GHz 9 dbi Outdoor Antenna |
| Antenna Length | 28 inches not including user-supplied 1″ standard antenna mount |
| Cable | Ethernet cable for inexpensive, long runs |
| WiFi | Supports 802.11 b/g/n (2.4 GHz) |
The RedPort Halo system includes everything you need to set up a long-range outdoor WiFi booster:
Long Range WiFi Extender with Antenna
RedPort Optimizer WiFi Hotspot
10m Ethernet Cable
Stainless Steel mount for Extender
Optional Compression/Acceleration Apps
With the RedPort Halo long-range WiFi extension system, you can get WiFi from farther away, accelerate your connection by a factor of 3 to 5 times, and then share that WiFi connection throughout your boat, truck, camp, etc.