Goal Zero Torch 250 Flashlight and Phone Charger
Goal Zero Torch 250 Flashlight
With the Goal Zero Torch 250 Flashlight you get the most reliable emergency LED light to count on in any situation. It boasts a built-in USB charging cable, a solar panel, and a hand crank so you can get a nice bright light anywhere. It also has a red light for emergencies and a USB port to charge your phone. It brings convenience to the lighting and also to the charging of some of your favorite devices that you use on a daily basis.
Torch 250 Flashlight Features
Multiple Light Options for Every Situation – Use as a flashlight, floodlight or red emergency light. Save on power with bright and half-bright modes
Recharge Anywhere – Built-in USB charging cable, solar panel and hand-crank for light anywhere. Durable, rugged construction.
Stay Connected During an Outage – Integrated USB port charges phones and boosts tablets to stay connected. Long-lasting, advanced lithium battery.
space
Torch 250 Flashlight Charging
There Are Three Ways to Charge the Torch 250 Flashlight
The Sun
The 250 can be charged by the solar panel located on the back of the light. Or by connecting a compatible solar panel such as the Nomad 7 in about 7-14 hours.
USB
The 250 can also be charged by being plugged into a USB power source in about 7 hours.
Hand Crank
The 250 can also be charged using the hand crank. 1 minute of cranking can generate about 2 minutes of light.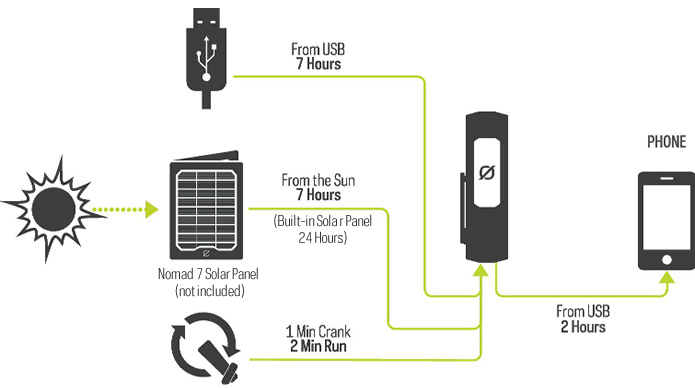 space
space
Charge Times
Goal Zero Nomad 7:

7-14 hours
Built in Solar:

23-46 hours
USB Source:

7 Hours
Run Times
Spot Light:

15 hours (low), 7 hours (high)
Flood Light:

48 hours (low), 22 hours (high)
Hand Crank:

2.2W (cranking at 120 RPM), 1 minute of crank = 2 minutes of light
Light

LED (output):

250 Lumens, 4,000 Kelvin (Color temperature)
Spot Light:

180 Lumens
Flood Light:

70 Lumens
Solar

Rated Power:

0.8W
Cell Type:

Monocrystalline
Battery

Cell Type:

Li-NMC
Cell Capacity:

16.3 Wh (3.7V, 4400mAh)
Lifecycles:

hundreds of cycles
Shelf Life:

Charge every 3-6 months
Management System:

Charging and low-battery protection built-in
Ports

USB port (output):

5V, up to 1A (5W max), regulated
USB port (input):

5V, up to 1A (5W max)
General

Chainable: No
Weight:

14.4 oz (408 g)
Dimensions:

10 x 3.5 x 1.75 in (25.4 x 8.9 x 4.5 cm)