Goal Zero Flip 20 Recharger Device
Goal Zero Flip 20 Recharger
The Flip 20 Recharger Device boasts double the power for longer excursions while away from a power source. It is designed to give multiple charges on small devices and quickly charge up from USB or even solar power. This device brings convenience to the charging of some of your favorite devices that you utilize every day. No matter where you are while you are away from a power source you can get a charge to your device.
200% Backup power for your phone
Small and portable, 5200mAh designed to give two full phone charges
Solar Ready
Charge up on the go from Goal Zero's line of portable solar panels
No Cable Needed
Flip USB for tangle-free charging - Micro-USB cable included
Pass-through Charging
Charge the Flip and a phone all at once making it very convenient

Flip 20 Recharger Powering
The Flip 20 Powers Your Devices By:
USB & Micro USB
The USB port best charges all your smaller USB powered devices. USB flip tip for charging in. USB output (with included) micro USB cable) for charging out.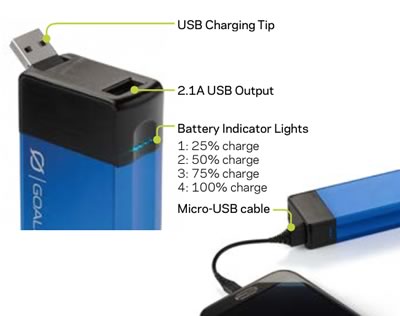 space
space
space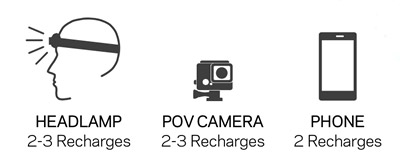 How Long Will It Take to Charge Your Device From Goal Zero Power Packs
It takes the same amount of time to charge your device from a Goal Zero power pack as it does from the wall. The Flip 20 is designed to give up to 2 charges on most phones and multiple charges on other small USB-powered devices like headlamps and POV cameras.
space
space
Charge Times

USB Output:

4 Hours
Wall:

N/A
Car:
N/A
Nomad 7 Solar Panel:

5 - 10 Hours
Battery Details

Battery Type:

Li-ion NMC
Battery Size:

18.7Wh (3.6V, 5200mAh)
Cell Type: 2x 18650 by LG chem/Samsung
Lifecycles:

hundreds of cycles
Shelf-life:

Keep plugged in, or charge every 3-6 months
Fuses

: none
Management system:

Charging and low-battery protection built-in
Ports

USB Port (output):

5V, up to 2.1A (10W max), regulated
USB Port (input):

5V, up to 1.5A (7.5W max)
General
Chainable:

No
Weight:

4.6 oz (130 g)
Dimensions:

3.7 x 1.63 x 0.83 in (9.4 x 4.1 x 2.1 cm)
Operating usage temp.:

32-104 F (0-40 C)