Goal Zero Flip 30 Recharger Device
Goal Zero Flip 30 Recharger
Discontinued - Reached End of Life on January 15, 2019
A full recharge on a tablet means you're ready to power through whatever scenic route you decide to venture down and the Goal Zero Flip 30 Recharger can keep your tablet as well as other personal devices going; even while away from a power source. It is designed to give multiple charges on small devices and also quickly charge up from USB or even solar power this charger will keep your devices going. It brings convenience to the powering of some of your favorite devices that you utilize every day in your life.
Flip 30 Features
300% Backup power for your phone
Small and portable, 7800mAh designed to give three full phone charges.
Solar Ready
Charge up on the go from Goal Zero's line of portable solar panels
No Cable Needed
Flip USB for tangle-free charging from any USB port in 5 hours. Micro-USB cable included.
Pass-through Charging
Charge the Flip and a phone all at once.
space
Flip 30 Powering
There Are Two Ways to Charge the Flip 30 Recharger
The Sun
The Flip can be charged by connecting a compatible solar panel. The Nomad 7 Solar Panel recharges the Flip 30 in 8-16 hours.
USB
It can also be charged by being plugged into a USB power source.

space
space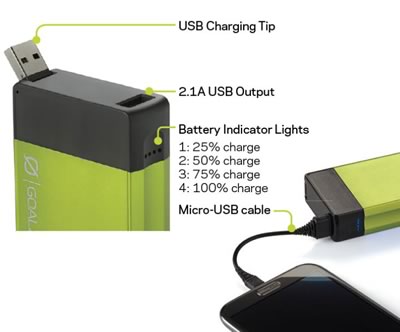 How Long Will It Take to Charge Your Device From Goal Zero Power Packs
It takes the same amount of time to charge your device from a Goal Zero power pack as it does from the wall. Flip 30 is designed to give up to 3 charges on most phones and multiple charges on other small USB-powered devices like headlamps and POV cameras.
USB & Micro USB
The USB port best charges all your smaller USB powered devices. USB flip tip for charging in. USB output (with included) micro USB cable) for charging out.
space
Charge Times

USB Output:

5 Hours
Wall:

N/A
Car:
N/A
Nomad 7 Solar Panel:

8 - 16 Hours
Battery Details

Battery Type:

Li-ion NMC
Battery Size:

28.1Wh (3.6V, 7800mAh)
Cell Type: 3x 18650 by LG chem/Samsung
Lifecycles:

hundreds of cycles
Shelf-life:

Keep plugged in, or charge every 3-6 months
Fuses

: none
Management system:

Charging and low-battery protection built-in
Ports

USB Port (output):

5V, up to 2.1A (10.5W max)
USB Port (input):

5V, up to 1.5A (7.5W max)
General
Chainable:

No
Weight:

6.8 oz (193 g)
Dimensions:

3.7 x 2.4 x 0.83 in (9.4 x 6.1 x 2.1 cm)
Operating usage temp.:

32-104 F (0-40 C)
Flip 10
Guide 10 Plus
Switch 10
Venture 30
Flip 30
Sherpa 50
Sherpa 100
Headlamp
2 Charges
5-10 Charges
12 Charges
25 Charges
Smartphone
1 Charge
3-5 Charges
7 Charges
14 Charges
GoPro
1-2 Charges
5 Charges
9 Charges
18 Charges
Digital Camera
1 Charge
3 Charges
5 Charges
10 Charges
Tablet
25% Boost
1 Charge
1-2 Charges
2-4 Charges
Laptop
N/A
N/A
1 Charge
1-2 Charges
Yeti 150
Yeti 400
LA & LI
Yeti 1250
Yeti 1400
Headlamp
37 Charges
100 Charges
200+ Charges
230+ Charges
Smartphone
15 Charges
30+ Charges
60+ Charges
70+ Charges
GoPro
25 Charges
70+ Charges
200+ Charges
230+ Charges
Digital Camera
12 Charges
20+ Charges
100+ Charges
120+ Charges
Tablet
6 Charges
10+ Charges
45+ Charges
52+ Charges
Laptop
1-2 Charges
3-5 Charges
20+ Charges
23+ Charges
Related Products
Prepaid Service Plan
Quick View
{"id":4477590568995,"title":"Iridium Global 600 Minute 1 Year Prepaid SIM","handle":"iridium-global-600-minute-1-year-prepaid-sim","description":"\u003ch5\u003eDescription\u003c\/h5\u003e\n\u003ch2 style=\"text-align: center;\"\u003eIridium Global 600 Minute 1 Year Prepaid SIM\u003c\/h2\u003e\n\u003cp style=\"text-align: center;\"\u003eThe Iridium Global 600 Minute 1 Year Prepaid SIM cards offer great value and can be used anywhere. If you have valuable unused airtime remaining, you can extend the expiry date for 30, 60 or 90 days, without having to recharge the card with more airtime.\u003c\/p\u003e\n\u003cdiv style=\"width: 48%; float: left;\"\u003e\n\u003cdiv class=\"wpb_column vc_column_container vc_col-sm-6\"\u003e\n\u003cdiv class=\"vc_column-inner \"\u003e\n\u003cdiv class=\"wpb_wrapper\"\u003e\n\u003cdiv class=\"wpb_text_column wpb_content_element \"\u003e\n\u003cdiv class=\"wpb_wrapper\"\u003e\n\u003cul\u003e\n\u003cli\u003e\u003cspan style=\"font-family: helvetica, arial, sans-serif;\"\u003eNo monthly access charges\u003c\/span\u003e\u003c\/li\u003e\n\u003cli\u003e\u003cspan style=\"font-family: helvetica, arial, sans-serif;\"\u003eMinutes valid globally\u003c\/span\u003e\u003c\/li\u003e\n\u003cli\u003e\u003cspan style=\"font-family: helvetica, arial, sans-serif;\"\u003eTwo-stage dialing service included\u003c\/span\u003e\u003c\/li\u003e\n\u003cli\u003e\u003cspan style=\"font-family: helvetica, arial, sans-serif;\"\u003eVoicemail included\u003c\/span\u003e\u003c\/li\u003e\n\u003cli\u003e\u003cspan style=\"font-family: helvetica, arial, sans-serif;\"\u003eNo fee for replenishment\u003c\/span\u003e\u003c\/li\u003e\n\u003cli\u003e\u003cspan style=\"font-family: helvetica, arial, sans-serif;\"\u003eUnused minutes can be extended if a new bundle is purchased\u003c\/span\u003e\u003c\/li\u003e\n\u003cli\u003e\u003cspan style=\"font-family: helvetica, arial, sans-serif;\"\u003e\u003cstrong\u003eFREE Services:\u003c\/strong\u003e Direct calls to Iridium phone are free for the \u003ca href=\"https:\/\/iridium.com\/\"\u003eIridium\u003c\/a\u003e owner, Voicemail, Call Forwarding, Call Barring and Incoming SMS\u003c\/span\u003e\u003c\/li\u003e\n\u003c\/ul\u003e\n\u003c\/div\u003e\n\u003c\/div\u003e\n\u003c\/div\u003e\n\u003c\/div\u003e\n\u003c\/div\u003e\n\u003c\/div\u003e\n\u003cdiv style=\"width: 50%; float: right;\"\u003e\n\u003cdiv class=\"wpb_column vc_column_container vc_col-sm-6\"\u003e\n\u003cdiv class=\"vc_column-inner \"\u003e\n\u003cdiv class=\"wpb_wrapper\"\u003e\n\u003cdiv class=\"wpb_text_column wpb_content_element \"\u003e\n\u003cdiv class=\"wpb_wrapper\"\u003e\n\u003cul\u003e\n\u003cli\u003e\u003cspan style=\"font-family: helvetica, arial, sans-serif;\"\u003eCard is permanently deactivated on the date of expiration if not recharged. Expiry dates are cumulative up to 2 years\u003c\/span\u003e\u003c\/li\u003e\n\u003cli\u003e\u003cspan style=\"font-family: helvetica, arial, sans-serif;\"\u003eCalls made to other satellite networks (Inmarsat, Globalstar \u0026amp; Thuraya) are debited at 12 minutes per each minute\u003c\/span\u003e\u003c\/li\u003e\n\u003cli\u003e\u003cspan style=\"font-family: helvetica, arial, sans-serif;\"\u003eNo credit checks or deposits required\u003c\/span\u003e\u003c\/li\u003e\n\u003cli\u003e\u003cspan style=\"font-family: helvetica, arial, sans-serif;\"\u003eWorks with ALL \u003ca href=\"https:\/\/apollosat.com\/product-category\/satellite-phones\/\"\u003eIridium Satellite Phone\u003c\/a\u003e Models\u003c\/span\u003e\u003c\/li\u003e\n\u003cli\u003e\u003cspan style=\"font-family: helvetica, arial, sans-serif;\"\u003eExtended SIM Cards roll-over remaining airtime before expiration\u003c\/span\u003e\u003c\/li\u003e\n\u003cli\u003e\u003cspan style=\"font-family: helvetica, arial, sans-serif;\"\u003eCard and airtime can remain active for up to 24 months\u003c\/span\u003e\u003c\/li\u003e\n\u003c\/ul\u003e\n\u003c\/div\u003e\n\u003c\/div\u003e\n\u003c\/div\u003e\n\u003c\/div\u003e\n\u003c\/div\u003e\n\u003c\/div\u003e\n\u003cp\u003e\u003cspan style=\"color: #ffffff;\"\u003espace\u003c\/span\u003e\u003c\/p\u003e\n\u003ch2 style=\"text-align: center;\"\u003eService Notes\u003c\/h2\u003e\n\u003cdiv style=\"width: 48%; float: left;\"\u003e\n\u003cdiv class=\"wpb_column vc_column_container vc_col-sm-6\"\u003e\n\u003cdiv class=\"vc_column-inner \"\u003e\n\u003cdiv class=\"wpb_wrapper\"\u003e\n\u003cdiv class=\"wpb_text_column wpb_content_element \"\u003e\n\u003cdiv class=\"wpb_wrapper\"\u003e\n\u003cul\u003e\n\u003cli\u003e\u003cspan style=\"font-family: helvetica, arial, sans-serif;\"\u003eCalls are debited in 20-second increments – When making Iridium-to-Iridium voice calls, calls are debited at half the rate of an Iridium-to-Landline call\u003c\/span\u003e\u003c\/li\u003e\n\u003cli\u003e\u003cspan style=\"font-family: helvetica, arial, sans-serif;\"\u003e(Example: If a user were to exclusively make Iridium-to-Iridium calls, the 500-minute plan would actually produce 1000 minutes (2X the minutes) for the satellite user)\u003c\/span\u003e\u003c\/li\u003e\n\u003cli\u003e\u003cspan style=\"font-family: helvetica, arial, sans-serif;\"\u003eUnused minutes are forfeited upon expiration – Card is permanently deactivated 270 days after expiry if not recharged – Expiry dates are cumulative up to 2 years\u003c\/span\u003e\u003c\/li\u003e\n\u003cli\u003e\u003cspan style=\"font-family: helvetica, arial, sans-serif;\"\u003eOutgoing SMS (i.e. text messaging) are debited in 20-second increments, for qualifying prepaid plans\u003c\/span\u003e\u003c\/li\u003e\n\u003cli\u003e\u003cspan style=\"font-family: helvetica, arial, sans-serif;\"\u003e\u003cstrong\u003eFREE Services:\u003c\/strong\u003e Voicemail, Call Forwarding, Call Barring and Incoming SMS\u003c\/span\u003e\u003c\/li\u003e\n\u003c\/ul\u003e\n\u003c\/div\u003e\n\u003c\/div\u003e\n\u003c\/div\u003e\n\u003c\/div\u003e\n\u003c\/div\u003e\n\u003c\/div\u003e\n\u003cdiv style=\"width: 50%; float: right;\"\u003e\n\u003cdiv class=\"wpb_column vc_column_container vc_col-sm-6\"\u003e\n\u003cdiv class=\"vc_column-inner \"\u003e\n\u003cdiv class=\"wpb_wrapper\"\u003e\n\u003cdiv class=\"wpb_text_column wpb_content_element \"\u003e\n\u003cdiv class=\"wpb_wrapper\"\u003e\n\u003cul\u003e\n\u003cli\u003e\u003cspan style=\"font-family: helvetica, arial, sans-serif;\"\u003eAll plans are subject to applicable taxes\u003c\/span\u003e\u003c\/li\u003e\n\u003cli\u003e\u003cspan style=\"font-family: helvetica, arial, sans-serif;\"\u003ePlease allow two business days for processing of orders\u003c\/span\u003e\u003c\/li\u003e\n\u003cli\u003e\u003cspan style=\"font-family: helvetica, arial, sans-serif;\"\u003eRush options available\u003c\/span\u003e\u003c\/li\u003e\n\u003cli\u003e\u003cspan style=\"font-family: helvetica, arial, sans-serif;\"\u003eRecharges on prepaid plans are activated on invoice date\u003c\/span\u003e\u003c\/li\u003e\n\u003cli\u003e\u003cspan style=\"font-family: helvetica, arial, sans-serif;\"\u003eRecharge minutes are cumulative up to 16666 minutes\u003c\/span\u003e\u003c\/li\u003e\n\u003cli\u003e\u003cspan style=\"font-family: helvetica, arial, sans-serif;\"\u003eQuery remaining minutes from \u003ca href=\"https:\/\/iridium.com\/\"\u003eIridium\u003c\/a\u003e phone by dialing 2888\u003c\/span\u003e\u003c\/li\u003e\n\u003cli\u003e\u003cspan style=\"font-family: helvetica, arial, sans-serif;\"\u003eNo Refunds on Prepaid Service Orders\u003c\/span\u003e\u003c\/li\u003e\n\u003cli\u003e\u003cspan style=\"font-family: helvetica, arial, sans-serif;\"\u003eRemaining minutes are announced before each call made\u003c\/span\u003e\u003c\/li\u003e\n\u003cli\u003e\u003cspan style=\"font-family: helvetica, arial, sans-serif;\"\u003eTo query minutes: Use toll-free number 2888 from \u003ca href=\"https:\/\/apollosat.com\/product-category\/satellite-phones\/\"\u003eIridium satellite phone\u003c\/a\u003e\u003c\/span\u003e\u003c\/li\u003e\n\u003cli\u003e\u003cspan style=\"font-family: helvetica, arial, sans-serif;\"\u003eAll prepaid and monthly pricing plans subject to change\u003c\/span\u003e\u003c\/li\u003e\n\u003c\/ul\u003e\n\u003c\/div\u003e\n\u003c\/div\u003e\n\u003c\/div\u003e\n\u003c\/div\u003e\n\u003c\/div\u003e\n\u003c\/div\u003e\n\u003cp\u003e\u003cspan style=\"color: #ffffff;\"\u003espace\u003c\/span\u003e\u003c\/p\u003e\n\u003ch5\u003eSpecifications\u003c\/h5\u003e\n\u003ctable class=\"shop_attributes\"\u003e\n\u003ctbody\u003e\n\u003ctr\u003e\n\u003ctd\u003e\u003cstrong\u003eWeight\u003c\/strong\u003e\u003c\/td\u003e\n\u003ctd class=\"product_weight\"\u003e.5 lbs\u003c\/td\u003e\n\u003c\/tr\u003e\n\u003ctr\u003e\n\u003ctd\u003e\u003cstrong\u003eDimensions\u003c\/strong\u003e\u003c\/td\u003e\n\u003ctd class=\"product_dimensions\"\u003e7 x 5 x .15 in\u003c\/td\u003e\n\u003c\/tr\u003e\n\u003ctr\u003e\n\u003ctd\u003e\u003cstrong\u003eValidity\u003c\/strong\u003e\u003c\/td\u003e\n\u003ctd\u003e1 Year \/ 365 Days\u003c\/td\u003e\n\u003c\/tr\u003e\n\u003ctr\u003e\n\u003ctd\u003e\u003cstrong\u003eRegion\u003c\/strong\u003e\u003c\/td\u003e\n\u003ctd\u003eWorldwide \/ Global\u003c\/td\u003e\n\u003c\/tr\u003e\n\u003ctr\u003e\n\u003ctd\u003e\u003cstrong\u003ePer Min Rate\u003c\/strong\u003e\u003c\/td\u003e\n\u003ctd\u003eVoice: $1.45 \/ Min\u003c\/td\u003e\n\u003c\/tr\u003e\n\u003ctr\u003e\n\u003ctd\u003e\u003cstrong\u003eCan Recharge Airtime?\u003c\/strong\u003e\u003c\/td\u003e\n\u003ctd\u003eYes, within 90 Days of SIM Expiration.\u003c\/td\u003e\n\u003c\/tr\u003e\n\u003ctr\u003e\n\u003ctd\u003e\u003cstrong\u003eCompatible Equipment\u003c\/strong\u003e\u003c\/td\u003e\n\u003ctd\u003eAll Iridium SIM based devices.\u003c\/td\u003e\n\u003c\/tr\u003e\n\u003ctr\u003e\n\u003ctd\u003e\u003cstrong\u003eBrands\u003c\/strong\u003e\u003c\/td\u003e\n\u003ctd\u003e\u003ca href=\"https:\/\/apollosat.com\/brands\/iridium\/\" rel=\"tag\"\u003eIridium\u003c\/a\u003e\u003c\/td\u003e\n\u003c\/tr\u003e\n\u003c\/tbody\u003e\n\u003c\/table\u003e\n\u003ch5\u003eFeatures\u003c\/h5\u003e\n\u003cul\u003e\n\u003cli\u003eNo Monthly Fee and Attractive Pricing: Iridium offers prepaid data and voice service with no monthly fee - Plus, with prepaid pricing in line with traditional postpaid pricing, Iridium users can opt for either prepaid or postpaid services without fear of being penalized for choosing one over the other\u003c\/li\u003e\n\u003cli\u003e12 Months of validity - The Iridium 500 Minute Prepaid SIM Card is loaded with 500 satellite phone minutes that can be used anywhere in the world  Lifetime of minutes is 365 Days\u003c\/li\u003e\n\u003cli\u003eValidity time of minutes can be extended by adding more minutes prior to expiry, however all unused minutes will expire three years after the date they were originally loaded\u003c\/li\u003e\n\u003c\/ul\u003e\n\u003ch5\u003eBurn Rates\u003c\/h5\u003e\n\u003cp\u003e\u003cspan style=\"font-family: helvetica, arial, sans-serif;\"\u003eThe chart below shows how fast your minutes will be gone through for which service you are connecting to with your device using units. How it works is this: \u003c\/span\u003e\u003c\/p\u003e\n\u003col\u003e\n\u003cli\u003e\u003cspan style=\"font-family: helvetica, arial, sans-serif;\"\u003eFind your SIM card on the top chart with their corresponding units (standard cards are listed)\u003c\/span\u003e\u003c\/li\u003e\n\u003cli\u003e\u003cspan style=\"font-family: helvetica, arial, sans-serif;\"\u003eFind the service you are connecting to with the other charts whether it is an incoming or outgoing connection\u003c\/span\u003e\u003c\/li\u003e\n\u003cli\u003e\u003cspan style=\"font-family: helvetica, arial, sans-serif;\"\u003eThe number of units listed for the service you are connecting to are per minute\u003c\/span\u003e\u003c\/li\u003e\n\u003c\/ol\u003e\n\u003cp\u003e\u003cspan style=\"font-family: helvetica, arial, sans-serif;\"\u003eFor example, if you are making an outgoing call to a cellular phone look at the chart below and find \"cellular\" in the \"Outgoing\" chart. You will see that it uses 60 units and that's for every minute so let's say you are on the phone for 5 minutes; this would use 300 total units.\u003c\/span\u003e\u003c\/p\u003e\n\u003ctable style=\"height: 130px;\" width=\"800\" align=\"center\"\u003e\n\u003ctbody\u003e\n\u003ctr\u003e\n\u003ctd style=\"width: 126px; text-align: center;\"\u003e\u003cspan style=\"font-family: helvetica, arial, sans-serif;\"\u003e\u003cstrong\u003eStandard Prepaid Cards\u003c\/strong\u003e\u003c\/span\u003e\u003c\/td\u003e\n\u003ctd style=\"width: 126px; text-align: center;\"\u003e\u003cspan style=\"font-family: helvetica, arial, sans-serif;\"\u003e\u003cstrong\u003e75 Min\u003c\/strong\u003e\u003c\/span\u003e\u003c\/td\u003e\n\u003ctd style=\"width: 126px; text-align: center;\"\u003e\u003cspan style=\"font-family: helvetica, arial, sans-serif;\"\u003e\u003cstrong\u003e150 Min\u003c\/strong\u003e\u003c\/span\u003e\u003c\/td\u003e\n\u003ctd style=\"width: 127px; text-align: center;\"\u003e\u003cspan style=\"font-family: helvetica, arial, sans-serif;\"\u003e\u003cstrong\u003e200 Min\u003c\/strong\u003e\u003c\/span\u003e\u003c\/td\u003e\n\u003ctd style=\"width: 127px; text-align: center;\"\u003e\u003cspan style=\"font-family: helvetica, arial, sans-serif;\"\u003e\u003cstrong\u003e300 Min\u003c\/strong\u003e\u003c\/span\u003e\u003c\/td\u003e\n\u003ctd style=\"width: 127px; text-align: center;\"\u003e\u003cspan style=\"font-family: helvetica, arial, sans-serif;\"\u003e\u003cstrong\u003e500 Min\u003c\/strong\u003e\u003c\/span\u003e\u003c\/td\u003e\n\u003ctd style=\"width: 127px; text-align: center;\"\u003e\u003cspan style=\"font-family: helvetica, arial, sans-serif;\"\u003e\u003cstrong\u003e750 Min\u003c\/strong\u003e\u003c\/span\u003e\u003c\/td\u003e\n\u003c\/tr\u003e\n\u003ctr\u003e\n\u003ctd style=\"width: 126px; text-align: center;\"\u003e\u003cspan style=\"font-family: helvetica, arial, sans-serif;\"\u003e\u003cstrong\u003eTotal Units\u003c\/strong\u003e\u003c\/span\u003e\u003c\/td\u003e\n\u003ctd style=\"width: 126px; text-align: center;\"\u003e\u003cspan style=\"font-family: helvetica, arial, sans-serif;\"\u003e4,500\u003c\/span\u003e\u003c\/td\u003e\n\u003ctd style=\"width: 126px; text-align: center;\"\u003e\u003cspan style=\"font-family: helvetica, arial, sans-serif;\"\u003e9,000\u003c\/span\u003e\u003c\/td\u003e\n\u003ctd style=\"width: 127px; text-align: center;\"\u003e\u003cspan style=\"font-family: helvetica, arial, sans-serif;\"\u003e12,000\u003c\/span\u003e\u003c\/td\u003e\n\u003ctd style=\"width: 127px; text-align: center;\"\u003e\u003cspan style=\"font-family: helvetica, arial, sans-serif;\"\u003e18,000\u003c\/span\u003e\u003c\/td\u003e\n\u003ctd style=\"width: 127px; text-align: center;\"\u003e\u003cspan style=\"font-family: helvetica, arial, sans-serif;\"\u003e30,000\u003c\/span\u003e\u003c\/td\u003e\n\u003ctd style=\"width: 127px; text-align: center;\"\u003e\u003cspan style=\"font-family: helvetica, arial, sans-serif;\"\u003e45,000\u003c\/span\u003e\u003c\/td\u003e\n\u003c\/tr\u003e\n\u003c\/tbody\u003e\n\u003c\/table\u003e\n\u003cp\u003e \u003c\/p\u003e\n\u003ch2 style=\"text-align: center;\"\u003e\u003cspan style=\"font-family: helvetica, arial, sans-serif;\"\u003eIncoming\u003c\/span\u003e\u003c\/h2\u003e\n\u003ctable style=\"height: 130px;\" width=\"800\" align=\"center\"\u003e\n\u003ctbody\u003e\n\u003ctr\u003e\n\u003ctd style=\"width: 126px; text-align: center;\"\u003e\u003cstrong\u003e\u003cspan style=\"font-family: helvetica, arial, sans-serif;\"\u003eLandline\/cellular\u003c\/span\u003e\u003c\/strong\u003e\u003c\/td\u003e\n\u003ctd style=\"width: 126px; text-align: center;\"\u003e\u003cspan style=\"font-family: helvetica, arial, sans-serif;\"\u003eFree\u003c\/span\u003e\u003c\/td\u003e\n\u003c\/tr\u003e\n\u003ctr\u003e\n\u003ctd style=\"width: 126px; text-align: center;\"\u003e\u003cstrong\u003e\u003cspan style=\"font-family: helvetica, arial, sans-serif;\"\u003eSMS\/Text messages\u003c\/span\u003e\u003c\/strong\u003e\u003c\/td\u003e\n\u003ctd style=\"width: 126px; text-align: center;\"\u003e\u003cspan style=\"font-family: helvetica, arial, sans-serif;\"\u003eFree\u003c\/span\u003e\u003c\/td\u003e\n\u003c\/tr\u003e\n\u003ctr\u003e\n\u003ctd style=\"width: 126px; text-align: center;\"\u003e\u003cspan style=\"font-family: helvetica, arial, sans-serif;\"\u003e\u003cstrong\u003eTwo-stage dialing\u003c\/strong\u003e\u003c\/span\u003e\u003c\/td\u003e\n\u003ctd style=\"width: 126px; text-align: center;\"\u003e\u003cspan style=\"font-family: helvetica, arial, sans-serif;\"\u003e60 units\u003c\/span\u003e\u003c\/td\u003e\n\u003c\/tr\u003e\n\u003c\/tbody\u003e\n\u003c\/table\u003e\n\u003cp\u003e \u003c\/p\u003e\n\u003ch2 style=\"text-align: center;\"\u003e\u003cspan style=\"font-family: helvetica, arial, sans-serif;\"\u003eOutgoing\u003c\/span\u003e\u003c\/h2\u003e\n\u003ctable style=\"height: 130px;\" width=\"800\" align=\"center\"\u003e\n\u003ctbody\u003e\n\u003ctr\u003e\n\u003ctd style=\"width: 126px; text-align: center;\"\u003e\u003cstrong\u003e\u003cspan style=\"font-family: helvetica, arial, sans-serif;\"\u003eLandline\/cellular\u003c\/span\u003e\u003c\/strong\u003e\u003c\/td\u003e\n\u003ctd style=\"width: 126px; text-align: center;\"\u003e\u003cspan style=\"font-family: helvetica, arial, sans-serif;\"\u003e60 units\u003c\/span\u003e\u003c\/td\u003e\n\u003c\/tr\u003e\n\u003ctr\u003e\n\u003ctd style=\"width: 126px; text-align: center;\"\u003e\u003cstrong\u003e\u003cspan style=\"font-family: helvetica, arial, sans-serif;\"\u003eVoicemail Retrieval\u003c\/span\u003e\u003c\/strong\u003e\u003c\/td\u003e\n\u003ctd style=\"width: 126px; text-align: center;\"\u003e\u003cspan style=\"font-family: helvetica, arial, sans-serif;\"\u003e30 units\u003c\/span\u003e\u003c\/td\u003e\n\u003c\/tr\u003e\n\u003ctr\u003e\n\u003ctd style=\"width: 126px; text-align: center;\"\u003e\u003cspan style=\"font-family: helvetica, arial, sans-serif;\"\u003e\u003cstrong\u003eOther Iridium\u003c\/strong\u003e\u003c\/span\u003e\u003c\/td\u003e\n\u003ctd style=\"width: 126px; text-align: center;\"\u003e\u003cspan style=\"font-family: helvetica, arial, sans-serif;\"\u003e30 units\u003c\/span\u003e\u003c\/td\u003e\n\u003c\/tr\u003e\n\u003ctr\u003e\n\u003ctd style=\"width: 126px; text-align: center;\"\u003e\u003cspan style=\"font-family: helvetica, arial, sans-serif;\"\u003e\u003cstrong\u003eOther satellite network\u003c\/strong\u003e\u003c\/span\u003e\u003c\/td\u003e\n\u003ctd style=\"width: 126px; text-align: center;\"\u003e\u003cspan style=\"font-family: helvetica, arial, sans-serif;\"\u003e540 units\u003c\/span\u003e\u003c\/td\u003e\n\u003c\/tr\u003e\n\u003ctr\u003e\n\u003ctd style=\"width: 126px; text-align: center;\"\u003e\u003cspan style=\"font-family: helvetica, arial, sans-serif;\"\u003e\u003cb\u003eSMS\/Text messages\u003c\/b\u003e\u003c\/span\u003e\u003c\/td\u003e\n\u003ctd style=\"width: 126px; text-align: center;\"\u003e\u003cspan style=\"font-family: helvetica, arial, sans-serif;\"\u003e20 units\/msg\u003c\/span\u003e\u003c\/td\u003e\n\u003c\/tr\u003e\n\u003ctr\u003e\n\u003ctd style=\"width: 126px; text-align: center;\"\u003e\u003cspan style=\"font-family: helvetica, arial, sans-serif;\"\u003e\u003cstrong\u003eData\u003c\/strong\u003e\u003c\/span\u003e\u003c\/td\u003e\n\u003ctd style=\"width: 126px; text-align: center;\"\u003e\u003cspan style=\"font-family: helvetica, arial, sans-serif;\"\u003e60 units\u003c\/span\u003e\u003c\/td\u003e\n\u003c\/tr\u003e\n\u003c\/tbody\u003e\n\u003c\/table\u003e","published_at":"2020-03-17T15:18:25-07:00","created_at":"2020-03-17T15:18:25-07:00","vendor":"Apollo","type":"Prepaid Service Plan","tags":["Coverage Area_True Global","Device_9505A","Device_9555","Device_9575 Extreme","Device_9575 Extreme PTT","Feature_Rechargeable","Feature_Rollover","Network_Iridium","Type_Prepaid","Validity_1 Year"],"price":85000,"price_min":85000,"price_max":85000,"available":true,"price_varies":false,"compare_at_price":null,"compare_at_price_min":0,"compare_at_price_max":0,"compare_at_price_varies":false,"variants":[{"id":31823693742115,"title":"Default Title","option1":"Default Title","option2":null,"option3":null,"sku":"IR-Pre-SIM-600","requires_shipping":true,"taxable":true,"featured_image":null,"available":true,"name":"Iridium Global 600 Minute 1 Year Prepaid SIM","public_title":null,"options":["Default Title"],"price":85000,"weight":227,"compare_at_price":null,"inventory_management":"shopify","barcode":""}],"images":["\/\/cdn.shopify.com\/s\/files\/1\/2962\/4800\/products\/IridiumSIM-600Minute_ApolloSatellite_1200.jpg?v=1584483864","\/\/cdn.shopify.com\/s\/files\/1\/2962\/4800\/products\/SIMCard_IridiumCoverageMap_FeaturedImage_1200-1_6876d097-0bcf-48d3-9b03-5f88caae33a0.jpg?v=1584581477","\/\/cdn.shopify.com\/s\/files\/1\/2962\/4800\/products\/iridium_coverage_89be8c3d-73c1-4411-bfbd-329dce9c5422.jpg?v=1584581477"],"featured_image":"\/\/cdn.shopify.com\/s\/files\/1\/2962\/4800\/products\/IridiumSIM-600Minute_ApolloSatellite_1200.jpg?v=1584483864","options":["Title"],"media":[{"alt":"Iridium Global 600 Minute 1 Year Prepaid SIM - Apollo Satellite","id":6837498642467,"position":1,"preview_image":{"aspect_ratio":0.889,"height":1200,"width":1067,"src":"https:\/\/cdn.shopify.com\/s\/files\/1\/2962\/4800\/products\/IridiumSIM-600Minute_ApolloSatellite_1200.jpg?v=1584483830"},"aspect_ratio":0.889,"height":1200,"media_type":"image","src":"https:\/\/cdn.shopify.com\/s\/files\/1\/2962\/4800\/products\/IridiumSIM-600Minute_ApolloSatellite_1200.jpg?v=1584483830","width":1067},{"alt":"Iridium Global 600 Minute 1 Year Prepaid SIM - Apollo Satellite","id":6837465743395,"position":2,"preview_image":{"aspect_ratio":0.889,"height":1200,"width":1067,"src":"https:\/\/cdn.shopify.com\/s\/files\/1\/2962\/4800\/products\/SIMCard_IridiumCoverageMap_FeaturedImage_1200-1_6876d097-0bcf-48d3-9b03-5f88caae33a0.jpg?v=1584483507"},"aspect_ratio":0.889,"height":1200,"media_type":"image","src":"https:\/\/cdn.shopify.com\/s\/files\/1\/2962\/4800\/products\/SIMCard_IridiumCoverageMap_FeaturedImage_1200-1_6876d097-0bcf-48d3-9b03-5f88caae33a0.jpg?v=1584483507","width":1067},{"alt":"Iridium Global 600 Minute 1 Year Prepaid SIM - Apollo Satellite","id":6837465776163,"position":3,"preview_image":{"aspect_ratio":1.916,"height":359,"width":688,"src":"https:\/\/cdn.shopify.com\/s\/files\/1\/2962\/4800\/products\/iridium_coverage_89be8c3d-73c1-4411-bfbd-329dce9c5422.jpg?v=1584483507"},"aspect_ratio":1.916,"height":359,"media_type":"image","src":"https:\/\/cdn.shopify.com\/s\/files\/1\/2962\/4800\/products\/iridium_coverage_89be8c3d-73c1-4411-bfbd-329dce9c5422.jpg?v=1584483507","width":688}],"content":"\u003ch5\u003eDescription\u003c\/h5\u003e\n\u003ch2 style=\"text-align: center;\"\u003eIridium Global 600 Minute 1 Year Prepaid SIM\u003c\/h2\u003e\n\u003cp style=\"text-align: center;\"\u003eThe Iridium Global 600 Minute 1 Year Prepaid SIM cards offer great value and can be used anywhere. If you have valuable unused airtime remaining, you can extend the expiry date for 30, 60 or 90 days, without having to recharge the card with more airtime.\u003c\/p\u003e\n\u003cdiv style=\"width: 48%; float: left;\"\u003e\n\u003cdiv class=\"wpb_column vc_column_container vc_col-sm-6\"\u003e\n\u003cdiv class=\"vc_column-inner \"\u003e\n\u003cdiv class=\"wpb_wrapper\"\u003e\n\u003cdiv class=\"wpb_text_column wpb_content_element \"\u003e\n\u003cdiv class=\"wpb_wrapper\"\u003e\n\u003cul\u003e\n\u003cli\u003e\u003cspan style=\"font-family: helvetica, arial, sans-serif;\"\u003eNo monthly access charges\u003c\/span\u003e\u003c\/li\u003e\n\u003cli\u003e\u003cspan style=\"font-family: helvetica, arial, sans-serif;\"\u003eMinutes valid globally\u003c\/span\u003e\u003c\/li\u003e\n\u003cli\u003e\u003cspan style=\"font-family: helvetica, arial, sans-serif;\"\u003eTwo-stage dialing service included\u003c\/span\u003e\u003c\/li\u003e\n\u003cli\u003e\u003cspan style=\"font-family: helvetica, arial, sans-serif;\"\u003eVoicemail included\u003c\/span\u003e\u003c\/li\u003e\n\u003cli\u003e\u003cspan style=\"font-family: helvetica, arial, sans-serif;\"\u003eNo fee for replenishment\u003c\/span\u003e\u003c\/li\u003e\n\u003cli\u003e\u003cspan style=\"font-family: helvetica, arial, sans-serif;\"\u003eUnused minutes can be extended if a new bundle is purchased\u003c\/span\u003e\u003c\/li\u003e\n\u003cli\u003e\u003cspan style=\"font-family: helvetica, arial, sans-serif;\"\u003e\u003cstrong\u003eFREE Services:\u003c\/strong\u003e Direct calls to Iridium phone are free for the \u003ca href=\"https:\/\/iridium.com\/\"\u003eIridium\u003c\/a\u003e owner, Voicemail, Call Forwarding, Call Barring and Incoming SMS\u003c\/span\u003e\u003c\/li\u003e\n\u003c\/ul\u003e\n\u003c\/div\u003e\n\u003c\/div\u003e\n\u003c\/div\u003e\n\u003c\/div\u003e\n\u003c\/div\u003e\n\u003c\/div\u003e\n\u003cdiv style=\"width: 50%; float: right;\"\u003e\n\u003cdiv class=\"wpb_column vc_column_container vc_col-sm-6\"\u003e\n\u003cdiv class=\"vc_column-inner \"\u003e\n\u003cdiv class=\"wpb_wrapper\"\u003e\n\u003cdiv class=\"wpb_text_column wpb_content_element \"\u003e\n\u003cdiv class=\"wpb_wrapper\"\u003e\n\u003cul\u003e\n\u003cli\u003e\u003cspan style=\"font-family: helvetica, arial, sans-serif;\"\u003eCard is permanently deactivated on the date of expiration if not recharged. Expiry dates are cumulative up to 2 years\u003c\/span\u003e\u003c\/li\u003e\n\u003cli\u003e\u003cspan style=\"font-family: helvetica, arial, sans-serif;\"\u003eCalls made to other satellite networks (Inmarsat, Globalstar \u0026amp; Thuraya) are debited at 12 minutes per each minute\u003c\/span\u003e\u003c\/li\u003e\n\u003cli\u003e\u003cspan style=\"font-family: helvetica, arial, sans-serif;\"\u003eNo credit checks or deposits required\u003c\/span\u003e\u003c\/li\u003e\n\u003cli\u003e\u003cspan style=\"font-family: helvetica, arial, sans-serif;\"\u003eWorks with ALL \u003ca href=\"https:\/\/apollosat.com\/product-category\/satellite-phones\/\"\u003eIridium Satellite Phone\u003c\/a\u003e Models\u003c\/span\u003e\u003c\/li\u003e\n\u003cli\u003e\u003cspan style=\"font-family: helvetica, arial, sans-serif;\"\u003eExtended SIM Cards roll-over remaining airtime before expiration\u003c\/span\u003e\u003c\/li\u003e\n\u003cli\u003e\u003cspan style=\"font-family: helvetica, arial, sans-serif;\"\u003eCard and airtime can remain active for up to 24 months\u003c\/span\u003e\u003c\/li\u003e\n\u003c\/ul\u003e\n\u003c\/div\u003e\n\u003c\/div\u003e\n\u003c\/div\u003e\n\u003c\/div\u003e\n\u003c\/div\u003e\n\u003c\/div\u003e\n\u003cp\u003e\u003cspan style=\"color: #ffffff;\"\u003espace\u003c\/span\u003e\u003c\/p\u003e\n\u003ch2 style=\"text-align: center;\"\u003eService Notes\u003c\/h2\u003e\n\u003cdiv style=\"width: 48%; float: left;\"\u003e\n\u003cdiv class=\"wpb_column vc_column_container vc_col-sm-6\"\u003e\n\u003cdiv class=\"vc_column-inner \"\u003e\n\u003cdiv class=\"wpb_wrapper\"\u003e\n\u003cdiv class=\"wpb_text_column wpb_content_element \"\u003e\n\u003cdiv class=\"wpb_wrapper\"\u003e\n\u003cul\u003e\n\u003cli\u003e\u003cspan style=\"font-family: helvetica, arial, sans-serif;\"\u003eCalls are debited in 20-second increments – When making Iridium-to-Iridium voice calls, calls are debited at half the rate of an Iridium-to-Landline call\u003c\/span\u003e\u003c\/li\u003e\n\u003cli\u003e\u003cspan style=\"font-family: helvetica, arial, sans-serif;\"\u003e(Example: If a user were to exclusively make Iridium-to-Iridium calls, the 500-minute plan would actually produce 1000 minutes (2X the minutes) for the satellite user)\u003c\/span\u003e\u003c\/li\u003e\n\u003cli\u003e\u003cspan style=\"font-family: helvetica, arial, sans-serif;\"\u003eUnused minutes are forfeited upon expiration – Card is permanently deactivated 270 days after expiry if not recharged – Expiry dates are cumulative up to 2 years\u003c\/span\u003e\u003c\/li\u003e\n\u003cli\u003e\u003cspan style=\"font-family: helvetica, arial, sans-serif;\"\u003eOutgoing SMS (i.e. text messaging) are debited in 20-second increments, for qualifying prepaid plans\u003c\/span\u003e\u003c\/li\u003e\n\u003cli\u003e\u003cspan style=\"font-family: helvetica, arial, sans-serif;\"\u003e\u003cstrong\u003eFREE Services:\u003c\/strong\u003e Voicemail, Call Forwarding, Call Barring and Incoming SMS\u003c\/span\u003e\u003c\/li\u003e\n\u003c\/ul\u003e\n\u003c\/div\u003e\n\u003c\/div\u003e\n\u003c\/div\u003e\n\u003c\/div\u003e\n\u003c\/div\u003e\n\u003c\/div\u003e\n\u003cdiv style=\"width: 50%; float: right;\"\u003e\n\u003cdiv class=\"wpb_column vc_column_container vc_col-sm-6\"\u003e\n\u003cdiv class=\"vc_column-inner \"\u003e\n\u003cdiv class=\"wpb_wrapper\"\u003e\n\u003cdiv class=\"wpb_text_column wpb_content_element \"\u003e\n\u003cdiv class=\"wpb_wrapper\"\u003e\n\u003cul\u003e\n\u003cli\u003e\u003cspan style=\"font-family: helvetica, arial, sans-serif;\"\u003eAll plans are subject to applicable taxes\u003c\/span\u003e\u003c\/li\u003e\n\u003cli\u003e\u003cspan style=\"font-family: helvetica, arial, sans-serif;\"\u003ePlease allow two business days for processing of orders\u003c\/span\u003e\u003c\/li\u003e\n\u003cli\u003e\u003cspan style=\"font-family: helvetica, arial, sans-serif;\"\u003eRush options available\u003c\/span\u003e\u003c\/li\u003e\n\u003cli\u003e\u003cspan style=\"font-family: helvetica, arial, sans-serif;\"\u003eRecharges on prepaid plans are activated on invoice date\u003c\/span\u003e\u003c\/li\u003e\n\u003cli\u003e\u003cspan style=\"font-family: helvetica, arial, sans-serif;\"\u003eRecharge minutes are cumulative up to 16666 minutes\u003c\/span\u003e\u003c\/li\u003e\n\u003cli\u003e\u003cspan style=\"font-family: helvetica, arial, sans-serif;\"\u003eQuery remaining minutes from \u003ca href=\"https:\/\/iridium.com\/\"\u003eIridium\u003c\/a\u003e phone by dialing 2888\u003c\/span\u003e\u003c\/li\u003e\n\u003cli\u003e\u003cspan style=\"font-family: helvetica, arial, sans-serif;\"\u003eNo Refunds on Prepaid Service Orders\u003c\/span\u003e\u003c\/li\u003e\n\u003cli\u003e\u003cspan style=\"font-family: helvetica, arial, sans-serif;\"\u003eRemaining minutes are announced before each call made\u003c\/span\u003e\u003c\/li\u003e\n\u003cli\u003e\u003cspan style=\"font-family: helvetica, arial, sans-serif;\"\u003eTo query minutes: Use toll-free number 2888 from \u003ca href=\"https:\/\/apollosat.com\/product-category\/satellite-phones\/\"\u003eIridium satellite phone\u003c\/a\u003e\u003c\/span\u003e\u003c\/li\u003e\n\u003cli\u003e\u003cspan style=\"font-family: helvetica, arial, sans-serif;\"\u003eAll prepaid and monthly pricing plans subject to change\u003c\/span\u003e\u003c\/li\u003e\n\u003c\/ul\u003e\n\u003c\/div\u003e\n\u003c\/div\u003e\n\u003c\/div\u003e\n\u003c\/div\u003e\n\u003c\/div\u003e\n\u003c\/div\u003e\n\u003cp\u003e\u003cspan style=\"color: #ffffff;\"\u003espace\u003c\/span\u003e\u003c\/p\u003e\n\u003ch5\u003eSpecifications\u003c\/h5\u003e\n\u003ctable class=\"shop_attributes\"\u003e\n\u003ctbody\u003e\n\u003ctr\u003e\n\u003ctd\u003e\u003cstrong\u003eWeight\u003c\/strong\u003e\u003c\/td\u003e\n\u003ctd class=\"product_weight\"\u003e.5 lbs\u003c\/td\u003e\n\u003c\/tr\u003e\n\u003ctr\u003e\n\u003ctd\u003e\u003cstrong\u003eDimensions\u003c\/strong\u003e\u003c\/td\u003e\n\u003ctd class=\"product_dimensions\"\u003e7 x 5 x .15 in\u003c\/td\u003e\n\u003c\/tr\u003e\n\u003ctr\u003e\n\u003ctd\u003e\u003cstrong\u003eValidity\u003c\/strong\u003e\u003c\/td\u003e\n\u003ctd\u003e1 Year \/ 365 Days\u003c\/td\u003e\n\u003c\/tr\u003e\n\u003ctr\u003e\n\u003ctd\u003e\u003cstrong\u003eRegion\u003c\/strong\u003e\u003c\/td\u003e\n\u003ctd\u003eWorldwide \/ Global\u003c\/td\u003e\n\u003c\/tr\u003e\n\u003ctr\u003e\n\u003ctd\u003e\u003cstrong\u003ePer Min Rate\u003c\/strong\u003e\u003c\/td\u003e\n\u003ctd\u003eVoice: $1.45 \/ Min\u003c\/td\u003e\n\u003c\/tr\u003e\n\u003ctr\u003e\n\u003ctd\u003e\u003cstrong\u003eCan Recharge Airtime?\u003c\/strong\u003e\u003c\/td\u003e\n\u003ctd\u003eYes, within 90 Days of SIM Expiration.\u003c\/td\u003e\n\u003c\/tr\u003e\n\u003ctr\u003e\n\u003ctd\u003e\u003cstrong\u003eCompatible Equipment\u003c\/strong\u003e\u003c\/td\u003e\n\u003ctd\u003eAll Iridium SIM based devices.\u003c\/td\u003e\n\u003c\/tr\u003e\n\u003ctr\u003e\n\u003ctd\u003e\u003cstrong\u003eBrands\u003c\/strong\u003e\u003c\/td\u003e\n\u003ctd\u003e\u003ca href=\"https:\/\/apollosat.com\/brands\/iridium\/\" rel=\"tag\"\u003eIridium\u003c\/a\u003e\u003c\/td\u003e\n\u003c\/tr\u003e\n\u003c\/tbody\u003e\n\u003c\/table\u003e\n\u003ch5\u003eFeatures\u003c\/h5\u003e\n\u003cul\u003e\n\u003cli\u003eNo Monthly Fee and Attractive Pricing: Iridium offers prepaid data and voice service with no monthly fee - Plus, with prepaid pricing in line with traditional postpaid pricing, Iridium users can opt for either prepaid or postpaid services without fear of being penalized for choosing one over the other\u003c\/li\u003e\n\u003cli\u003e12 Months of validity - The Iridium 500 Minute Prepaid SIM Card is loaded with 500 satellite phone minutes that can be used anywhere in the world  Lifetime of minutes is 365 Days\u003c\/li\u003e\n\u003cli\u003eValidity time of minutes can be extended by adding more minutes prior to expiry, however all unused minutes will expire three years after the date they were originally loaded\u003c\/li\u003e\n\u003c\/ul\u003e\n\u003ch5\u003eBurn Rates\u003c\/h5\u003e\n\u003cp\u003e\u003cspan style=\"font-family: helvetica, arial, sans-serif;\"\u003eThe chart below shows how fast your minutes will be gone through for which service you are connecting to with your device using units. How it works is this: \u003c\/span\u003e\u003c\/p\u003e\n\u003col\u003e\n\u003cli\u003e\u003cspan style=\"font-family: helvetica, arial, sans-serif;\"\u003eFind your SIM card on the top chart with their corresponding units (standard cards are listed)\u003c\/span\u003e\u003c\/li\u003e\n\u003cli\u003e\u003cspan style=\"font-family: helvetica, arial, sans-serif;\"\u003eFind the service you are connecting to with the other charts whether it is an incoming or outgoing connection\u003c\/span\u003e\u003c\/li\u003e\n\u003cli\u003e\u003cspan style=\"font-family: helvetica, arial, sans-serif;\"\u003eThe number of units listed for the service you are connecting to are per minute\u003c\/span\u003e\u003c\/li\u003e\n\u003c\/ol\u003e\n\u003cp\u003e\u003cspan style=\"font-family: helvetica, arial, sans-serif;\"\u003eFor example, if you are making an outgoing call to a cellular phone look at the chart below and find \"cellular\" in the \"Outgoing\" chart. You will see that it uses 60 units and that's for every minute so let's say you are on the phone for 5 minutes; this would use 300 total units.\u003c\/span\u003e\u003c\/p\u003e\n\u003ctable style=\"height: 130px;\" width=\"800\" align=\"center\"\u003e\n\u003ctbody\u003e\n\u003ctr\u003e\n\u003ctd style=\"width: 126px; text-align: center;\"\u003e\u003cspan style=\"font-family: helvetica, arial, sans-serif;\"\u003e\u003cstrong\u003eStandard Prepaid Cards\u003c\/strong\u003e\u003c\/span\u003e\u003c\/td\u003e\n\u003ctd style=\"width: 126px; text-align: center;\"\u003e\u003cspan style=\"font-family: helvetica, arial, sans-serif;\"\u003e\u003cstrong\u003e75 Min\u003c\/strong\u003e\u003c\/span\u003e\u003c\/td\u003e\n\u003ctd style=\"width: 126px; text-align: center;\"\u003e\u003cspan style=\"font-family: helvetica, arial, sans-serif;\"\u003e\u003cstrong\u003e150 Min\u003c\/strong\u003e\u003c\/span\u003e\u003c\/td\u003e\n\u003ctd style=\"width: 127px; text-align: center;\"\u003e\u003cspan style=\"font-family: helvetica, arial, sans-serif;\"\u003e\u003cstrong\u003e200 Min\u003c\/strong\u003e\u003c\/span\u003e\u003c\/td\u003e\n\u003ctd style=\"width: 127px; text-align: center;\"\u003e\u003cspan style=\"font-family: helvetica, arial, sans-serif;\"\u003e\u003cstrong\u003e300 Min\u003c\/strong\u003e\u003c\/span\u003e\u003c\/td\u003e\n\u003ctd style=\"width: 127px; text-align: center;\"\u003e\u003cspan style=\"font-family: helvetica, arial, sans-serif;\"\u003e\u003cstrong\u003e500 Min\u003c\/strong\u003e\u003c\/span\u003e\u003c\/td\u003e\n\u003ctd style=\"width: 127px; text-align: center;\"\u003e\u003cspan style=\"font-family: helvetica, arial, sans-serif;\"\u003e\u003cstrong\u003e750 Min\u003c\/strong\u003e\u003c\/span\u003e\u003c\/td\u003e\n\u003c\/tr\u003e\n\u003ctr\u003e\n\u003ctd style=\"width: 126px; text-align: center;\"\u003e\u003cspan style=\"font-family: helvetica, arial, sans-serif;\"\u003e\u003cstrong\u003eTotal Units\u003c\/strong\u003e\u003c\/span\u003e\u003c\/td\u003e\n\u003ctd style=\"width: 126px; text-align: center;\"\u003e\u003cspan style=\"font-family: helvetica, arial, sans-serif;\"\u003e4,500\u003c\/span\u003e\u003c\/td\u003e\n\u003ctd style=\"width: 126px; text-align: center;\"\u003e\u003cspan style=\"font-family: helvetica, arial, sans-serif;\"\u003e9,000\u003c\/span\u003e\u003c\/td\u003e\n\u003ctd style=\"width: 127px; text-align: center;\"\u003e\u003cspan style=\"font-family: helvetica, arial, sans-serif;\"\u003e12,000\u003c\/span\u003e\u003c\/td\u003e\n\u003ctd style=\"width: 127px; text-align: center;\"\u003e\u003cspan style=\"font-family: helvetica, arial, sans-serif;\"\u003e18,000\u003c\/span\u003e\u003c\/td\u003e\n\u003ctd style=\"width: 127px; text-align: center;\"\u003e\u003cspan style=\"font-family: helvetica, arial, sans-serif;\"\u003e30,000\u003c\/span\u003e\u003c\/td\u003e\n\u003ctd style=\"width: 127px; text-align: center;\"\u003e\u003cspan style=\"font-family: helvetica, arial, sans-serif;\"\u003e45,000\u003c\/span\u003e\u003c\/td\u003e\n\u003c\/tr\u003e\n\u003c\/tbody\u003e\n\u003c\/table\u003e\n\u003cp\u003e \u003c\/p\u003e\n\u003ch2 style=\"text-align: center;\"\u003e\u003cspan style=\"font-family: helvetica, arial, sans-serif;\"\u003eIncoming\u003c\/span\u003e\u003c\/h2\u003e\n\u003ctable style=\"height: 130px;\" width=\"800\" align=\"center\"\u003e\n\u003ctbody\u003e\n\u003ctr\u003e\n\u003ctd style=\"width: 126px; text-align: center;\"\u003e\u003cstrong\u003e\u003cspan style=\"font-family: helvetica, arial, sans-serif;\"\u003eLandline\/cellular\u003c\/span\u003e\u003c\/strong\u003e\u003c\/td\u003e\n\u003ctd style=\"width: 126px; text-align: center;\"\u003e\u003cspan style=\"font-family: helvetica, arial, sans-serif;\"\u003eFree\u003c\/span\u003e\u003c\/td\u003e\n\u003c\/tr\u003e\n\u003ctr\u003e\n\u003ctd style=\"width: 126px; text-align: center;\"\u003e\u003cstrong\u003e\u003cspan style=\"font-family: helvetica, arial, sans-serif;\"\u003eSMS\/Text messages\u003c\/span\u003e\u003c\/strong\u003e\u003c\/td\u003e\n\u003ctd style=\"width: 126px; text-align: center;\"\u003e\u003cspan style=\"font-family: helvetica, arial, sans-serif;\"\u003eFree\u003c\/span\u003e\u003c\/td\u003e\n\u003c\/tr\u003e\n\u003ctr\u003e\n\u003ctd style=\"width: 126px; text-align: center;\"\u003e\u003cspan style=\"font-family: helvetica, arial, sans-serif;\"\u003e\u003cstrong\u003eTwo-stage dialing\u003c\/strong\u003e\u003c\/span\u003e\u003c\/td\u003e\n\u003ctd style=\"width: 126px; text-align: center;\"\u003e\u003cspan style=\"font-family: helvetica, arial, sans-serif;\"\u003e60 units\u003c\/span\u003e\u003c\/td\u003e\n\u003c\/tr\u003e\n\u003c\/tbody\u003e\n\u003c\/table\u003e\n\u003cp\u003e \u003c\/p\u003e\n\u003ch2 style=\"text-align: center;\"\u003e\u003cspan style=\"font-family: helvetica, arial, sans-serif;\"\u003eOutgoing\u003c\/span\u003e\u003c\/h2\u003e\n\u003ctable style=\"height: 130px;\" width=\"800\" align=\"center\"\u003e\n\u003ctbody\u003e\n\u003ctr\u003e\n\u003ctd style=\"width: 126px; text-align: center;\"\u003e\u003cstrong\u003e\u003cspan style=\"font-family: helvetica, arial, sans-serif;\"\u003eLandline\/cellular\u003c\/span\u003e\u003c\/strong\u003e\u003c\/td\u003e\n\u003ctd style=\"width: 126px; text-align: center;\"\u003e\u003cspan style=\"font-family: helvetica, arial, sans-serif;\"\u003e60 units\u003c\/span\u003e\u003c\/td\u003e\n\u003c\/tr\u003e\n\u003ctr\u003e\n\u003ctd style=\"width: 126px; text-align: center;\"\u003e\u003cstrong\u003e\u003cspan style=\"font-family: helvetica, arial, sans-serif;\"\u003eVoicemail Retrieval\u003c\/span\u003e\u003c\/strong\u003e\u003c\/td\u003e\n\u003ctd style=\"width: 126px; text-align: center;\"\u003e\u003cspan style=\"font-family: helvetica, arial, sans-serif;\"\u003e30 units\u003c\/span\u003e\u003c\/td\u003e\n\u003c\/tr\u003e\n\u003ctr\u003e\n\u003ctd style=\"width: 126px; text-align: center;\"\u003e\u003cspan style=\"font-family: helvetica, arial, sans-serif;\"\u003e\u003cstrong\u003eOther Iridium\u003c\/strong\u003e\u003c\/span\u003e\u003c\/td\u003e\n\u003ctd style=\"width: 126px; text-align: center;\"\u003e\u003cspan style=\"font-family: helvetica, arial, sans-serif;\"\u003e30 units\u003c\/span\u003e\u003c\/td\u003e\n\u003c\/tr\u003e\n\u003ctr\u003e\n\u003ctd style=\"width: 126px; text-align: center;\"\u003e\u003cspan style=\"font-family: helvetica, arial, sans-serif;\"\u003e\u003cstrong\u003eOther satellite network\u003c\/strong\u003e\u003c\/span\u003e\u003c\/td\u003e\n\u003ctd style=\"width: 126px; text-align: center;\"\u003e\u003cspan style=\"font-family: helvetica, arial, sans-serif;\"\u003e540 units\u003c\/span\u003e\u003c\/td\u003e\n\u003c\/tr\u003e\n\u003ctr\u003e\n\u003ctd style=\"width: 126px; text-align: center;\"\u003e\u003cspan style=\"font-family: helvetica, arial, sans-serif;\"\u003e\u003cb\u003eSMS\/Text messages\u003c\/b\u003e\u003c\/span\u003e\u003c\/td\u003e\n\u003ctd style=\"width: 126px; text-align: center;\"\u003e\u003cspan style=\"font-family: helvetica, arial, sans-serif;\"\u003e20 units\/msg\u003c\/span\u003e\u003c\/td\u003e\n\u003c\/tr\u003e\n\u003ctr\u003e\n\u003ctd style=\"width: 126px; text-align: center;\"\u003e\u003cspan style=\"font-family: helvetica, arial, sans-serif;\"\u003e\u003cstrong\u003eData\u003c\/strong\u003e\u003c\/span\u003e\u003c\/td\u003e\n\u003ctd style=\"width: 126px; text-align: center;\"\u003e\u003cspan style=\"font-family: helvetica, arial, sans-serif;\"\u003e60 units\u003c\/span\u003e\u003c\/td\u003e\n\u003c\/tr\u003e\n\u003c\/tbody\u003e\n\u003c\/table\u003e"}
Quick View
{"id":4442136608803,"title":"Yeti 400 Lithium \u0026 Nomad 28 Plus Solar Kit","handle":"yeti-400-lithium-nomad-28-plus-solar-kit","description":"\u003ch5\u003eDescription\u003c\/h5\u003e\n\u003ch2 style=\"text-align: center;\"\u003e\u003c\/h2\u003e\n\u003cp style=\"text-align: center;\"\u003e\u003ciframe src=\"https:\/\/www.youtube.com\/embed\/uWd4BdHVOyM\" allow=\"accelerometer; autoplay; encrypted-media; gyroscope; picture-in-picture\" allowfullscreen=\"\" width=\"560\" height=\"315\" frameborder=\"0\"\u003e\u003c\/iframe\u003e\u003c\/p\u003e\n\u003cp style=\"text-align: center;\"\u003eDesigned for charging phones, tablets, cameras, and more, the Goal Zero Yeti 400 Lithium can also be used as an alternative to a gasoline-powered inverter generator, running small appliances, lights, even medical devices during short power outages. A 28-Watt panel re-engineered to be lighter and smarter, the Nomad 28 Plus Solar Panel has the innovative technology to charge USB devices directly from the sun. Detachable kickstand for modularity and power-flow indicator ensure the best solar charging experience. Larger footprint allows for quicker charging for the Yeti and Sherpa power packs.\u003c\/p\u003e\n\u003cdiv style=\"width: 48%; float: left;\"\u003e\n\u003ch3 style=\"margin-top: 12%;\"\u003e\u003cspan style=\"font-family: helvetica, arial, sans-serif;\"\u003eYeti 400 Lithium Highlights\u003c\/span\u003e\u003c\/h3\u003e\n\u003cul\u003e\n\u003cli\u003e\n\u003cp\u003eQuiet, lightweight, lithium power at the push of a button. 428Wh, 39.6Ah (10.8V) Battery capacity\u003c\/p\u003e\n\u003c\/li\u003e\n\u003cli\u003e\n\u003cp\u003eReplaceable lithium battery weighing only 17 lbs with extended 18 month shelf life\u003c\/p\u003e\n\u003c\/li\u003e\n\u003cli\u003e\n\u003cp\u003eVersatile powering options including: three USB ports, two AC outlets and 12V output\u003c\/p\u003e\n\u003c\/li\u003e\n\u003cli\u003e\n\u003cp\u003eInformative display featuring a runtime\/recharge time estimator, as well as a battery level monitor and an output\/input meter\u003c\/p\u003e\n\u003c\/li\u003e\n\u003c\/ul\u003e\n\u003c\/div\u003e\n\u003cdiv style=\"width: 50%; float: right;\"\u003e\u003cimg src=\"https:\/\/cdn.shopify.com\/s\/files\/1\/2962\/4800\/files\/13025884267fef718f9a21b93f8f37a3_480x480.jpg?v=1580921515\" alt=\"Goal Zero Yeti 400 Lithium \u0026amp; Boulder 50 Solar Kit\" style=\"float: right;\"\u003e\u003c\/div\u003e\n\u003cp\u003e\u003cspan style=\"color: #ffffff;\"\u003espace\u003c\/span\u003e\u003c\/p\u003e\n\u003cdiv style=\"width: 48%; float: left;\"\u003e\n\u003cp\u003e\u003cimg alt=\"\" style=\"float: right;\"\u003e\u003cimg alt=\"\" style=\"float: none;\"\u003e\u003cimg src=\"\/\/cdn.shopify.com\/s\/files\/1\/2962\/4800\/files\/GZ-Float-01_80ff7b3b-8e8e-4e70-8b47-488091d1bc0e_large.jpg?v=1565742364\" alt=\"Nomad 28 Plus Solar Panel\" style=\"float: right;\"\u003e\u003c\/p\u003e\n\u003c\/div\u003e\n\u003cdiv style=\"width: 50%; float: right;\"\u003e\n\u003ch3 style=\"margin-top: 16%;\"\u003eNomad 28 Plus Highlights\u003c\/h3\u003e\n\u003cul\u003e\n\u003cli\u003e\n\u003cp\u003e28 Watt (18-22V) panel features detachable kickstand providing optimal angle placement and weatherproof layering.\u003c\/p\u003e\n\u003c\/li\u003e\n\u003cli\u003e\n\u003cp\u003eFeatures a dynamic auto-restart and intelligent electronics that optimize output to match the device to best charge your phone and other USB devices.\u003c\/p\u003e\n\u003c\/li\u003e\n\u003cli\u003e\n\u003cp\u003eEasy-to-read LED indicator displays the strength of solar conditions. Allows you to adjust your panel-to-sun placement for improved solar performance.\u003c\/p\u003e\n\u003c\/li\u003e\n\u003c\/ul\u003e\n\u003c\/div\u003e\n\u003cp\u003e\u003cspan style=\"color: #ffffff;\"\u003espace\u003c\/span\u003e\u003c\/p\u003e\n\u003cdiv style=\"width: 48%; float: left;\"\u003e\n\u003ch3 style=\"margin-top: 23%;\"\u003e\u003cspan style=\"font-family: helvetica, arial, sans-serif;\"\u003eWhat can the Yeti 400 Lithium Power?\u003c\/span\u003e\u003c\/h3\u003e\n\u003cp\u003eThe Yeti 400 Lithium is great for all your medium sized power needs or multiple smaller devices:\u003cbr\u003e Smartphone 40 Recharges\u003cbr\u003e POV Camera 70+ Recharges\u003cbr\u003e Headlamp 70+ Recharges\u003cbr\u003e Tablet 10+ Recharges\u003cbr\u003e Laptop 3-5 Recharges\u003cbr\u003e Light-a-Life 130 hours\u003cbr\u003e Mini Fridge 7 hours\u003cbr\u003e 32 LCD TV 3 hours\u003c\/p\u003e\n\u003c\/div\u003e\n\u003cdiv style=\"width: 50%; float: right;\"\u003e\u003cimg src=\"https:\/\/cdn.shopify.com\/s\/files\/1\/2962\/4800\/files\/e6b20fadbb62e20254b6cc2080ad8552_480x480.jpg?v=1580922168\" alt=\"Goal Zero Yeti 400 Lithium \u0026amp; Boulder 50 Solar Kit\" style=\"float: right;\"\u003e\u003c\/div\u003e\n\u003cp\u003e\u003cspan style=\"color: #ffffff;\"\u003espace\u003c\/span\u003e\u003c\/p\u003e\n\u003cp\u003e\u003cspan style=\"color: #ffffff;\"\u003espace\u003c\/span\u003e\u003c\/p\u003e\n\u003cdiv style=\"width: 48%; float: left;\"\u003e\u003cimg src=\"https:\/\/cdn.shopify.com\/s\/files\/1\/2962\/4800\/files\/8a4296d219077f2c9702ce004dc85094_480x480.jpg?v=1580923307\" alt=\"Goal Zero Yeti 400 Lithium \u0026amp; Boulder 50 Solar Kit\"\u003e\u003c\/div\u003e\n\u003cdiv style=\"width: 50%; float: right;\"\u003e\n\u003ch3 style=\"margin-top: 10%;\"\u003e\u003cspan style=\"font-family: helvetica, arial, sans-serif;\"\u003eTwo Ways to Charge the Yeti 400 Lithium\u003c\/span\u003e\u003c\/h3\u003e\n\u003cul\u003e\n\u003cli\u003e\n\u003cp\u003eRecharge the power station from the sun by plugging the Boulder 50 Solar Panel into the solar input port - the Boulder 50 is best if you need to recharge your Yeti 400 Lithium from the sun about 20-40% each day - if you are going to consume more energy daily, we recommend adding additional or larger panel\u003c\/p\u003e\n\u003c\/li\u003e\n\u003cli\u003e\n\u003cp\u003ePlug it into the wall. Fully recharges in about 7 hours\u003c\/p\u003e\n\u003c\/li\u003e\n\u003cli\u003e\n\u003cp\u003eThe Goal Zero Yeti 400 Lithium can be charged in 4 - 7 hours by plugging into your vehicle's 12V outlet using the Goal Zero Yeti Lithium 12V Car Charging Cable - NOTE: Do not attempt to charge your Yeti Lithium from a 12V source using any other cable. Doing so may cause damage to the unit\u003c\/p\u003e\n\u003c\/li\u003e\n\u003c\/ul\u003e\n\u003c\/div\u003e\n\u003cp\u003e\u003cspan style=\"color: #ffffff;\"\u003espace\u003c\/span\u003e\u003c\/p\u003e\n\u003cp\u003e\u003cspan style=\"color: #ffffff;\"\u003espace\u003c\/span\u003e\u003c\/p\u003e\n\u003ch5\u003eSpecifications\u003c\/h5\u003e\n\u003ch2\u003eYeti 400 Lithium Tech Specs\u003c\/h2\u003e\n\u003ch2\u003eCharge Times\u003c\/h2\u003e\n\u003ctable style=\"height: 90px;\" width=\"800\"\u003e\n\u003ctbody\u003e\n\u003ctr style=\"height: 58px;\"\u003e\n\u003ctd style=\"height: 58px; width: 610px;\"\u003e\n\u003cstrong\u003e\u003cspan class=\"feature-label\"\u003eWall Charger (5A):\u003c\/span\u003e\u003c\/strong\u003e 7 hours\u003c\/td\u003e\n\u003c\/tr\u003e\n\u003ctr style=\"height: 58px;\" bgcolor=\"#F0F0F0\"\u003e\n\u003ctd style=\"height: 58px; width: 610px;\"\u003e\n\u003cstrong\u003e\u003cspan class=\"feature-label\"\u003e1 x Boulder 50:\u003c\/span\u003e\u003c\/strong\u003e 13-32 Hours\u003c\/td\u003e\n\u003c\/tr\u003e\n\u003ctr style=\"height: 58px;\"\u003e\n\u003ctd style=\"height: 58px; width: 610px;\"\u003e\n\u003cstrong\u003e\u003cspan class=\"feature-label\"\u003eNomad 100 Solar Panel:\u003c\/span\u003e\u003c\/strong\u003e 6.5-16 Hours\u003c\/td\u003e\n\u003c\/tr\u003e\n\u003ctr style=\"height: 58px;\" bgcolor=\"#F0F0F0\"\u003e\n\u003ctd style=\"height: 58px; width: 610px;\"\u003e\n\u003cstrong\u003e\u003cspan class=\"feature-label\"\u003eBoulder 100 Solar Panel:\u003c\/span\u003e\u003c\/strong\u003e 6.5-16 Hours\u003c\/td\u003e\n\u003c\/tr\u003e\n\u003ctr style=\"height: 58px;\"\u003e\n\u003ctd style=\"height: 58px; width: 610px;\"\u003e\n\u003cstrong\u003e\u003cspan class=\"feature-label\"\u003eBoulder 200 Solar Panel:\u003c\/span\u003e\u003c\/strong\u003e 6.5-16 Hours (NOTE: Connecting the Yeti 400 Lithium to the Boulder 200 Briefcase requires an Anderson to 8mm Connector cable)\u003c\/td\u003e\n\u003c\/tr\u003e\n\u003c\/tbody\u003e\n\u003c\/table\u003e\n\u003cp\u003e \u003c\/p\u003e\n\u003ch2\u003eBattery Details\u003cstrong\u003e\u003cbr\u003e \u003c\/strong\u003e\n\u003c\/h2\u003e\n\u003ctable style=\"height: 90px;\" width=\"800\"\u003e\n\u003ctbody\u003e\n\u003ctr style=\"height: 58px;\"\u003e\n\u003ctd style=\"height: 58px; width: 610px;\"\u003e\n\u003cstrong\u003e\u003cspan class=\"feature-label\"\u003eCell Type:\u003c\/span\u003e\u003c\/strong\u003e Li-ion NMC\u003c\/td\u003e\n\u003c\/tr\u003e\n\u003ctr style=\"height: 58px;\" bgcolor=\"#F0F0F0\"\u003e\n\u003ctd style=\"height: 58px; width: 610px;\"\u003e\n\u003cstrong\u003e\u003cspan class=\"feature-label\"\u003ePeak Capacity:\u003c\/span\u003e\u003c\/strong\u003e 428Wh (10.8V, 39.6Ah)\u003c\/td\u003e\n\u003c\/tr\u003e\n\u003ctr style=\"height: 58px;\"\u003e\n\u003ctd style=\"height: 58px; width: 610px;\"\u003e\n\u003cstrong\u003e\u003cspan class=\"feature-label\"\u003eLifecycles:\u003c\/span\u003e\u003c\/strong\u003e 500 Cycles to 80% (Discharge rate: 1C, full charge\/discharge, Temp 25C)\u003c\/td\u003e\n\u003c\/tr\u003e\n\u003ctr style=\"height: 58px;\" bgcolor=\"#F0F0F0\"\u003e\n\u003ctd style=\"height: 58px; width: 610px;\"\u003e\n\u003cstrong\u003e\u003cspan class=\"feature-label\"\u003eShelf-life:\u003c\/span\u003e\u003c\/strong\u003e Keep plugged in, or charge every 10-12 months\u003c\/td\u003e\n\u003c\/tr\u003e\n\u003ctr style=\"height: 58px;\"\u003e\n\u003ctd style=\"height: 58px; width: 610px;\"\u003e\n\u003cstrong\u003e\u003cspan class=\"feature-label\"\u003eManagement system:\u003c\/span\u003e\u003c\/strong\u003e PWM charge controller, low battery protection\u003c\/td\u003e\n\u003c\/tr\u003e\n\u003c\/tbody\u003e\n\u003c\/table\u003e\n\u003cp\u003e \u003c\/p\u003e\n\u003ch2\u003ePorts\u003cstrong\u003e\u003cbr\u003e \u003c\/strong\u003e\n\u003c\/h2\u003e\n\u003ctable style=\"height: 90px;\" width=\"800\"\u003e\n\u003ctbody\u003e\n\u003ctr style=\"height: 58px;\"\u003e\n\u003ctd style=\"height: 58px; width: 610px;\"\u003e\n\u003cstrong\u003e\u003cspan class=\"feature-label\"\u003eUSB port (output):\u003c\/span\u003e\u003c\/strong\u003e 5V, up to 2.4A (12 W max), regulated\u003c\/td\u003e\n\u003c\/tr\u003e\n\u003ctr style=\"height: 58px;\" bgcolor=\"#F0F0F0\"\u003e\n\u003ctd style=\"height: 58px; width: 610px;\"\u003e\n\u003cstrong\u003e\u003cspan class=\"feature-label\"\u003e6mm port (output, 6mm):\u003c\/span\u003e\u003c\/strong\u003e 12V, up to 10A (120W max)\u003c\/td\u003e\n\u003c\/tr\u003e\n\u003ctr style=\"height: 58px;\"\u003e\n\u003ctd style=\"height: 58px; width: 610px;\"\u003e\n\u003cstrong\u003e\u003cspan class=\"feature-label\"\u003e12V car port (output):\u003c\/span\u003e\u003c\/strong\u003e 12V, up to 10A (120W max)\u003c\/td\u003e\n\u003c\/tr\u003e\n\u003ctr style=\"height: 58px;\" bgcolor=\"#F0F0F0\"\u003e\n\u003ctd style=\"height: 58px; width: 610px;\"\u003e\u003cspan class=\"feature-label\"\u003e\u003cstrong\u003eAC inverter (output, pure sine wave):\u003c\/strong\u003e 120VAC 60Hz, 3A (300W continuous, 1200W surge max)\u003cbr\u003e \u003c\/span\u003e\u003c\/td\u003e\n\u003c\/tr\u003e\n\u003ctr style=\"height: 58px;\"\u003e\n\u003ctd style=\"height: 58px; width: 610px;\"\u003e\n\u003cstrong\u003e\u003cspan class=\"feature-label\"\u003eCharging port (input, 8mm):\u003c\/span\u003e\u003c\/strong\u003e 14-29V, up to 10A (120W max)\u003c\/td\u003e\n\u003c\/tr\u003e\n\u003c\/tbody\u003e\n\u003c\/table\u003e\n\u003cp\u003e \u003c\/p\u003e\n\u003ch2\u003eGeneral\u003cstrong\u003e\u003cbr\u003e \u003c\/strong\u003e\n\u003c\/h2\u003e\n\u003ctable style=\"height: 90px;\" width=\"800\"\u003e\n\u003ctbody\u003e\n\u003ctr style=\"height: 58px;\"\u003e\n\u003ctd style=\"height: 58px; width: 610px;\"\u003e\n\u003cstrong\u003e\u003cspan class=\"feature-label\"\u003eChainable:\u003c\/span\u003e\u003c\/strong\u003e No\u003c\/td\u003e\n\u003c\/tr\u003e\n\u003ctr style=\"height: 58px;\" bgcolor=\"#F0F0F0\"\u003e\n\u003ctd style=\"height: 58px; width: 610px;\"\u003e\n\u003cstrong\u003e\u003cspan class=\"feature-label\"\u003eWeight:\u003c\/span\u003e\u003c\/strong\u003e 16.3 lbs (7.4 kg)\u003c\/td\u003e\n\u003c\/tr\u003e\n\u003ctr style=\"height: 58px;\"\u003e\n\u003ctd style=\"height: 58px; width: 610px;\"\u003e\n\u003cstrong\u003e\u003cspan class=\"feature-label\"\u003eDimensions: \u003c\/span\u003e\u003c\/strong\u003e7.5 x 11.25 x 7.0 in (19.0 x 28.6 x 17.7 cm)\u003c\/td\u003e\n\u003c\/tr\u003e\n\u003ctr style=\"height: 58px;\" bgcolor=\"#F0F0F0\"\u003e\n\u003ctd style=\"height: 58px; width: 610px;\"\u003e\n\u003cstrong\u003e\u003cspan class=\"feature-label\"\u003eOperating usage temp.:\u003c\/span\u003e\u003c\/strong\u003e 32-104 F (0-40 C)\u003c\/td\u003e\n\u003c\/tr\u003e\n\u003c\/tbody\u003e\n\u003c\/table\u003e\n\u003cp\u003e \u003c\/p\u003e\n\u003ch2\u003eNomad 28 Plus Tech Specs\u003c\/h2\u003e\n\u003ch2\u003eCharges the Following\u003c\/h2\u003e\n\u003ctable style=\"height: 90px;\" width=\"800\"\u003e\n\u003ctbody\u003e\n\u003ctr style=\"height: 58px;\"\u003e\n\u003ctd style=\"height: 58px; width: 610px;\"\u003e\u003cspan class=\"feature-label\"\u003e\u003cstrong\u003e Switch 10 Core:\u003c\/strong\u003e 4 hours\u003c\/span\u003e\u003c\/td\u003e\n\u003c\/tr\u003e\n\u003ctr style=\"height: 58px;\" bgcolor=\"#F0F0F0\"\u003e\n\u003ctd style=\"height: 58px; width: 610px;\"\u003e\u003cspan class=\"feature-label\"\u003e\u003cstrong\u003e Flip 10 Recharger:\u003c\/strong\u003e 2.5 hours\u003c\/span\u003e\u003c\/td\u003e\n\u003c\/tr\u003e\n\u003ctr style=\"height: 58px;\"\u003e\n\u003ctd style=\"height: 58px; width: 610px;\"\u003e\u003cspan class=\"feature-label\"\u003e\u003cstrong\u003e Guide 10 Plus Recharger:\u003c\/strong\u003e 4-6 hours\u003c\/span\u003e\u003c\/td\u003e\n\u003c\/tr\u003e\n\u003ctr style=\"height: 58px;\" bgcolor=\"#F0F0F0\"\u003e\n\u003ctd style=\"height: 58px; width: 610px;\"\u003e\u003cspan class=\"feature-label\"\u003e\u003cstrong\u003e Venture 30\/Flip 30 Recharger:\u003c\/strong\u003e 5 hours\u003c\/span\u003e\u003c\/td\u003e\n\u003c\/tr\u003e\n\u003ctr style=\"height: 58px;\"\u003e\n\u003ctd style=\"height: 58px; width: 610px;\"\u003e\u003cspan class=\"feature-label\"\u003e\u003cstrong\u003e Sherpa 50 Power Pack:\u003c\/strong\u003e 4-8 hours\u003c\/span\u003e\u003c\/td\u003e\n\u003c\/tr\u003e\n\u003ctr style=\"height: 58px;\" bgcolor=\"#F0F0F0\"\u003e\n\u003ctd style=\"height: 58px; width: 610px;\"\u003e\u003cspan class=\"feature-label\"\u003e\u003cstrong\u003e Sherpa 100 Power Pack:\u003c\/strong\u003e 8-16 hours\u003c\/span\u003e\u003c\/td\u003e\n\u003c\/tr\u003e\n\u003ctr style=\"height: 58px;\"\u003e\n\u003ctd style=\"height: 58px; width: 610px;\"\u003e\u003cspan class=\"feature-label\"\u003e\u003cstrong\u003e Yeti 150 Power Station:\u003c\/strong\u003e 13-26 hours\u003c\/span\u003e\u003c\/td\u003e\n\u003c\/tr\u003e\n\u003ctr style=\"height: 58px;\" bgcolor=\"#F0F0F0\"\u003e\n\u003ctd style=\"height: 58px; width: 610px;\"\u003e\u003cspan class=\"feature-label\"\u003e\u003cstrong\u003e Yeti 400 Power Station:\u003c\/strong\u003e 30-60 hours\u003c\/span\u003e\u003c\/td\u003e\n\u003c\/tr\u003e\n\u003c\/tbody\u003e\n\u003c\/table\u003e\n\u003cp\u003e \u003c\/p\u003e\n\u003ch2\u003ePorts\u003c\/h2\u003e\n\u003ctable style=\"height: 90px;\" width=\"800\"\u003e\n\u003ctbody\u003e\n\u003ctr style=\"height: 58px;\"\u003e\n\u003ctd style=\"height: 58px; width: 610px;\"\u003e\n\u003cstrong\u003e\u003cspan class=\"feature-label\"\u003eUSB Port:\u003c\/span\u003e\u003c\/strong\u003e 5V, up to 2.4 A (12W max)\u003c\/td\u003e\n\u003c\/tr\u003e\n\u003ctr style=\"height: 58px;\" bgcolor=\"#F0F0F0\"\u003e\n\u003ctd style=\"height: 58px; width: 610px;\"\u003e\n\u003cstrong\u003e\u003cspan class=\"feature-label\"\u003eSolar Port (8.0mm):\u003c\/span\u003e\u003c\/strong\u003e 14-22V, up to 2.4A (28W max)\u003c\/td\u003e\n\u003c\/tr\u003e\n\u003c\/tbody\u003e\n\u003c\/table\u003e\n\u003cp\u003e \u003c\/p\u003e\n\u003ch2\u003eSolar Panel\u003cstrong\u003e\u003cbr\u003e \u003c\/strong\u003e\n\u003c\/h2\u003e\n\u003ctable style=\"height: 90px;\" width=\"800\"\u003e\n\u003ctbody\u003e\n\u003ctr style=\"height: 58px;\"\u003e\n\u003ctd style=\"height: 58px; width: 610px;\"\u003e\n\u003cstrong\u003e\u003cspan class=\"feature-label\"\u003eRated Power:\u003c\/span\u003e\u003c\/strong\u003e \u003cstrong\u003e28\u003c\/strong\u003eW\u003c\/td\u003e\n\u003c\/tr\u003e\n\u003ctr style=\"height: 58px;\" bgcolor=\"#F0F0F0\"\u003e\n\u003ctd style=\"height: 58px; width: 610px;\"\u003e\n\u003cstrong\u003e\u003cspan class=\"feature-label\"\u003eOpen Circuit Voltage:\u003c\/span\u003e\u003c\/strong\u003e 18-22V\u003c\/td\u003e\n\u003c\/tr\u003e\n\u003ctr style=\"height: 58px;\"\u003e\n\u003ctd style=\"height: 58px; width: 610px;\"\u003e\n\u003cstrong\u003e\u003cspan class=\"feature-label\"\u003eCell Type:\u003c\/span\u003e\u003c\/strong\u003e Monocrystalline\u003c\/td\u003e\n\u003c\/tr\u003e\n\u003c\/tbody\u003e\n\u003c\/table\u003e\n\u003cp\u003e \u003c\/p\u003e\n\u003ch2\u003eGeneral\u003c\/h2\u003e\n\u003ctable style=\"height: 90px;\" width=\"800\"\u003e\n\u003ctbody\u003e\n\u003ctr style=\"height: 58px;\"\u003e\n\u003ctd style=\"height: 58px; width: 610px;\"\u003e\n\u003cstrong\u003e\u003cspan class=\"feature-label\"\u003eProduct SKU:\u003c\/span\u003e\u003c\/strong\u003e 11805\u003c\/td\u003e\n\u003c\/tr\u003e\n\u003ctr style=\"height: 58px;\" bgcolor=\"#F0F0F0\"\u003e\n\u003ctd style=\"height: 58px; width: 610px;\"\u003e\n\u003cstrong\u003e\u003cspan class=\"feature-label\"\u003eWeight with Kickstand:\u003c\/span\u003e\u003c\/strong\u003e 3.0lbs (1360g)\u003c\/td\u003e\n\u003c\/tr\u003e\n\u003ctr style=\"height: 58px;\"\u003e\n\u003ctd style=\"height: 58px; width: 610px;\"\u003e\n\u003cstrong\u003e\u003cspan class=\"feature-label\"\u003eWeight without Kickstand:\u003c\/span\u003e\u003c\/strong\u003e 2.5lbs (1134g)\u003c\/td\u003e\n\u003c\/tr\u003e\n\u003ctr style=\"height: 58px;\" bgcolor=\"#F0F0F0\"\u003e\n\u003ctd style=\"height: 58px; width: 610px;\"\u003e\n\u003cstrong\u003e\u003cspan class=\"feature-label\"\u003eDimensions (unfolded):\u003c\/span\u003e\u003c\/strong\u003e 12.1 x 31.6 x 0.1 in (31 x 80 x 0.2 cm)\u003c\/td\u003e\n\u003c\/tr\u003e\n\u003ctr style=\"height: 58px;\"\u003e\n\u003ctd style=\"height: 58px; width: 610px;\"\u003e\n\u003cstrong\u003e\u003cspan class=\"feature-label\"\u003eDimensions (folded):\u003c\/span\u003e\u003c\/strong\u003e 12.1 x 7.9 x 1.7 in (31 x 20 x 4.3 cm)\u003c\/td\u003e\n\u003c\/tr\u003e\n\u003ctr style=\"height: 58px;\" bgcolor=\"#F0F0F0\"\u003e\n\u003ctd style=\"height: 58px; width: 610px;\"\u003e\n\u003cstrong\u003e\u003cspan class=\"feature-label\"\u003eMax Leg Angle:\u003c\/span\u003e\u003c\/strong\u003e 90 degrees\u003c\/td\u003e\n\u003c\/tr\u003e\n\u003c\/tbody\u003e\n\u003c\/table\u003e\n\u003ch5\u003eDownloads\u003c\/h5\u003e\n\u003ctable width=\"100%\"\u003e\n\u003ctbody\u003e\n\u003ctr\u003e\n\u003ctd style=\"text-align: center;\"\u003e\u003ca href=\"https:\/\/apollosat.com\/download\/goal-zero-yeti-400-user-guide\/\"\u003e \u003cimg src=\"\/\/cdn.shopify.com\/s\/files\/1\/2962\/4800\/files\/pdf-icon_large.png?v=1519722721\" title=\"Yeti 400 User Guide\" alt=\"Yeti 400 User Guide\"\u003e\u003c\/a\u003e\u003c\/td\u003e\n\u003ctd style=\"text-align: center;\"\u003e\u003ca href=\"https:\/\/apollosat.com\/download\/goal-zero-nomad-28-plus-user-guide\/\"\u003e \u003cimg src=\"\/\/cdn.shopify.com\/s\/files\/1\/2962\/4800\/files\/pdf-icon_large.png?v=1519722721\" title=\"Nomad 28 Plus User Guide\" alt=\"Nomad 28 Plus User Guide\"\u003e\u003c\/a\u003e\u003c\/td\u003e\n\u003c\/tr\u003e\n\u003ctr\u003e\n\u003ctd style=\"text-align: center;\"\u003e\u003ca href=\"https:\/\/apollosat.com\/download\/goal-zero-yeti-400-user-guide\/\" target=\"_blank\" title=\"Yeti 400 User Guide\" rel=\"noopener noreferrer\"\u003eYeti 400\u003cbr\u003eUser Guide\u003c\/a\u003e\u003c\/td\u003e\n\u003ctd style=\"text-align: center;\"\u003e\u003ca href=\"https:\/\/apollosat.com\/download\/goal-zero-nomad-28-plus-user-guide\/\" target=\"_blank\" title=\"Nomad 28 Plus User Guide\" rel=\"noopener noreferrer\"\u003eNomad 28 Plus\u003cbr\u003eUser Guide\u003c\/a\u003e\u003c\/td\u003e\n\u003c\/tr\u003e\n\u003c\/tbody\u003e\n\u003c\/table\u003e","published_at":"2020-02-06T04:53:58-08:00","created_at":"2020-02-06T04:57:55-08:00","vendor":"Goal Zero","type":"Solar Kit","tags":["Brand_Goal Zero","Solar Type_Solar Kit"],"price":84990,"price_min":84990,"price_max":84990,"available":false,"price_varies":false,"compare_at_price":null,"compare_at_price_min":0,"compare_at_price_max":0,"compare_at_price_varies":false,"variants":[{"id":31685458493475,"title":"Default Title","option1":"Default Title","option2":null,"option3":null,"sku":"GZ-VKY400LiN28P","requires_shipping":true,"taxable":true,"featured_image":null,"available":false,"name":"Yeti 400 Lithium \u0026 Nomad 28 Plus Solar Kit","public_title":null,"options":["Default Title"],"price":84990,"weight":9072,"compare_at_price":null,"inventory_management":"shopify","barcode":""}],"images":["\/\/cdn.shopify.com\/s\/files\/1\/2962\/4800\/products\/6a3f3c093a74c38c413e4dd6ef3d3c8f.jpg?v=1581558040","\/\/cdn.shopify.com\/s\/files\/1\/2962\/4800\/products\/4cdcdd0f0d8b814239fe59025ed60dd4.jpg?v=1581558040","\/\/cdn.shopify.com\/s\/files\/1\/2962\/4800\/products\/3cddc8b837b9ad99961854b091778b5d.jpg?v=1581558040","\/\/cdn.shopify.com\/s\/files\/1\/2962\/4800\/products\/95207b26e1566865ea44f67c0c603b3b.jpg?v=1581558040","\/\/cdn.shopify.com\/s\/files\/1\/2962\/4800\/products\/7569e947bd55fba7d232366cd0c3eab7.jpg?v=1581558040"],"featured_image":"\/\/cdn.shopify.com\/s\/files\/1\/2962\/4800\/products\/6a3f3c093a74c38c413e4dd6ef3d3c8f.jpg?v=1581558040","options":["Title"],"media":[{"alt":"Yeti 400 Lithium \u0026 Nomad 28 Plus Solar Kit - Apollo Satellite","id":6472071807011,"position":1,"preview_image":{"aspect_ratio":1.0,"height":1000,"width":1000,"src":"https:\/\/cdn.shopify.com\/s\/files\/1\/2962\/4800\/products\/6a3f3c093a74c38c413e4dd6ef3d3c8f.jpg?v=1580993902"},"aspect_ratio":1.0,"height":1000,"media_type":"image","src":"https:\/\/cdn.shopify.com\/s\/files\/1\/2962\/4800\/products\/6a3f3c093a74c38c413e4dd6ef3d3c8f.jpg?v=1580993902","width":1000},{"alt":"Yeti 400 Lithium \u0026 Nomad 28 Plus Solar Kit - Apollo Satellite","id":6472071839779,"position":2,"preview_image":{"aspect_ratio":1.0,"height":1000,"width":1000,"src":"https:\/\/cdn.shopify.com\/s\/files\/1\/2962\/4800\/products\/4cdcdd0f0d8b814239fe59025ed60dd4.jpg?v=1580993902"},"aspect_ratio":1.0,"height":1000,"media_type":"image","src":"https:\/\/cdn.shopify.com\/s\/files\/1\/2962\/4800\/products\/4cdcdd0f0d8b814239fe59025ed60dd4.jpg?v=1580993902","width":1000},{"alt":"Yeti 400 Lithium \u0026 Nomad 28 Plus Solar Kit - Apollo Satellite","id":6472071872547,"position":3,"preview_image":{"aspect_ratio":1.0,"height":1000,"width":1000,"src":"https:\/\/cdn.shopify.com\/s\/files\/1\/2962\/4800\/products\/3cddc8b837b9ad99961854b091778b5d.jpg?v=1580993902"},"aspect_ratio":1.0,"height":1000,"media_type":"image","src":"https:\/\/cdn.shopify.com\/s\/files\/1\/2962\/4800\/products\/3cddc8b837b9ad99961854b091778b5d.jpg?v=1580993902","width":1000},{"alt":"Yeti 400 Lithium \u0026 Nomad 28 Plus Solar Kit - Apollo Satellite","id":6472071905315,"position":4,"preview_image":{"aspect_ratio":1.0,"height":1000,"width":1000,"src":"https:\/\/cdn.shopify.com\/s\/files\/1\/2962\/4800\/products\/95207b26e1566865ea44f67c0c603b3b.jpg?v=1580993903"},"aspect_ratio":1.0,"height":1000,"media_type":"image","src":"https:\/\/cdn.shopify.com\/s\/files\/1\/2962\/4800\/products\/95207b26e1566865ea44f67c0c603b3b.jpg?v=1580993903","width":1000},{"alt":"Yeti 400 Lithium \u0026 Nomad 28 Plus Solar Kit - Apollo Satellite","id":6472071938083,"position":5,"preview_image":{"aspect_ratio":1.0,"height":1000,"width":1000,"src":"https:\/\/cdn.shopify.com\/s\/files\/1\/2962\/4800\/products\/7569e947bd55fba7d232366cd0c3eab7.jpg?v=1580993903"},"aspect_ratio":1.0,"height":1000,"media_type":"image","src":"https:\/\/cdn.shopify.com\/s\/files\/1\/2962\/4800\/products\/7569e947bd55fba7d232366cd0c3eab7.jpg?v=1580993903","width":1000}],"content":"\u003ch5\u003eDescription\u003c\/h5\u003e\n\u003ch2 style=\"text-align: center;\"\u003e\u003c\/h2\u003e\n\u003cp style=\"text-align: center;\"\u003e\u003ciframe src=\"https:\/\/www.youtube.com\/embed\/uWd4BdHVOyM\" allow=\"accelerometer; autoplay; encrypted-media; gyroscope; picture-in-picture\" allowfullscreen=\"\" width=\"560\" height=\"315\" frameborder=\"0\"\u003e\u003c\/iframe\u003e\u003c\/p\u003e\n\u003cp style=\"text-align: center;\"\u003eDesigned for charging phones, tablets, cameras, and more, the Goal Zero Yeti 400 Lithium can also be used as an alternative to a gasoline-powered inverter generator, running small appliances, lights, even medical devices during short power outages. A 28-Watt panel re-engineered to be lighter and smarter, the Nomad 28 Plus Solar Panel has the innovative technology to charge USB devices directly from the sun. Detachable kickstand for modularity and power-flow indicator ensure the best solar charging experience. Larger footprint allows for quicker charging for the Yeti and Sherpa power packs.\u003c\/p\u003e\n\u003cdiv style=\"width: 48%; float: left;\"\u003e\n\u003ch3 style=\"margin-top: 12%;\"\u003e\u003cspan style=\"font-family: helvetica, arial, sans-serif;\"\u003eYeti 400 Lithium Highlights\u003c\/span\u003e\u003c\/h3\u003e\n\u003cul\u003e\n\u003cli\u003e\n\u003cp\u003eQuiet, lightweight, lithium power at the push of a button. 428Wh, 39.6Ah (10.8V) Battery capacity\u003c\/p\u003e\n\u003c\/li\u003e\n\u003cli\u003e\n\u003cp\u003eReplaceable lithium battery weighing only 17 lbs with extended 18 month shelf life\u003c\/p\u003e\n\u003c\/li\u003e\n\u003cli\u003e\n\u003cp\u003eVersatile powering options including: three USB ports, two AC outlets and 12V output\u003c\/p\u003e\n\u003c\/li\u003e\n\u003cli\u003e\n\u003cp\u003eInformative display featuring a runtime\/recharge time estimator, as well as a battery level monitor and an output\/input meter\u003c\/p\u003e\n\u003c\/li\u003e\n\u003c\/ul\u003e\n\u003c\/div\u003e\n\u003cdiv style=\"width: 50%; float: right;\"\u003e\u003cimg src=\"https:\/\/cdn.shopify.com\/s\/files\/1\/2962\/4800\/files\/13025884267fef718f9a21b93f8f37a3_480x480.jpg?v=1580921515\" alt=\"Goal Zero Yeti 400 Lithium \u0026amp; Boulder 50 Solar Kit\" style=\"float: right;\"\u003e\u003c\/div\u003e\n\u003cp\u003e\u003cspan style=\"color: #ffffff;\"\u003espace\u003c\/span\u003e\u003c\/p\u003e\n\u003cdiv style=\"width: 48%; float: left;\"\u003e\n\u003cp\u003e\u003cimg alt=\"\" style=\"float: right;\"\u003e\u003cimg alt=\"\" style=\"float: none;\"\u003e\u003cimg src=\"\/\/cdn.shopify.com\/s\/files\/1\/2962\/4800\/files\/GZ-Float-01_80ff7b3b-8e8e-4e70-8b47-488091d1bc0e_large.jpg?v=1565742364\" alt=\"Nomad 28 Plus Solar Panel\" style=\"float: right;\"\u003e\u003c\/p\u003e\n\u003c\/div\u003e\n\u003cdiv style=\"width: 50%; float: right;\"\u003e\n\u003ch3 style=\"margin-top: 16%;\"\u003eNomad 28 Plus Highlights\u003c\/h3\u003e\n\u003cul\u003e\n\u003cli\u003e\n\u003cp\u003e28 Watt (18-22V) panel features detachable kickstand providing optimal angle placement and weatherproof layering.\u003c\/p\u003e\n\u003c\/li\u003e\n\u003cli\u003e\n\u003cp\u003eFeatures a dynamic auto-restart and intelligent electronics that optimize output to match the device to best charge your phone and other USB devices.\u003c\/p\u003e\n\u003c\/li\u003e\n\u003cli\u003e\n\u003cp\u003eEasy-to-read LED indicator displays the strength of solar conditions. Allows you to adjust your panel-to-sun placement for improved solar performance.\u003c\/p\u003e\n\u003c\/li\u003e\n\u003c\/ul\u003e\n\u003c\/div\u003e\n\u003cp\u003e\u003cspan style=\"color: #ffffff;\"\u003espace\u003c\/span\u003e\u003c\/p\u003e\n\u003cdiv style=\"width: 48%; float: left;\"\u003e\n\u003ch3 style=\"margin-top: 23%;\"\u003e\u003cspan style=\"font-family: helvetica, arial, sans-serif;\"\u003eWhat can the Yeti 400 Lithium Power?\u003c\/span\u003e\u003c\/h3\u003e\n\u003cp\u003eThe Yeti 400 Lithium is great for all your medium sized power needs or multiple smaller devices:\u003cbr\u003e Smartphone 40 Recharges\u003cbr\u003e POV Camera 70+ Recharges\u003cbr\u003e Headlamp 70+ Recharges\u003cbr\u003e Tablet 10+ Recharges\u003cbr\u003e Laptop 3-5 Recharges\u003cbr\u003e Light-a-Life 130 hours\u003cbr\u003e Mini Fridge 7 hours\u003cbr\u003e 32 LCD TV 3 hours\u003c\/p\u003e\n\u003c\/div\u003e\n\u003cdiv style=\"width: 50%; float: right;\"\u003e\u003cimg src=\"https:\/\/cdn.shopify.com\/s\/files\/1\/2962\/4800\/files\/e6b20fadbb62e20254b6cc2080ad8552_480x480.jpg?v=1580922168\" alt=\"Goal Zero Yeti 400 Lithium \u0026amp; Boulder 50 Solar Kit\" style=\"float: right;\"\u003e\u003c\/div\u003e\n\u003cp\u003e\u003cspan style=\"color: #ffffff;\"\u003espace\u003c\/span\u003e\u003c\/p\u003e\n\u003cp\u003e\u003cspan style=\"color: #ffffff;\"\u003espace\u003c\/span\u003e\u003c\/p\u003e\n\u003cdiv style=\"width: 48%; float: left;\"\u003e\u003cimg src=\"https:\/\/cdn.shopify.com\/s\/files\/1\/2962\/4800\/files\/8a4296d219077f2c9702ce004dc85094_480x480.jpg?v=1580923307\" alt=\"Goal Zero Yeti 400 Lithium \u0026amp; Boulder 50 Solar Kit\"\u003e\u003c\/div\u003e\n\u003cdiv style=\"width: 50%; float: right;\"\u003e\n\u003ch3 style=\"margin-top: 10%;\"\u003e\u003cspan style=\"font-family: helvetica, arial, sans-serif;\"\u003eTwo Ways to Charge the Yeti 400 Lithium\u003c\/span\u003e\u003c\/h3\u003e\n\u003cul\u003e\n\u003cli\u003e\n\u003cp\u003eRecharge the power station from the sun by plugging the Boulder 50 Solar Panel into the solar input port - the Boulder 50 is best if you need to recharge your Yeti 400 Lithium from the sun about 20-40% each day - if you are going to consume more energy daily, we recommend adding additional or larger panel\u003c\/p\u003e\n\u003c\/li\u003e\n\u003cli\u003e\n\u003cp\u003ePlug it into the wall. Fully recharges in about 7 hours\u003c\/p\u003e\n\u003c\/li\u003e\n\u003cli\u003e\n\u003cp\u003eThe Goal Zero Yeti 400 Lithium can be charged in 4 - 7 hours by plugging into your vehicle's 12V outlet using the Goal Zero Yeti Lithium 12V Car Charging Cable - NOTE: Do not attempt to charge your Yeti Lithium from a 12V source using any other cable. Doing so may cause damage to the unit\u003c\/p\u003e\n\u003c\/li\u003e\n\u003c\/ul\u003e\n\u003c\/div\u003e\n\u003cp\u003e\u003cspan style=\"color: #ffffff;\"\u003espace\u003c\/span\u003e\u003c\/p\u003e\n\u003cp\u003e\u003cspan style=\"color: #ffffff;\"\u003espace\u003c\/span\u003e\u003c\/p\u003e\n\u003ch5\u003eSpecifications\u003c\/h5\u003e\n\u003ch2\u003eYeti 400 Lithium Tech Specs\u003c\/h2\u003e\n\u003ch2\u003eCharge Times\u003c\/h2\u003e\n\u003ctable style=\"height: 90px;\" width=\"800\"\u003e\n\u003ctbody\u003e\n\u003ctr style=\"height: 58px;\"\u003e\n\u003ctd style=\"height: 58px; width: 610px;\"\u003e\n\u003cstrong\u003e\u003cspan class=\"feature-label\"\u003eWall Charger (5A):\u003c\/span\u003e\u003c\/strong\u003e 7 hours\u003c\/td\u003e\n\u003c\/tr\u003e\n\u003ctr style=\"height: 58px;\" bgcolor=\"#F0F0F0\"\u003e\n\u003ctd style=\"height: 58px; width: 610px;\"\u003e\n\u003cstrong\u003e\u003cspan class=\"feature-label\"\u003e1 x Boulder 50:\u003c\/span\u003e\u003c\/strong\u003e 13-32 Hours\u003c\/td\u003e\n\u003c\/tr\u003e\n\u003ctr style=\"height: 58px;\"\u003e\n\u003ctd style=\"height: 58px; width: 610px;\"\u003e\n\u003cstrong\u003e\u003cspan class=\"feature-label\"\u003eNomad 100 Solar Panel:\u003c\/span\u003e\u003c\/strong\u003e 6.5-16 Hours\u003c\/td\u003e\n\u003c\/tr\u003e\n\u003ctr style=\"height: 58px;\" bgcolor=\"#F0F0F0\"\u003e\n\u003ctd style=\"height: 58px; width: 610px;\"\u003e\n\u003cstrong\u003e\u003cspan class=\"feature-label\"\u003eBoulder 100 Solar Panel:\u003c\/span\u003e\u003c\/strong\u003e 6.5-16 Hours\u003c\/td\u003e\n\u003c\/tr\u003e\n\u003ctr style=\"height: 58px;\"\u003e\n\u003ctd style=\"height: 58px; width: 610px;\"\u003e\n\u003cstrong\u003e\u003cspan class=\"feature-label\"\u003eBoulder 200 Solar Panel:\u003c\/span\u003e\u003c\/strong\u003e 6.5-16 Hours (NOTE: Connecting the Yeti 400 Lithium to the Boulder 200 Briefcase requires an Anderson to 8mm Connector cable)\u003c\/td\u003e\n\u003c\/tr\u003e\n\u003c\/tbody\u003e\n\u003c\/table\u003e\n\u003cp\u003e \u003c\/p\u003e\n\u003ch2\u003eBattery Details\u003cstrong\u003e\u003cbr\u003e \u003c\/strong\u003e\n\u003c\/h2\u003e\n\u003ctable style=\"height: 90px;\" width=\"800\"\u003e\n\u003ctbody\u003e\n\u003ctr style=\"height: 58px;\"\u003e\n\u003ctd style=\"height: 58px; width: 610px;\"\u003e\n\u003cstrong\u003e\u003cspan class=\"feature-label\"\u003eCell Type:\u003c\/span\u003e\u003c\/strong\u003e Li-ion NMC\u003c\/td\u003e\n\u003c\/tr\u003e\n\u003ctr style=\"height: 58px;\" bgcolor=\"#F0F0F0\"\u003e\n\u003ctd style=\"height: 58px; width: 610px;\"\u003e\n\u003cstrong\u003e\u003cspan class=\"feature-label\"\u003ePeak Capacity:\u003c\/span\u003e\u003c\/strong\u003e 428Wh (10.8V, 39.6Ah)\u003c\/td\u003e\n\u003c\/tr\u003e\n\u003ctr style=\"height: 58px;\"\u003e\n\u003ctd style=\"height: 58px; width: 610px;\"\u003e\n\u003cstrong\u003e\u003cspan class=\"feature-label\"\u003eLifecycles:\u003c\/span\u003e\u003c\/strong\u003e 500 Cycles to 80% (Discharge rate: 1C, full charge\/discharge, Temp 25C)\u003c\/td\u003e\n\u003c\/tr\u003e\n\u003ctr style=\"height: 58px;\" bgcolor=\"#F0F0F0\"\u003e\n\u003ctd style=\"height: 58px; width: 610px;\"\u003e\n\u003cstrong\u003e\u003cspan class=\"feature-label\"\u003eShelf-life:\u003c\/span\u003e\u003c\/strong\u003e Keep plugged in, or charge every 10-12 months\u003c\/td\u003e\n\u003c\/tr\u003e\n\u003ctr style=\"height: 58px;\"\u003e\n\u003ctd style=\"height: 58px; width: 610px;\"\u003e\n\u003cstrong\u003e\u003cspan class=\"feature-label\"\u003eManagement system:\u003c\/span\u003e\u003c\/strong\u003e PWM charge controller, low battery protection\u003c\/td\u003e\n\u003c\/tr\u003e\n\u003c\/tbody\u003e\n\u003c\/table\u003e\n\u003cp\u003e \u003c\/p\u003e\n\u003ch2\u003ePorts\u003cstrong\u003e\u003cbr\u003e \u003c\/strong\u003e\n\u003c\/h2\u003e\n\u003ctable style=\"height: 90px;\" width=\"800\"\u003e\n\u003ctbody\u003e\n\u003ctr style=\"height: 58px;\"\u003e\n\u003ctd style=\"height: 58px; width: 610px;\"\u003e\n\u003cstrong\u003e\u003cspan class=\"feature-label\"\u003eUSB port (output):\u003c\/span\u003e\u003c\/strong\u003e 5V, up to 2.4A (12 W max), regulated\u003c\/td\u003e\n\u003c\/tr\u003e\n\u003ctr style=\"height: 58px;\" bgcolor=\"#F0F0F0\"\u003e\n\u003ctd style=\"height: 58px; width: 610px;\"\u003e\n\u003cstrong\u003e\u003cspan class=\"feature-label\"\u003e6mm port (output, 6mm):\u003c\/span\u003e\u003c\/strong\u003e 12V, up to 10A (120W max)\u003c\/td\u003e\n\u003c\/tr\u003e\n\u003ctr style=\"height: 58px;\"\u003e\n\u003ctd style=\"height: 58px; width: 610px;\"\u003e\n\u003cstrong\u003e\u003cspan class=\"feature-label\"\u003e12V car port (output):\u003c\/span\u003e\u003c\/strong\u003e 12V, up to 10A (120W max)\u003c\/td\u003e\n\u003c\/tr\u003e\n\u003ctr style=\"height: 58px;\" bgcolor=\"#F0F0F0\"\u003e\n\u003ctd style=\"height: 58px; width: 610px;\"\u003e\u003cspan class=\"feature-label\"\u003e\u003cstrong\u003eAC inverter (output, pure sine wave):\u003c\/strong\u003e 120VAC 60Hz, 3A (300W continuous, 1200W surge max)\u003cbr\u003e \u003c\/span\u003e\u003c\/td\u003e\n\u003c\/tr\u003e\n\u003ctr style=\"height: 58px;\"\u003e\n\u003ctd style=\"height: 58px; width: 610px;\"\u003e\n\u003cstrong\u003e\u003cspan class=\"feature-label\"\u003eCharging port (input, 8mm):\u003c\/span\u003e\u003c\/strong\u003e 14-29V, up to 10A (120W max)\u003c\/td\u003e\n\u003c\/tr\u003e\n\u003c\/tbody\u003e\n\u003c\/table\u003e\n\u003cp\u003e \u003c\/p\u003e\n\u003ch2\u003eGeneral\u003cstrong\u003e\u003cbr\u003e \u003c\/strong\u003e\n\u003c\/h2\u003e\n\u003ctable style=\"height: 90px;\" width=\"800\"\u003e\n\u003ctbody\u003e\n\u003ctr style=\"height: 58px;\"\u003e\n\u003ctd style=\"height: 58px; width: 610px;\"\u003e\n\u003cstrong\u003e\u003cspan class=\"feature-label\"\u003eChainable:\u003c\/span\u003e\u003c\/strong\u003e No\u003c\/td\u003e\n\u003c\/tr\u003e\n\u003ctr style=\"height: 58px;\" bgcolor=\"#F0F0F0\"\u003e\n\u003ctd style=\"height: 58px; width: 610px;\"\u003e\n\u003cstrong\u003e\u003cspan class=\"feature-label\"\u003eWeight:\u003c\/span\u003e\u003c\/strong\u003e 16.3 lbs (7.4 kg)\u003c\/td\u003e\n\u003c\/tr\u003e\n\u003ctr style=\"height: 58px;\"\u003e\n\u003ctd style=\"height: 58px; width: 610px;\"\u003e\n\u003cstrong\u003e\u003cspan class=\"feature-label\"\u003eDimensions: \u003c\/span\u003e\u003c\/strong\u003e7.5 x 11.25 x 7.0 in (19.0 x 28.6 x 17.7 cm)\u003c\/td\u003e\n\u003c\/tr\u003e\n\u003ctr style=\"height: 58px;\" bgcolor=\"#F0F0F0\"\u003e\n\u003ctd style=\"height: 58px; width: 610px;\"\u003e\n\u003cstrong\u003e\u003cspan class=\"feature-label\"\u003eOperating usage temp.:\u003c\/span\u003e\u003c\/strong\u003e 32-104 F (0-40 C)\u003c\/td\u003e\n\u003c\/tr\u003e\n\u003c\/tbody\u003e\n\u003c\/table\u003e\n\u003cp\u003e \u003c\/p\u003e\n\u003ch2\u003eNomad 28 Plus Tech Specs\u003c\/h2\u003e\n\u003ch2\u003eCharges the Following\u003c\/h2\u003e\n\u003ctable style=\"height: 90px;\" width=\"800\"\u003e\n\u003ctbody\u003e\n\u003ctr style=\"height: 58px;\"\u003e\n\u003ctd style=\"height: 58px; width: 610px;\"\u003e\u003cspan class=\"feature-label\"\u003e\u003cstrong\u003e Switch 10 Core:\u003c\/strong\u003e 4 hours\u003c\/span\u003e\u003c\/td\u003e\n\u003c\/tr\u003e\n\u003ctr style=\"height: 58px;\" bgcolor=\"#F0F0F0\"\u003e\n\u003ctd style=\"height: 58px; width: 610px;\"\u003e\u003cspan class=\"feature-label\"\u003e\u003cstrong\u003e Flip 10 Recharger:\u003c\/strong\u003e 2.5 hours\u003c\/span\u003e\u003c\/td\u003e\n\u003c\/tr\u003e\n\u003ctr style=\"height: 58px;\"\u003e\n\u003ctd style=\"height: 58px; width: 610px;\"\u003e\u003cspan class=\"feature-label\"\u003e\u003cstrong\u003e Guide 10 Plus Recharger:\u003c\/strong\u003e 4-6 hours\u003c\/span\u003e\u003c\/td\u003e\n\u003c\/tr\u003e\n\u003ctr style=\"height: 58px;\" bgcolor=\"#F0F0F0\"\u003e\n\u003ctd style=\"height: 58px; width: 610px;\"\u003e\u003cspan class=\"feature-label\"\u003e\u003cstrong\u003e Venture 30\/Flip 30 Recharger:\u003c\/strong\u003e 5 hours\u003c\/span\u003e\u003c\/td\u003e\n\u003c\/tr\u003e\n\u003ctr style=\"height: 58px;\"\u003e\n\u003ctd style=\"height: 58px; width: 610px;\"\u003e\u003cspan class=\"feature-label\"\u003e\u003cstrong\u003e Sherpa 50 Power Pack:\u003c\/strong\u003e 4-8 hours\u003c\/span\u003e\u003c\/td\u003e\n\u003c\/tr\u003e\n\u003ctr style=\"height: 58px;\" bgcolor=\"#F0F0F0\"\u003e\n\u003ctd style=\"height: 58px; width: 610px;\"\u003e\u003cspan class=\"feature-label\"\u003e\u003cstrong\u003e Sherpa 100 Power Pack:\u003c\/strong\u003e 8-16 hours\u003c\/span\u003e\u003c\/td\u003e\n\u003c\/tr\u003e\n\u003ctr style=\"height: 58px;\"\u003e\n\u003ctd style=\"height: 58px; width: 610px;\"\u003e\u003cspan class=\"feature-label\"\u003e\u003cstrong\u003e Yeti 150 Power Station:\u003c\/strong\u003e 13-26 hours\u003c\/span\u003e\u003c\/td\u003e\n\u003c\/tr\u003e\n\u003ctr style=\"height: 58px;\" bgcolor=\"#F0F0F0\"\u003e\n\u003ctd style=\"height: 58px; width: 610px;\"\u003e\u003cspan class=\"feature-label\"\u003e\u003cstrong\u003e Yeti 400 Power Station:\u003c\/strong\u003e 30-60 hours\u003c\/span\u003e\u003c\/td\u003e\n\u003c\/tr\u003e\n\u003c\/tbody\u003e\n\u003c\/table\u003e\n\u003cp\u003e \u003c\/p\u003e\n\u003ch2\u003ePorts\u003c\/h2\u003e\n\u003ctable style=\"height: 90px;\" width=\"800\"\u003e\n\u003ctbody\u003e\n\u003ctr style=\"height: 58px;\"\u003e\n\u003ctd style=\"height: 58px; width: 610px;\"\u003e\n\u003cstrong\u003e\u003cspan class=\"feature-label\"\u003eUSB Port:\u003c\/span\u003e\u003c\/strong\u003e 5V, up to 2.4 A (12W max)\u003c\/td\u003e\n\u003c\/tr\u003e\n\u003ctr style=\"height: 58px;\" bgcolor=\"#F0F0F0\"\u003e\n\u003ctd style=\"height: 58px; width: 610px;\"\u003e\n\u003cstrong\u003e\u003cspan class=\"feature-label\"\u003eSolar Port (8.0mm):\u003c\/span\u003e\u003c\/strong\u003e 14-22V, up to 2.4A (28W max)\u003c\/td\u003e\n\u003c\/tr\u003e\n\u003c\/tbody\u003e\n\u003c\/table\u003e\n\u003cp\u003e \u003c\/p\u003e\n\u003ch2\u003eSolar Panel\u003cstrong\u003e\u003cbr\u003e \u003c\/strong\u003e\n\u003c\/h2\u003e\n\u003ctable style=\"height: 90px;\" width=\"800\"\u003e\n\u003ctbody\u003e\n\u003ctr style=\"height: 58px;\"\u003e\n\u003ctd style=\"height: 58px; width: 610px;\"\u003e\n\u003cstrong\u003e\u003cspan class=\"feature-label\"\u003eRated Power:\u003c\/span\u003e\u003c\/strong\u003e \u003cstrong\u003e28\u003c\/strong\u003eW\u003c\/td\u003e\n\u003c\/tr\u003e\n\u003ctr style=\"height: 58px;\" bgcolor=\"#F0F0F0\"\u003e\n\u003ctd style=\"height: 58px; width: 610px;\"\u003e\n\u003cstrong\u003e\u003cspan class=\"feature-label\"\u003eOpen Circuit Voltage:\u003c\/span\u003e\u003c\/strong\u003e 18-22V\u003c\/td\u003e\n\u003c\/tr\u003e\n\u003ctr style=\"height: 58px;\"\u003e\n\u003ctd style=\"height: 58px; width: 610px;\"\u003e\n\u003cstrong\u003e\u003cspan class=\"feature-label\"\u003eCell Type:\u003c\/span\u003e\u003c\/strong\u003e Monocrystalline\u003c\/td\u003e\n\u003c\/tr\u003e\n\u003c\/tbody\u003e\n\u003c\/table\u003e\n\u003cp\u003e \u003c\/p\u003e\n\u003ch2\u003eGeneral\u003c\/h2\u003e\n\u003ctable style=\"height: 90px;\" width=\"800\"\u003e\n\u003ctbody\u003e\n\u003ctr style=\"height: 58px;\"\u003e\n\u003ctd style=\"height: 58px; width: 610px;\"\u003e\n\u003cstrong\u003e\u003cspan class=\"feature-label\"\u003eProduct SKU:\u003c\/span\u003e\u003c\/strong\u003e 11805\u003c\/td\u003e\n\u003c\/tr\u003e\n\u003ctr style=\"height: 58px;\" bgcolor=\"#F0F0F0\"\u003e\n\u003ctd style=\"height: 58px; width: 610px;\"\u003e\n\u003cstrong\u003e\u003cspan class=\"feature-label\"\u003eWeight with Kickstand:\u003c\/span\u003e\u003c\/strong\u003e 3.0lbs (1360g)\u003c\/td\u003e\n\u003c\/tr\u003e\n\u003ctr style=\"height: 58px;\"\u003e\n\u003ctd style=\"height: 58px; width: 610px;\"\u003e\n\u003cstrong\u003e\u003cspan class=\"feature-label\"\u003eWeight without Kickstand:\u003c\/span\u003e\u003c\/strong\u003e 2.5lbs (1134g)\u003c\/td\u003e\n\u003c\/tr\u003e\n\u003ctr style=\"height: 58px;\" bgcolor=\"#F0F0F0\"\u003e\n\u003ctd style=\"height: 58px; width: 610px;\"\u003e\n\u003cstrong\u003e\u003cspan class=\"feature-label\"\u003eDimensions (unfolded):\u003c\/span\u003e\u003c\/strong\u003e 12.1 x 31.6 x 0.1 in (31 x 80 x 0.2 cm)\u003c\/td\u003e\n\u003c\/tr\u003e\n\u003ctr style=\"height: 58px;\"\u003e\n\u003ctd style=\"height: 58px; width: 610px;\"\u003e\n\u003cstrong\u003e\u003cspan class=\"feature-label\"\u003eDimensions (folded):\u003c\/span\u003e\u003c\/strong\u003e 12.1 x 7.9 x 1.7 in (31 x 20 x 4.3 cm)\u003c\/td\u003e\n\u003c\/tr\u003e\n\u003ctr style=\"height: 58px;\" bgcolor=\"#F0F0F0\"\u003e\n\u003ctd style=\"height: 58px; width: 610px;\"\u003e\n\u003cstrong\u003e\u003cspan class=\"feature-label\"\u003eMax Leg Angle:\u003c\/span\u003e\u003c\/strong\u003e 90 degrees\u003c\/td\u003e\n\u003c\/tr\u003e\n\u003c\/tbody\u003e\n\u003c\/table\u003e\n\u003ch5\u003eDownloads\u003c\/h5\u003e\n\u003ctable width=\"100%\"\u003e\n\u003ctbody\u003e\n\u003ctr\u003e\n\u003ctd style=\"text-align: center;\"\u003e\u003ca href=\"https:\/\/apollosat.com\/download\/goal-zero-yeti-400-user-guide\/\"\u003e \u003cimg src=\"\/\/cdn.shopify.com\/s\/files\/1\/2962\/4800\/files\/pdf-icon_large.png?v=1519722721\" title=\"Yeti 400 User Guide\" alt=\"Yeti 400 User Guide\"\u003e\u003c\/a\u003e\u003c\/td\u003e\n\u003ctd style=\"text-align: center;\"\u003e\u003ca href=\"https:\/\/apollosat.com\/download\/goal-zero-nomad-28-plus-user-guide\/\"\u003e \u003cimg src=\"\/\/cdn.shopify.com\/s\/files\/1\/2962\/4800\/files\/pdf-icon_large.png?v=1519722721\" title=\"Nomad 28 Plus User Guide\" alt=\"Nomad 28 Plus User Guide\"\u003e\u003c\/a\u003e\u003c\/td\u003e\n\u003c\/tr\u003e\n\u003ctr\u003e\n\u003ctd style=\"text-align: center;\"\u003e\u003ca href=\"https:\/\/apollosat.com\/download\/goal-zero-yeti-400-user-guide\/\" target=\"_blank\" title=\"Yeti 400 User Guide\" rel=\"noopener noreferrer\"\u003eYeti 400\u003cbr\u003eUser Guide\u003c\/a\u003e\u003c\/td\u003e\n\u003ctd style=\"text-align: center;\"\u003e\u003ca href=\"https:\/\/apollosat.com\/download\/goal-zero-nomad-28-plus-user-guide\/\" target=\"_blank\" title=\"Nomad 28 Plus User Guide\" rel=\"noopener noreferrer\"\u003eNomad 28 Plus\u003cbr\u003eUser Guide\u003c\/a\u003e\u003c\/td\u003e\n\u003c\/tr\u003e\n\u003c\/tbody\u003e\n\u003c\/table\u003e"}
Solar Panel
Quick View
{"id":4439387406371,"title":"Goal Zero Nomad 5 Solar Panel","handle":"goal-zero-nomad-5-solar-panel-1","description":"\u003ch5\u003eDescription\u003c\/h5\u003e\n\u003ch2 style=\"text-align: center;\"\u003eGoal Zero Nomad 5 Solar Panel\u003c\/h2\u003e\n\u003cp style=\"text-align: center; margin-left: 20%; margin-right: 20%;\"\u003eA lightweight solution for on-the-go power from the sun, the Nomad 5 features 5-watts of monocrystalline in a rugged enclosure with an easy-to-use kickstand and USB output.\u003c\/p\u003e\n\u003cdiv style=\"width: 48%; float: left;\"\u003e\n\u003ch3 style=\"margin-top: 20%;\"\u003eNomad 5 Highlights\u003c\/h3\u003e\n\u003cul\u003e\n\u003cli\u003e\n\u003cp\u003e5 Watt panel gives you the solar collecting capability needed to charge your phone anywhere the sun shines.\u003c\/p\u003e\n\u003c\/li\u003e\n\u003cli\u003e\n\u003cp\u003eBuilt-in kickstand clicks into place at multiple angles, so you can easily position your panel for optimal solar collection.\u003c\/p\u003e\n\u003c\/li\u003e\n\u003cli\u003e\n\u003cp\u003eRugged and durable, built to last as long as your adventures do.\u003c\/p\u003e\n\u003c\/li\u003e\n\u003c\/ul\u003e\n\u003c\/div\u003e\n\u003cdiv style=\"width: 50%; float: right;\"\u003e\n\u003cp style=\"float: right;\"\u003e\u003cimg alt=\"\" style=\"float: right;\"\u003e\u003cimg alt=\"\" style=\"float: right;\"\u003e\u003cimg src=\"https:\/\/cdn.shopify.com\/s\/files\/1\/2962\/4800\/files\/0fd1dc88253df742bc333f2f270352a8_480x480.jpg?v=1580731906\" alt=\"Goal Zero Nomad 5 Solar Panel\"\u003e\u003c\/p\u003e\n\u003c\/div\u003e\n\u003cp\u003e\u003cspan style=\"color: #ffffff;\"\u003espace\u003c\/span\u003e\u003c\/p\u003e\n\u003cp\u003e\u003cspan style=\"color: #ffffff;\"\u003espace\u003c\/span\u003e\u003c\/p\u003e\n\u003cdiv style=\"width: 50%; float: left;\"\u003e\n\u003cp style=\"text-align: left;\"\u003e\u003cimg alt=\"\" style=\"float: none;\"\u003e\u003cimg alt=\"\" style=\"float: none;\"\u003e\u003cimg alt=\"\" style=\"float: none;\"\u003e\u003cimg src=\"https:\/\/cdn.shopify.com\/s\/files\/1\/2962\/4800\/files\/db65452e079d235e49f8e6770a26196c_480x480.jpg?v=1580732508\" alt=\"Goal Zero Nomad 5 Solar Panel\"\u003e\u003c\/p\u003e\n\u003c\/div\u003e\n\u003cdiv style=\"width: 48%; float: right;\"\u003e\n\u003ch3 style=\"margin-top: 16%;\"\u003eWhat Can The Nomad 5 Charge?\u003c\/h3\u003e\n\u003cp\u003eSolar panels do not hold a charge, they produce power when exposed to sunlight. For the best charging experience, pair with a Flip 12 power bank to keep devices charged on the go. Simply plug the Flip into the panel's built-in charging dock to charge the battery from sun while hiking, biking, or on the move. Then, use the Flip to charge your phone when the sun goes down. The Nomad 5 is great for charging things like:\u003c\/p\u003e\n\u003cul\u003e\n\u003cli\u003eHeadlamps\u003c\/li\u003e\n\u003cli\u003ePhones\u003c\/li\u003e\n\u003cli\u003eOther similar USB devices\u003c\/li\u003e\n\u003cli\u003eGoal Zero Power Packs\u003c\/li\u003e\n\u003c\/ul\u003e\n\u003c\/div\u003e\n\u003cp\u003e\u003cspan style=\"color: #ffffff;\"\u003espace\u003c\/span\u003e\u003c\/p\u003e\n\u003cp\u003e\u003cspan style=\"color: #ffffff;\"\u003espace\u003c\/span\u003e\u003c\/p\u003e\n\u003ch5\u003eTech Specs\u003c\/h5\u003e\n\u003ch2\u003ePorts\u003c\/h2\u003e\n\u003ctable style=\"height: 90px;\" width=\"800\"\u003e\n\u003ctbody\u003e\n\u003ctr style=\"height: 58px;\"\u003e\n\u003ctd style=\"height: 58px; width: 610px;\"\u003e\u003cspan class=\"feature-label\"\u003eUSB Port: 5V, up to 830mA (5W max)\u003c\/span\u003e\u003c\/td\u003e\n\u003c\/tr\u003e\n\u003c\/tbody\u003e\n\u003c\/table\u003e\n\u003cp\u003e \u003c\/p\u003e\n\u003ch2\u003eGeneral\u003c\/h2\u003e\n\u003ctable style=\"height: 90px;\" width=\"800\"\u003e\n\u003ctbody\u003e\n\u003ctr style=\"height: 58px;\"\u003e\n\u003ctd style=\"height: 58px; width: 610px;\"\u003eProduct SKU: 11500\u003c\/td\u003e\n\u003c\/tr\u003e\n\u003ctr style=\"height: 58px;\" bgcolor=\"#F0F0F0\"\u003e\n\u003ctd style=\"height: 58px; width: 610px;\"\u003eWeight: 12.7 oz (360 g)\u003c\/td\u003e\n\u003c\/tr\u003e\n\u003ctr style=\"height: 58px;\"\u003e\n\u003ctd style=\"height: 58px; width: 610px;\"\u003eDimensions: 9.5 x 7 x 1.1 in (24 x 17.8 x 2.8 cm)\u003c\/td\u003e\n\u003c\/tr\u003e\n\u003ctr style=\"height: 58px;\" bgcolor=\"#F0F0F0\"\u003e\n\u003ctd style=\"height: 58px; width: 610px;\"\u003eMax Leg Angle: 180 degrees\u003c\/td\u003e\n\u003c\/tr\u003e\n\u003ctr style=\"height: 58px;\"\u003e\n\u003ctd style=\"height: 58px; width: 610px;\"\u003eWarranty: 12 months\u003c\/td\u003e\n\u003c\/tr\u003e\n\u003c\/tbody\u003e\n\u003c\/table\u003e\n\u003cp\u003e \u003c\/p\u003e\n\u003ch2\u003eSolar\u003cstrong\u003e\u003cbr\u003e \u003c\/strong\u003e\n\u003c\/h2\u003e\n\u003ctable style=\"height: 90px;\" width=\"800\"\u003e\n\u003ctbody\u003e\n\u003ctr style=\"height: 58px;\"\u003e\n\u003ctd style=\"height: 58px; width: 610px;\"\u003e\n\u003cspan class=\"feature-label\"\u003eCapacity: 5V, 5W\u003c\/span\u003e 14W\u003c\/td\u003e\n\u003c\/tr\u003e\n\u003ctr style=\"height: 58px;\" bgcolor=\"#F0F0F0\"\u003e\n\u003ctd style=\"height: 58px; width: 610px;\"\u003e\n\u003cspan class=\"feature-label\"\u003eCell Type: Monocrystalline\u003c\/span\u003e 18-22V\u003c\/td\u003e\n\u003c\/tr\u003e\n\u003c\/tbody\u003e\n\u003c\/table\u003e\n\u003cp\u003e \u003c\/p\u003e\n\u003ch5\u003eDownloads\u003c\/h5\u003e\n\u003cp style=\"text-align: center;\"\u003e\u003ca href=\"https:\/\/apollosat.com\/download\/goal-zero-nomad-5-user-guide-2\/\" target=\"_blank\" rel=\"noopener noreferrer\"\u003e\u003cimg src=\"https:\/\/cdn.shopify.com\/s\/files\/1\/2962\/4800\/files\/pdf-icon_480x480.png?v=1519722721\" alt=\"Nomad 5 User Guide\"\u003e\u003c\/a\u003e\u003cbr\u003eUser Guide\u003c\/p\u003e","published_at":"2020-02-03T04:07:05-08:00","created_at":"2020-02-03T04:17:21-08:00","vendor":"Goal Zero","type":"Solar Panel","tags":["Brand_Goal Zero","Solar Type_Solar Panel"],"price":5995,"price_min":5995,"price_max":5995,"available":false,"price_varies":false,"compare_at_price":null,"compare_at_price_min":0,"compare_at_price_max":0,"compare_at_price_varies":false,"variants":[{"id":31674654588963,"title":"Default Title","option1":"Default Title","option2":null,"option3":null,"sku":"GZ11500","requires_shipping":true,"taxable":true,"featured_image":null,"available":false,"name":"Goal Zero Nomad 5 Solar Panel","public_title":null,"options":["Default Title"],"price":5995,"weight":369,"compare_at_price":null,"inventory_management":"shopify","barcode":""}],"images":["\/\/cdn.shopify.com\/s\/files\/1\/2962\/4800\/products\/e080d6fec344ce571a0f004c84731787.jpg?v=1580953589","\/\/cdn.shopify.com\/s\/files\/1\/2962\/4800\/products\/e9b42a63bfbed39b6e7c04b7070367ef.jpg?v=1580953589","\/\/cdn.shopify.com\/s\/files\/1\/2962\/4800\/products\/a6bea8a5a8a9b42bcd3e836a91c01b1d.jpg?v=1580953589","\/\/cdn.shopify.com\/s\/files\/1\/2962\/4800\/products\/15f84ffb82b941a20146d7e1b7cda426.jpg?v=1580953589","\/\/cdn.shopify.com\/s\/files\/1\/2962\/4800\/products\/0eeae62a219b8b070f62186c96949e38.jpg?v=1580953589"],"featured_image":"\/\/cdn.shopify.com\/s\/files\/1\/2962\/4800\/products\/e080d6fec344ce571a0f004c84731787.jpg?v=1580953589","options":["Title"],"media":[{"alt":"Goal Zero Nomad 5 Solar Panel - Apollo Satellite","id":6445731872803,"position":1,"preview_image":{"aspect_ratio":1.0,"height":1000,"width":1000,"src":"https:\/\/cdn.shopify.com\/s\/files\/1\/2962\/4800\/products\/e080d6fec344ce571a0f004c84731787.jpg?v=1580732241"},"aspect_ratio":1.0,"height":1000,"media_type":"image","src":"https:\/\/cdn.shopify.com\/s\/files\/1\/2962\/4800\/products\/e080d6fec344ce571a0f004c84731787.jpg?v=1580732241","width":1000},{"alt":"Goal Zero Nomad 5 Solar Panel - Apollo Satellite","id":6445731905571,"position":2,"preview_image":{"aspect_ratio":1.0,"height":1000,"width":1000,"src":"https:\/\/cdn.shopify.com\/s\/files\/1\/2962\/4800\/products\/e9b42a63bfbed39b6e7c04b7070367ef.jpg?v=1580732241"},"aspect_ratio":1.0,"height":1000,"media_type":"image","src":"https:\/\/cdn.shopify.com\/s\/files\/1\/2962\/4800\/products\/e9b42a63bfbed39b6e7c04b7070367ef.jpg?v=1580732241","width":1000},{"alt":"Goal Zero Nomad 5 Solar Panel - Apollo Satellite","id":6445731938339,"position":3,"preview_image":{"aspect_ratio":1.0,"height":1000,"width":1000,"src":"https:\/\/cdn.shopify.com\/s\/files\/1\/2962\/4800\/products\/a6bea8a5a8a9b42bcd3e836a91c01b1d.jpg?v=1580732241"},"aspect_ratio":1.0,"height":1000,"media_type":"image","src":"https:\/\/cdn.shopify.com\/s\/files\/1\/2962\/4800\/products\/a6bea8a5a8a9b42bcd3e836a91c01b1d.jpg?v=1580732241","width":1000},{"alt":"Goal Zero Nomad 5 Solar Panel - Apollo Satellite","id":6445731971107,"position":4,"preview_image":{"aspect_ratio":1.0,"height":1000,"width":1000,"src":"https:\/\/cdn.shopify.com\/s\/files\/1\/2962\/4800\/products\/15f84ffb82b941a20146d7e1b7cda426.jpg?v=1580732241"},"aspect_ratio":1.0,"height":1000,"media_type":"image","src":"https:\/\/cdn.shopify.com\/s\/files\/1\/2962\/4800\/products\/15f84ffb82b941a20146d7e1b7cda426.jpg?v=1580732241","width":1000},{"alt":"Goal Zero Nomad 5 Solar Panel - Apollo Satellite","id":6445732003875,"position":5,"preview_image":{"aspect_ratio":1.0,"height":1000,"width":1000,"src":"https:\/\/cdn.shopify.com\/s\/files\/1\/2962\/4800\/products\/0eeae62a219b8b070f62186c96949e38.jpg?v=1580732241"},"aspect_ratio":1.0,"height":1000,"media_type":"image","src":"https:\/\/cdn.shopify.com\/s\/files\/1\/2962\/4800\/products\/0eeae62a219b8b070f62186c96949e38.jpg?v=1580732241","width":1000}],"content":"\u003ch5\u003eDescription\u003c\/h5\u003e\n\u003ch2 style=\"text-align: center;\"\u003eGoal Zero Nomad 5 Solar Panel\u003c\/h2\u003e\n\u003cp style=\"text-align: center; margin-left: 20%; margin-right: 20%;\"\u003eA lightweight solution for on-the-go power from the sun, the Nomad 5 features 5-watts of monocrystalline in a rugged enclosure with an easy-to-use kickstand and USB output.\u003c\/p\u003e\n\u003cdiv style=\"width: 48%; float: left;\"\u003e\n\u003ch3 style=\"margin-top: 20%;\"\u003eNomad 5 Highlights\u003c\/h3\u003e\n\u003cul\u003e\n\u003cli\u003e\n\u003cp\u003e5 Watt panel gives you the solar collecting capability needed to charge your phone anywhere the sun shines.\u003c\/p\u003e\n\u003c\/li\u003e\n\u003cli\u003e\n\u003cp\u003eBuilt-in kickstand clicks into place at multiple angles, so you can easily position your panel for optimal solar collection.\u003c\/p\u003e\n\u003c\/li\u003e\n\u003cli\u003e\n\u003cp\u003eRugged and durable, built to last as long as your adventures do.\u003c\/p\u003e\n\u003c\/li\u003e\n\u003c\/ul\u003e\n\u003c\/div\u003e\n\u003cdiv style=\"width: 50%; float: right;\"\u003e\n\u003cp style=\"float: right;\"\u003e\u003cimg alt=\"\" style=\"float: right;\"\u003e\u003cimg alt=\"\" style=\"float: right;\"\u003e\u003cimg src=\"https:\/\/cdn.shopify.com\/s\/files\/1\/2962\/4800\/files\/0fd1dc88253df742bc333f2f270352a8_480x480.jpg?v=1580731906\" alt=\"Goal Zero Nomad 5 Solar Panel\"\u003e\u003c\/p\u003e\n\u003c\/div\u003e\n\u003cp\u003e\u003cspan style=\"color: #ffffff;\"\u003espace\u003c\/span\u003e\u003c\/p\u003e\n\u003cp\u003e\u003cspan style=\"color: #ffffff;\"\u003espace\u003c\/span\u003e\u003c\/p\u003e\n\u003cdiv style=\"width: 50%; float: left;\"\u003e\n\u003cp style=\"text-align: left;\"\u003e\u003cimg alt=\"\" style=\"float: none;\"\u003e\u003cimg alt=\"\" style=\"float: none;\"\u003e\u003cimg alt=\"\" style=\"float: none;\"\u003e\u003cimg src=\"https:\/\/cdn.shopify.com\/s\/files\/1\/2962\/4800\/files\/db65452e079d235e49f8e6770a26196c_480x480.jpg?v=1580732508\" alt=\"Goal Zero Nomad 5 Solar Panel\"\u003e\u003c\/p\u003e\n\u003c\/div\u003e\n\u003cdiv style=\"width: 48%; float: right;\"\u003e\n\u003ch3 style=\"margin-top: 16%;\"\u003eWhat Can The Nomad 5 Charge?\u003c\/h3\u003e\n\u003cp\u003eSolar panels do not hold a charge, they produce power when exposed to sunlight. For the best charging experience, pair with a Flip 12 power bank to keep devices charged on the go. Simply plug the Flip into the panel's built-in charging dock to charge the battery from sun while hiking, biking, or on the move. Then, use the Flip to charge your phone when the sun goes down. The Nomad 5 is great for charging things like:\u003c\/p\u003e\n\u003cul\u003e\n\u003cli\u003eHeadlamps\u003c\/li\u003e\n\u003cli\u003ePhones\u003c\/li\u003e\n\u003cli\u003eOther similar USB devices\u003c\/li\u003e\n\u003cli\u003eGoal Zero Power Packs\u003c\/li\u003e\n\u003c\/ul\u003e\n\u003c\/div\u003e\n\u003cp\u003e\u003cspan style=\"color: #ffffff;\"\u003espace\u003c\/span\u003e\u003c\/p\u003e\n\u003cp\u003e\u003cspan style=\"color: #ffffff;\"\u003espace\u003c\/span\u003e\u003c\/p\u003e\n\u003ch5\u003eTech Specs\u003c\/h5\u003e\n\u003ch2\u003ePorts\u003c\/h2\u003e\n\u003ctable style=\"height: 90px;\" width=\"800\"\u003e\n\u003ctbody\u003e\n\u003ctr style=\"height: 58px;\"\u003e\n\u003ctd style=\"height: 58px; width: 610px;\"\u003e\u003cspan class=\"feature-label\"\u003eUSB Port: 5V, up to 830mA (5W max)\u003c\/span\u003e\u003c\/td\u003e\n\u003c\/tr\u003e\n\u003c\/tbody\u003e\n\u003c\/table\u003e\n\u003cp\u003e \u003c\/p\u003e\n\u003ch2\u003eGeneral\u003c\/h2\u003e\n\u003ctable style=\"height: 90px;\" width=\"800\"\u003e\n\u003ctbody\u003e\n\u003ctr style=\"height: 58px;\"\u003e\n\u003ctd style=\"height: 58px; width: 610px;\"\u003eProduct SKU: 11500\u003c\/td\u003e\n\u003c\/tr\u003e\n\u003ctr style=\"height: 58px;\" bgcolor=\"#F0F0F0\"\u003e\n\u003ctd style=\"height: 58px; width: 610px;\"\u003eWeight: 12.7 oz (360 g)\u003c\/td\u003e\n\u003c\/tr\u003e\n\u003ctr style=\"height: 58px;\"\u003e\n\u003ctd style=\"height: 58px; width: 610px;\"\u003eDimensions: 9.5 x 7 x 1.1 in (24 x 17.8 x 2.8 cm)\u003c\/td\u003e\n\u003c\/tr\u003e\n\u003ctr style=\"height: 58px;\" bgcolor=\"#F0F0F0\"\u003e\n\u003ctd style=\"height: 58px; width: 610px;\"\u003eMax Leg Angle: 180 degrees\u003c\/td\u003e\n\u003c\/tr\u003e\n\u003ctr style=\"height: 58px;\"\u003e\n\u003ctd style=\"height: 58px; width: 610px;\"\u003eWarranty: 12 months\u003c\/td\u003e\n\u003c\/tr\u003e\n\u003c\/tbody\u003e\n\u003c\/table\u003e\n\u003cp\u003e \u003c\/p\u003e\n\u003ch2\u003eSolar\u003cstrong\u003e\u003cbr\u003e \u003c\/strong\u003e\n\u003c\/h2\u003e\n\u003ctable style=\"height: 90px;\" width=\"800\"\u003e\n\u003ctbody\u003e\n\u003ctr style=\"height: 58px;\"\u003e\n\u003ctd style=\"height: 58px; width: 610px;\"\u003e\n\u003cspan class=\"feature-label\"\u003eCapacity: 5V, 5W\u003c\/span\u003e 14W\u003c\/td\u003e\n\u003c\/tr\u003e\n\u003ctr style=\"height: 58px;\" bgcolor=\"#F0F0F0\"\u003e\n\u003ctd style=\"height: 58px; width: 610px;\"\u003e\n\u003cspan class=\"feature-label\"\u003eCell Type: Monocrystalline\u003c\/span\u003e 18-22V\u003c\/td\u003e\n\u003c\/tr\u003e\n\u003c\/tbody\u003e\n\u003c\/table\u003e\n\u003cp\u003e \u003c\/p\u003e\n\u003ch5\u003eDownloads\u003c\/h5\u003e\n\u003cp style=\"text-align: center;\"\u003e\u003ca href=\"https:\/\/apollosat.com\/download\/goal-zero-nomad-5-user-guide-2\/\" target=\"_blank\" rel=\"noopener noreferrer\"\u003e\u003cimg src=\"https:\/\/cdn.shopify.com\/s\/files\/1\/2962\/4800\/files\/pdf-icon_480x480.png?v=1519722721\" alt=\"Nomad 5 User Guide\"\u003e\u003c\/a\u003e\u003cbr\u003eUser Guide\u003c\/p\u003e"}