Goal Zero Guide 10 Plus Recharger
Guide 10 Plus Recharger
With the Guide 10 Plus Recharger you have a portable, rugged charging kit as adventurous as you are that effectively keeps your favorite devices powered for when you need them most. Charge AAs from the sun or any USB port, then power your phone, MP3, GPS, or perk up your tablet in a pinch.
Guide 10 Plus Features
Guide 10 Plus Charging
There Are Two Ways to Charge Your Guide 10 Plus:
The Sun
It can be charged by connecting a compatible solar panel (see the chart below for solar compatibility).
USB
It can also be charged by being plugged into a USB power source.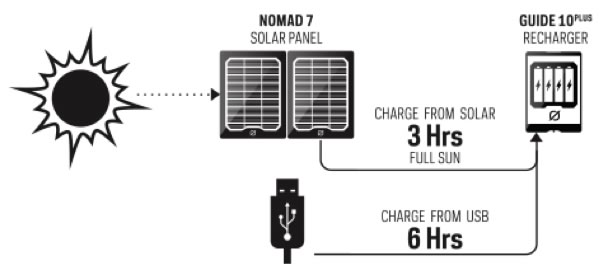 space
Charges Times
USB Power Source: 6-10 hours
Wall: n/a
Car: n/a
Nomad 7 Solar Panel: 3-6 Hours
Nomad 13 Solar Panel: 2.5-5 Hours
Battery Details

Battery Type:

NiMH
Battery Size:

11Wh (4.8V, 2300mAh)
Lifecycles:

500 cycles
Shelf-life:

Keep plugged in, or charge every 3-6 months
Fuses

: none
Management system:

Charging and low-battery protection built-in
Light Detail

LED Output:

100mW, white LED
Ports

USB Port (output):

5V, up to 1A (5W max), regulated
USB Port (input):

5V, up to 0.8A (4W max), regulated
Mini solar port (input):

6.5V, up to 1.1A
General
Chainable:

No
Weight (w/batteries):

6.4 oz (181 g)
Dimensions:

2.5 x 4 x 0.75 in (6.4 x 10.2 x 1.9 cm)
Operating usage temp.:

32-104 F (0-40 C)
What batteries can be used in the Guide 10?
Any AA or AAA* NiMH batteries can be used and recharged. We do not recommend other types of batteries. 4 same-sized batteries MUST be charged at once, but not all batteries need to be empty. *AAA cells are sold separately and come with an adapter to use with the Guide 10 Plus.
How do I charge the Guide 10?
From Solar: Use Goal Zero Nomad 3.5 or Nomad 7 with solar charge cable for fast charging.
From USB: Use any USB power source, such as a computer or any Goal Zero power pack.
I the Guide 10 waterproof?
No, but it is weather-resistant. Care should be taken to shield if from direct sunlight and the elements. Unexpected rain storms probably won't harm it.
How is the Guide 10 protected?
Usage is plug-and-play. The built-in battery management system prevents over-charging and over-discharging of batteries. The USB output will only supply the amount of power needed.
Flip 10
Guide 10 Plus
Switch 10
Venture 30
Flip 30
Sherpa 50
Sherpa 100
Headlamp
2 Charges
5-10 Charges
12 Charges
25 Charges
Smartphone
1 Charge
3-5 Charges
7 Charges
14 Charges
GoPro
1-2 Charges
5 Charges
9 Charges
18 Charges
Digital Camera
1 Charge
3 Charges
5 Charges
10 Charges
Tablet
25% Boost
1 Charge
1-2 Charges
2-4 Charges
Laptop
N/A
N/A
1 Charge
1-2 Charges
Yeti 150
Yeti 400
LA & LI
Yeti 1250
Yeti 1400
Headlamp
37 Charges
100 Charges
200+ Charges
230+ Charges
Smartphone
15 Charges
30+ Charges
60+ Charges
70+ Charges
GoPro
25 Charges
70+ Charges
200+ Charges
230+ Charges
Digital Camera
12 Charges
20+ Charges
100+ Charges
120+ Charges
Tablet
6 Charges
10+ Charges
45+ Charges
52+ Charges
Laptop
1-2 Charges
3-5 Charges
20+ Charges
23+ Charges