Goal Zero Lighthouse Micro Flash
Goal Zero Lighthouse Micro Flash
The Goal Zero Lighthouse Micro Flash has the same bright features as the Lighthouse Micro with an additional 120-lumen dimmable flashlight built-in. It also pairs perfectly with Goal Zero Nomad Solar Panels. This brings an added convenience to the charging of your device.
Micro Flash Charging
There Are Two Ways to Charge the Micro Flash
The Sun
The Flash can be charged by connecting a compatible solar panel. The Nomad 7 Solar Panel can charge the Micro Flash in about 3.5 hours
USB
The Flash Lantern can also be charged by being plugged into a USB power source.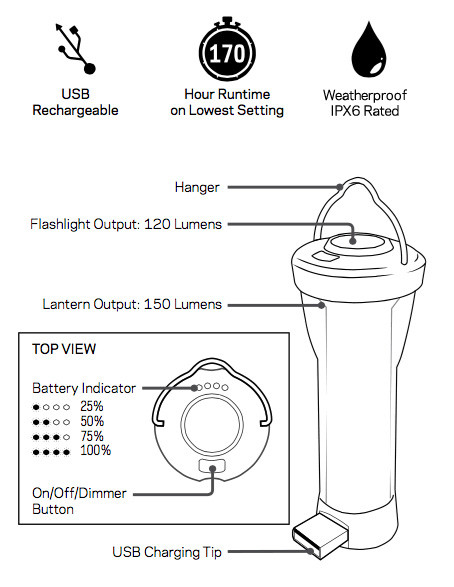 space
space
space
space
space
Charge Times
Goal Zero Nomad 7:

3.5 hours
USB Source:

3.5 Hours
Run Times
Flashlight:

100 hours (low), 8.5 hours (high)
One side lit:

170 hours (low), 15 hours (high)
Both sides lit:

80 hours (low), 7 hours (high)
Light

Full Bright, 4 Lights (Average):

135 Lumens, 3800K
Dimmest, 2 Lights (Average):

7 Lumens, 3800K
Flashlight, Bright (Average):

115 Lumens, 3000K
Flashlight, Dim (Average):

15 Lumens, 3000K
Full Bright, 4 Lights (Full Battery):

150 Lumens, 3800K
Dimmest, 2 Lights (Full Battery):

10 Lumens, 3800K
Flashlight, Bright (Full Battery):

120 Lumens, 3000K
Flashlight, Dim (Full Battery):

20 Lumens, 3000K
Battery

Cell Chemistry:

Li-on NMC
Cell Type: 18650 by LG chem/Samsung
Cell Capacity:

9.62 Wh (3.7V, 2600mAh)
Lifecycles:

hundreds of cycles
Shelf Life:

Keep plugged in, or charge every 3-6 months
Management System:

Charging and low-battery protection built-in
Ports

USB port (input):

5V, up to 1A (5W max)
General

Chainable: No
Weight:
2.4 oz (68g)
Dimensions:
3.66 x 1.5 in (93 x 37.75mm)
Related Products
Quick View
{"id":1863971176490,"title":"Goal Zero Yeti 1000 Lithium Boulder 100 Solar Kit \u0026 MPPT","handle":"goal-zero-yeti-1000-lithium-power-station-boulder-100-solar-kit","description":"\u003ch5\u003eDescription\u003c\/h5\u003e\n\u003ch2 style=\"text-align: center;\"\u003eGoal Zero Yeti 1000 Lithium Boulder 100 Solar Kit \u0026amp; MPPT\u003c\/h2\u003e\n\u003cp style=\"text-align: center;\"\u003e\u003ciframe src=\"https:\/\/www.youtube.com\/embed\/HijDGCkscyU\" allow=\"accelerometer; autoplay; encrypted-media; gyroscope; picture-in-picture\" allowfullscreen=\"\" width=\"560\" height=\"315\" frameborder=\"0\"\u003e\u003c\/iframe\u003e\u003c\/p\u003e\n\u003cp style=\"text-align: center;\"\u003eThe Goal Zero Yeti 1000 Lithium Boulder 100 Solar Kit \u0026amp; MPPT comes with everything you need to keep your devices powered in one convenient kit. Even if you are away from a power source you can get juice to your devices. Also, since a solar panel comes with the kit you can keep your devices charged using the sun's energy giving you endless power. This Goal Zero Yeti 1000 Lithium Boulder 100 Solar Kit \u0026amp; MPPT brings convenience to the powering of your daily appliances; even off the grid! Pick up the Yeti 1000 Lithium Boulder 100 Solar Kit \u0026amp; MPPT and add convenient power to your trek.\u003c\/p\u003e\n\u003cp\u003e\u003cspan style=\"color: #ffffff;\"\u003espace\u003c\/span\u003e\u003c\/p\u003e\n\u003cdiv style=\"width: 48%; float: left;\"\u003e\n\u003ch3\u003eYeti 1000 Lithium Highlights\u003c\/h3\u003e\n\u003cp\u003eThe Yeti 1000 Lithium is packed with some of Goal Zero's best features that make powering your stuff that much easier and since it is paired with the Boulder 100 you are good to go!\u003c\/p\u003e\n\u003cul\u003e\n\u003cli\u003e\n\u003cp\u003eInstant power at the push of a button - silent and powerful 1045Wh, 96.8Ah (10.8V) lithium battery\u003c\/p\u003e\n\u003c\/li\u003e\n\u003cli\u003e\n\u003cp\u003eNo more extension cords, no more gasoline, no more fumes with multi-stage patent pending 1500W AC inverter\u003c\/p\u003e\n\u003c\/li\u003e\n\u003cli\u003e\n\u003cp\u003eVersatile powering options including: four USB ports, two AC outlets and 12V output\u003c\/p\u003e\n\u003c\/li\u003e\n\u003cli\u003e\n\u003cp\u003eInformative display featuring a runtime\/recharge time estimator, as well as a battery level monitor and an output\/input meter\u003c\/p\u003e\n\u003c\/li\u003e\n\u003c\/ul\u003e\n\u003c\/div\u003e\n\u003cdiv style=\"width: 50%; text-align: right;\"\u003e\u003cimg alt=\"Yeti 1000 Lithium Boulder 100 Solar Kit\" src=\"\/\/cdn.shopify.com\/s\/files\/1\/2962\/4800\/files\/YetiLi1000-LeftFace_large.jpg?v=1548202391\" style=\"float: none; margin: 10px;\"\u003e\u003c\/div\u003e\n\u003cp\u003e\u003cspan style=\"color: #ffffff;\"\u003espace\u003c\/span\u003e\u003c\/p\u003e\n\u003cdiv style=\"width: 50%; text-align: left;\"\u003e\u003cimg alt=\"Yeti 1000 Lithium Boulder 100 Solar Kit\" src=\"\/\/cdn.shopify.com\/s\/files\/1\/2962\/4800\/files\/Boulder100Highlights_large.jpg?v=1548204007\" style=\"float: none;\"\u003e\u003c\/div\u003e\n\u003cdiv style=\"width: 48%; float: right;\"\u003e\n\u003ch3 style=\"text-align: left;\"\u003eBoulder 100 Briefcase Highlights\u003c\/h3\u003e\n\u003cp style=\"text-align: left;\"\u003eThe Boulder 100 Briefcase has everything you need to get your solar kit started and charging with solar energy from the sun. It is one of the \"go to\" solar panels for Goal Zero's line of Yeti Power Stations.\u003c\/p\u003e\n\u003cul\u003e\n\u003cli style=\"text-align: left;\"\u003e\n\u003cp style=\"text-align: left:;\"\u003eRecharge the power station from the sun by plugging the Boulder 100 Solar Panel into the solar input port - the Boulder 100 is best if you need to recharge your Yeti 1000 Lithium from the sun about 20-40% each day - if you are going to consume more energy daily, it is recommended to add an additional or larger panel\u003c\/p\u003e\n\u003c\/li\u003e\n\u003cli style=\"text-align: left;\"\u003e\n\u003cp style=\"text-align: left;\"\u003e100 Watt (18-22V) panel features integrated kickstand providing optimal angle placement\u003c\/p\u003e\n\u003c\/li\u003e\n\u003cli style=\"text-align: left;\"\u003e\n\u003cp style=\"text-align: left:;\"\u003ePlug it into the wall - fully recharges in about 18 hours - Pro Tip: Purchase an additional wall charger to cut charging time in half\u003c\/p\u003e\n\u003c\/li\u003e\n\u003c\/ul\u003e\n\u003c\/div\u003e\n\u003cp\u003e\u003cspan style=\"color: #ffffff;\"\u003espace\u003c\/span\u003e\u003c\/p\u003e\n\u003cdiv style=\"width: 50%; float: left; margin-top: 7%;\"\u003e\n\u003ch3\u003eYeti Lithium MPPT Module Features\u003c\/h3\u003e\n\u003cp\u003eThe MPPT Module for Goal Zero's line of Yetis brings even more convenience to your solar kit by optimizing the charge for your power station.\u003c\/p\u003e\n\u003cul\u003e\n\u003cli\u003e\n\u003cp\u003eThe module is an external add-on built to optimize charging for the Yeti 1000 Lithium and Yeti 1400 Lithium - (Comes pre-installed on the Yeti 3000 Lithium)\u003c\/p\u003e\n\u003c\/li\u003e\n\u003cli\u003e\n\u003cp\u003eThe Solar Charging Optimization Module when installed actively monitors and optimizes the energy sourse to maximize power input, resulting in up to 40% faster charge times, especially from solar panels\u003c\/p\u003e\n\u003c\/li\u003e\n\u003c\/ul\u003e\n\u003c\/div\u003e\n\u003cdiv style=\"width: 48%; text-align: right;\"\u003e\u003cimg alt=\"Yeti 1000 Lithium Boulder 100 Solar Kit\" src=\"\/\/cdn.shopify.com\/s\/files\/1\/2962\/4800\/files\/GZMPPTModule-imag1_large.jpg?v=1548205326\" style=\"float: none; margin: 10px;\"\u003e\u003c\/div\u003e\n\u003cp\u003e\u003cspan style=\"color: #ffffff;\"\u003espace\u003c\/span\u003e\u003c\/p\u003e\n\u003cdiv style=\"width: 50%; text-align: left;\"\u003e\u003cimg src=\"\/\/cdn.shopify.com\/s\/files\/1\/2962\/4800\/files\/GZLittleGirl_large.jpg?v=1548208483\" alt=\"Yeti 1000 Lithium Boulder 100 Solar Kit \"\u003e\u003c\/div\u003e\n\u003cdiv style=\"width: 48%; float: right; margin-top: 5%;\"\u003e\n\u003ch3 style=\"text-align: left;\"\u003eWhat Can the Yeti Lithium 1000 Power\u003c\/h3\u003e\n\u003cp style=\"text-align: left;\"\u003eThe Yeti 1000 Lithium is great for all your larger sized power needs or multiple smaller devices - it is perfect for those pesky power outages and even emergency situations.\u003c\/p\u003e\n\u003cul\u003e\n\u003cli style=\"text-align: left;\"\u003eSmartphone 50+ Recharges\u003c\/li\u003e\n\u003cli style=\"text-align: left;\"\u003ePOV Camera 165+ Recharges\u003c\/li\u003e\n\u003cli style=\"text-align: left;\"\u003eHeadlamp 165+ Recharges\u003c\/li\u003e\n\u003cli style=\"text-align: left;\"\u003eTablet 37+ Recharges\u003c\/li\u003e\n\u003cli style=\"text-align: left;\"\u003eLaptop 17+ Recharges\u003c\/li\u003e\n\u003cli style=\"text-align: left;\"\u003eLight-a-Life 335+ Hours\u003c\/li\u003e\n\u003cli style=\"text-align: left;\"\u003eFridge 17+ Hours\u003c\/li\u003e\n\u003cli style=\"text-align: left;\"\u003e32 LCD TV 10 hours\u003c\/li\u003e\n\u003c\/ul\u003e\n\u003c\/div\u003e\n\u003cp\u003e\u003cspan style=\"color: #ffffff;\"\u003espace\u003c\/span\u003e\u003c\/p\u003e\n\u003cp\u003e\u003cspan style=\"color: #ffffff;\"\u003espace\u003c\/span\u003e\u003c\/p\u003e\n\u003ch5\u003eTech Specs\u003c\/h5\u003e\n\u003ch2\u003eYeti Lithium 1000\u003c\/h2\u003e\n\u003ch3\u003eCharge Times\u003c\/h3\u003e\n\u003ctable style=\"height: 90px;\" width=\"800\"\u003e\n\u003ctbody\u003e\n\u003ctr style=\"height: 58px;\"\u003e\n\u003ctd style=\"height: 58px; width: 610px;\"\u003e\n\u003cstrong\u003e\u003cspan class=\"feature-label\"\u003eWall Charger (5A):\u003c\/span\u003e\u003c\/strong\u003e 18 hours\u003c\/td\u003e\n\u003c\/tr\u003e\n\u003ctr style=\"height: 58px;\"\u003e\n\u003ctd style=\"height: 58px; width: 610px;\"\u003e\n\u003cstrong\u003e\u003cspan class=\"feature-label\"\u003eBoulder 50 Solar Panel:\u003c\/span\u003e\u003c\/strong\u003e 32-80 Hours\u003c\/td\u003e\n\u003c\/tr\u003e\n\u003ctr style=\"height: 58px;\"\u003e\n\u003ctd style=\"height: 58px; width: 610px;\"\u003e\n\u003cstrong\u003e\u003cspan class=\"feature-label\"\u003eBoulder 100 Solar Panel:\u003c\/span\u003e\u003c\/strong\u003e 16-40 Hours\u003c\/td\u003e\n\u003c\/tr\u003e\n\u003ctr style=\"height: 58px;\"\u003e\n\u003ctd style=\"height: 58px; width: 610px;\"\u003e\n\u003cstrong\u003e\u003cspan class=\"feature-label\"\u003eBoulder 200 Solar Panel:\u003c\/span\u003e\u003c\/strong\u003e 8-20 Hours\u003c\/td\u003e\n\u003c\/tr\u003e\n\u003c\/tbody\u003e\n\u003c\/table\u003e\n\u003cp\u003e \u003c\/p\u003e\n\u003ch2\u003eBattery Details\u003c\/h2\u003e\n\u003ctable style=\"height: 90px;\" width=\"800\"\u003e\n\u003ctbody\u003e\n\u003ctr style=\"height: 58px;\"\u003e\n\u003ctd style=\"height: 58px; width: 610px;\"\u003e\n\u003cstrong\u003e\u003cspan class=\"feature-label\"\u003eCell Type:\u003c\/span\u003e\u003c\/strong\u003e Li-ion NMC\u003c\/td\u003e\n\u003c\/tr\u003e\n\u003ctr style=\"height: 58px;\"\u003e\n\u003ctd style=\"height: 58px; width: 610px;\"\u003e\n\u003cstrong\u003e\u003cspan class=\"feature-label\"\u003ePeak Capacity:\u003c\/span\u003e\u003c\/strong\u003e 1045Wh (10.8V, 96.8Ah)\u003c\/td\u003e\n\u003c\/tr\u003e\n\u003ctr style=\"height: 58px;\"\u003e\n\u003ctd style=\"height: 58px; width: 610px;\"\u003e\n\u003cstrong\u003e\u003cspan class=\"feature-label\"\u003eLifecycles:\u003c\/span\u003e\u003c\/strong\u003e 500 Cycles to 80% capacity (Discharge: 1C, Full charge\/discharge, Temp 25C)\u003c\/td\u003e\n\u003c\/tr\u003e\n\u003ctr style=\"height: 58px;\"\u003e\n\u003ctd style=\"height: 58px; width: 610px;\"\u003e\n\u003cstrong\u003e\u003cspan class=\"feature-label\"\u003eShelf-life:\u003c\/span\u003e\u003c\/strong\u003e Charge every 3-6 months\u003c\/td\u003e\n\u003c\/tr\u003e\n\u003ctr style=\"height: 58px;\"\u003e\n\u003ctd style=\"height: 58px; width: 610px;\"\u003e\n\u003cstrong\u003eManagement System:\u003c\/strong\u003e PWM charge controller, low battery protection\u003c\/td\u003e\n\u003c\/tr\u003e\n\u003ctr style=\"height: 58px;\"\u003e\n\u003ctd style=\"height: 58px; width: 610px;\"\u003e\n\u003cstrong\u003e\u003cspan class=\"feature-label\"\u003eSingle Cell Equivalent Capacity\u003c\/span\u003e:\u003c\/strong\u003e 290.44 Ah @ 3.6V\u003c\/td\u003e\n\u003c\/tr\u003e\n\u003c\/tbody\u003e\n\u003c\/table\u003e\n\u003cp\u003e \u003c\/p\u003e\n\u003ch2\u003ePorts\u003c\/h2\u003e\n\u003ctable style=\"height: 90px;\" width=\"800\"\u003e\n\u003ctbody\u003e\n\u003ctr style=\"height: 58px;\"\u003e\n\u003ctd style=\"height: 58px; width: 610px;\"\u003e\n\u003cstrong\u003e\u003cspan class=\"feature-label\"\u003eUSB port (output):\u003c\/span\u003e\u003c\/strong\u003e 5V, up to 2.4A (12W max), regulated\u003c\/td\u003e\n\u003c\/tr\u003e\n\u003ctr style=\"height: 58px;\"\u003e\n\u003ctd style=\"height: 58px; width: 610px;\"\u003e\n\u003cstrong\u003e\u003cspan class=\"feature-label\"\u003e6mm port (output, 6mm, green, hexagon):\u003c\/span\u003e\u003c\/strong\u003e 12V, up to 10A (120W max)\u003c\/td\u003e\n\u003c\/tr\u003e\n\u003ctr style=\"height: 58px;\"\u003e\n\u003ctd style=\"height: 58px; width: 610px;\"\u003e\n\u003cstrong\u003e\u003cspan class=\"feature-label\"\u003e12V car port (output):\u003c\/span\u003e\u003c\/strong\u003e 12V, up to 10A (120W max)\u003c\/td\u003e\n\u003c\/tr\u003e\n\u003ctr style=\"height: 58px;\"\u003e\n\u003ctd style=\"height: 58px; width: 610px;\"\u003e\n\u003cstrong\u003e\u003cspan class=\"feature-label\"\u003e12V Power Pole Port (output):\u003c\/span\u003e\u003c\/strong\u003e 12V, up to 10A (120W max)\u003c\/td\u003e\n\u003c\/tr\u003e\n\u003ctr style=\"height: 58px;\"\u003e\n\u003ctd style=\"height: 58px; width: 610px;\"\u003e\u003cspan class=\"feature-label\"\u003e\u003cstrong\u003eAC inverter (output, pure sine wave):\u003c\/strong\u003e 120VAC 60Hz, 12.5A (1500W, 3000W surge)\u003cbr\u003e \u003c\/span\u003e\u003c\/td\u003e\n\u003c\/tr\u003e\n\u003ctr style=\"height: 58px;\"\u003e\n\u003ctd style=\"height: 58px; width: 610px;\"\u003e\n\u003cstrong\u003e\u003cspan class=\"feature-label\"\u003eCharging port (input, 8mm):\u003c\/span\u003e\u003c\/strong\u003e 14-22V, up to 10A (120W max)\u003c\/td\u003e\n\u003c\/tr\u003e\n\u003ctr style=\"height: 58px;\"\u003e\n\u003ctd style=\"height: 58px; width: 610px;\"\u003e\n\u003cstrong\u003e\u003cspan class=\"feature-label\"\u003ePower Pole Charging port (input):\u003c\/span\u003e\u003c\/strong\u003e 14-22V, up to 30A (360W max)\u003c\/td\u003e\n\u003c\/tr\u003e\n\u003ctr style=\"height: 58px;\"\u003e\n\u003ctd style=\"height: 58px; width: 610px;\"\u003e\n\u003cstrong\u003e\u003cspan class=\"feature-label\"\u003eExpansion Module Port:\u003c\/span\u003e\u003c\/strong\u003e Covered port under the lid - to be used with Goal Zero expansion modules only\u003c\/td\u003e\n\u003c\/tr\u003e\n\u003c\/tbody\u003e\n\u003c\/table\u003e\n\u003cp\u003e \u003c\/p\u003e\n\u003ch2\u003eGeneral\u003c\/h2\u003e\n\u003ctable style=\"height: 90px;\" width=\"800\"\u003e\n\u003ctbody\u003e\n\u003ctr style=\"height: 58px;\"\u003e\n\u003ctd style=\"height: 58px; width: 610px;\"\u003e\n\u003cstrong\u003e\u003cspan class=\"feature-label\"\u003eProduct SKU:\u003c\/span\u003e\u003c\/strong\u003e 38004\u003c\/td\u003e\n\u003c\/tr\u003e\n\u003ctr style=\"height: 58px;\"\u003e\n\u003ctd style=\"height: 58px; width: 610px;\"\u003e\n\u003cstrong\u003e\u003cspan class=\"feature-label\"\u003eChainable:\u003c\/span\u003e\u003c\/strong\u003e No\u003c\/td\u003e\n\u003c\/tr\u003e\n\u003ctr style=\"height: 58px;\"\u003e\n\u003ctd style=\"height: 58px; width: 610px;\"\u003e\n\u003cstrong\u003e\u003cspan class=\"feature-label\"\u003eWeight: \u003c\/span\u003e\u003c\/strong\u003e40 lbs (18.1 kg)\u003c\/td\u003e\n\u003c\/tr\u003e\n\u003ctr style=\"height: 58px;\"\u003e\n\u003ctd style=\"height: 58px; width: 610px;\"\u003e\n\u003cstrong\u003e\u003cspan class=\"feature-label\"\u003eDimensions:\u003c\/span\u003e\u003c\/strong\u003e 10.1 x 15.3 x 9.3 in (25.7 x 38.9 x 23.6 cm)\u003c\/td\u003e\n\u003c\/tr\u003e\n\u003ctr style=\"height: 58px;\"\u003e\n\u003ctd style=\"height: 58px; width: 610px;\"\u003e\n\u003cstrong\u003e\u003cspan class=\"feature-label\"\u003eOperating Use Temp:\u003c\/span\u003e\u003c\/strong\u003e 32-104 F (0-40 C)\u003c\/td\u003e\n\u003c\/tr\u003e\n\u003ctr style=\"height: 58px;\"\u003e\n\u003ctd style=\"height: 58px; width: 610px;\"\u003e\n\u003cstrong\u003e\u003cspan class=\"feature-label\"\u003eWarranty:\u003c\/span\u003e\u003c\/strong\u003e 12 Months\u003c\/td\u003e\n\u003c\/tr\u003e\n\u003c\/tbody\u003e\n\u003c\/table\u003e\n\u003cp\u003e \u003c\/p\u003e\n\u003ch2\u003eBoulder 1000 Lithium Tech Specs\u003c\/h2\u003e\n\u003ch3\u003eCharges Times\u003c\/h3\u003e\n\u003ctable style=\"height: 90px;\" width=\"800\"\u003e\n\u003ctbody\u003e\n\u003ctr style=\"height: 58px;\"\u003e\n\u003ctd style=\"height: 58px; width: 610px;\"\u003e\n\u003cstrong\u003e\u003cspan class=\"feature-label\"\u003eSherpa 50:\u003c\/span\u003e\u003c\/strong\u003e 3 Hours\u003c\/td\u003e\n\u003c\/tr\u003e\n\u003ctr style=\"height: 58px;\"\u003e\n\u003ctd style=\"height: 58px; width: 610px;\"\u003e\n\u003cstrong\u003eSherpa 100:\u003c\/strong\u003e 3-4 Hours\u003c\/td\u003e\n\u003c\/tr\u003e\n\u003ctr style=\"height: 58px;\"\u003e\n\u003ctd style=\"height: 58px; width: 610px;\"\u003e\u003cspan class=\"feature-label\"\u003e\u003cstrong\u003eGoal Zero Yeti 150:\u003c\/strong\u003e 3-6 Hours\u003c\/span\u003e\u003c\/td\u003e\n\u003c\/tr\u003e\n\u003ctr style=\"height: 58px;\"\u003e\n\u003ctd style=\"height: 58px; width: 610px;\"\u003e\u003cspan class=\"feature-label\"\u003e\u003cstrong\u003eGoal Zero Yeti 400:\u003c\/strong\u003e 8-16 Hours\u003c\/span\u003e\u003c\/td\u003e\n\u003c\/tr\u003e\n\u003ctr style=\"height: 58px;\"\u003e\n\u003ctd style=\"height: 58px; width: 610px;\"\u003e\u003cspan class=\"feature-label\"\u003e\u003cstrong\u003eGoal Zero Yeti 1000 Lithium:\u003c\/strong\u003e 20-40 Hours\u003c\/span\u003e\u003c\/td\u003e\n\u003c\/tr\u003e\n\u003ctr style=\"height: 58px;\"\u003e\n\u003ctd style=\"height: 58px; width: 610px;\"\u003e\n\u003cstrong\u003eGoal Zero Yeti 1250:\u003c\/strong\u003e 24-48 Hours\u003c\/td\u003e\n\u003c\/tr\u003e\n\u003c\/tbody\u003e\n\u003c\/table\u003e\n\u003cp\u003e \u003c\/p\u003e\n\u003ch3\u003ePorts\u003cstrong\u003e\u003cbr\u003e \u003c\/strong\u003e\n\u003c\/h3\u003e\n\u003ctable style=\"height: 90px;\" width=\"800\"\u003e\n\u003ctbody\u003e\n\u003ctr style=\"height: 58px;\"\u003e\n\u003ctd style=\"height: 58px; width: 610px;\"\u003e\n\u003cstrong\u003e\u003cspan class=\"feature-label\"\u003eSolar Port (blue, 8mm):\u003c\/span\u003e\u003c\/strong\u003e 14-22V up to 7A (100W max)\u003c\/td\u003e\n\u003c\/tr\u003e\n\u003c\/tbody\u003e\n\u003c\/table\u003e\n\u003cp\u003e \u003c\/p\u003e\n\u003ch3\u003eGeneral\u003c\/h3\u003e\n\u003ctable style=\"height: 90px;\" width=\"800\"\u003e\n\u003ctbody\u003e\n\u003ctr style=\"height: 58px;\"\u003e\n\u003ctd style=\"height: 58px; width: 610px;\"\u003e\n\u003cstrong\u003e\u003cspan class=\"feature-label\"\u003eProduct SKU:\u003c\/span\u003e\u003c\/strong\u003e 32407\u003c\/td\u003e\n\u003c\/tr\u003e\n\u003ctr style=\"height: 58px;\"\u003e\n\u003ctd style=\"height: 58px; width: 610px;\"\u003e\n\u003cstrong\u003e\u003cspan class=\"feature-label\"\u003eWeight:\u003c\/span\u003e\u003c\/strong\u003e 20.1 lbs (9.1 kg)\u003c\/td\u003e\n\u003c\/tr\u003e\n\u003ctr style=\"height: 58px;\"\u003e\n\u003ctd style=\"height: 58px; width: 610px;\"\u003e\n\u003cstrong\u003e\u003cspan class=\"feature-label\"\u003eDimensions:\u003c\/span\u003e\u003c\/strong\u003e 40.0 x 26.75 x 1.75 in (101.6 x 70 x 4.4 cm)\u003c\/td\u003e\n\u003c\/tr\u003e\n\u003ctr style=\"height: 58px;\"\u003e\n\u003ctd style=\"height: 58px; width: 610px;\"\u003e\n\u003cstrong\u003e\u003cspan class=\"feature-label\"\u003eWarranty:\u003c\/span\u003e\u003c\/strong\u003e 12 Months\u003c\/td\u003e\n\u003c\/tr\u003e\n\u003c\/tbody\u003e\n\u003c\/table\u003e\n\u003ch5\u003eDownloads\u003c\/h5\u003e\n\u003cdiv style=\"width: 48%; float: left; text-align: center;\"\u003e\n\u003ca href=\"https:\/\/apollosat.com\/download\/yeti-1000-lithium-user-guide\/\" target=\"_blank\" title=\"Yeti Lithium 1000 User Guide\" rel=\"noopener noreferrer\"\u003e\u003cimg src=\"\/\/cdn.shopify.com\/s\/files\/1\/2962\/4800\/files\/pdf-icon_large.png?v=1519722721\" alt=\"Goal Zero Yeti 1250 User Guide\" style=\"display: block; margin-left: auto; margin-right: auto;\"\u003e\u003c\/a\u003eYeti 1000 Lithium User Guide\u003c\/div\u003e\n\u003cdiv style=\"width: 50%; float: right; text-align: center;\"\u003e\n\u003ca href=\"https:\/\/apollosat.com\/download\/goal-zero-boulder-100-briefcase-user-guide\/\" target=\"_blank\" title=\"Goal Zero Boulder 100 Briefcase User Guide\" rel=\"noopener noreferrer\"\u003e\u003cimg src=\"\/\/cdn.shopify.com\/s\/files\/1\/2962\/4800\/files\/pdf-icon_large.png?v=1519722721\" alt=\"Goal Zero Boulder 100 Briefcase User Guide\" style=\"display: block; margin-left: auto; margin-right: auto;\"\u003e\u003c\/a\u003eBoulder 100 Briefcase Guide\u003c\/div\u003e\n\u003cp\u003e\u003cspan style=\"color: #ffffff;\"\u003espace\u003c\/span\u003e\u003c\/p\u003e","published_at":"2019-01-22T15:48:51-08:00","created_at":"2019-01-22T16:07:57-08:00","vendor":"Apollo Satellite","type":"Solar Kit","tags":["Brand_Goal Zero","emergency"],"price":139995,"price_min":139995,"price_max":139995,"available":false,"price_varies":false,"compare_at_price":null,"compare_at_price_min":0,"compare_at_price_max":0,"compare_at_price_varies":false,"variants":[{"id":14481455579178,"title":"Default Title","option1":"Default Title","option2":null,"option3":null,"sku":"GZ43210","requires_shipping":true,"taxable":true,"featured_image":null,"available":false,"name":"Goal Zero Yeti 1000 Lithium Boulder 100 Solar Kit \u0026 MPPT","public_title":null,"options":["Default Title"],"price":139995,"weight":22680,"compare_at_price":null,"inventory_management":"shopify","barcode":""}],"images":["\/\/cdn.shopify.com\/s\/files\/1\/2962\/4800\/products\/img1.jpg?v=1548204807","\/\/cdn.shopify.com\/s\/files\/1\/2962\/4800\/products\/img2.jpg?v=1548204813","\/\/cdn.shopify.com\/s\/files\/1\/2962\/4800\/products\/img3.jpg?v=1548204819","\/\/cdn.shopify.com\/s\/files\/1\/2962\/4800\/products\/img4.jpg?v=1548204825","\/\/cdn.shopify.com\/s\/files\/1\/2962\/4800\/products\/img5.jpg?v=1548204830","\/\/cdn.shopify.com\/s\/files\/1\/2962\/4800\/products\/img6.jpg?v=1548204835","\/\/cdn.shopify.com\/s\/files\/1\/2962\/4800\/products\/img7.jpg?v=1548204842"],"featured_image":"\/\/cdn.shopify.com\/s\/files\/1\/2962\/4800\/products\/img1.jpg?v=1548204807","options":["Title"],"content":"\u003ch5\u003eDescription\u003c\/h5\u003e\n\u003ch2 style=\"text-align: center;\"\u003eGoal Zero Yeti 1000 Lithium Boulder 100 Solar Kit \u0026amp; MPPT\u003c\/h2\u003e\n\u003cp style=\"text-align: center;\"\u003e\u003ciframe src=\"https:\/\/www.youtube.com\/embed\/HijDGCkscyU\" allow=\"accelerometer; autoplay; encrypted-media; gyroscope; picture-in-picture\" allowfullscreen=\"\" width=\"560\" height=\"315\" frameborder=\"0\"\u003e\u003c\/iframe\u003e\u003c\/p\u003e\n\u003cp style=\"text-align: center;\"\u003eThe Goal Zero Yeti 1000 Lithium Boulder 100 Solar Kit \u0026amp; MPPT comes with everything you need to keep your devices powered in one convenient kit. Even if you are away from a power source you can get juice to your devices. Also, since a solar panel comes with the kit you can keep your devices charged using the sun's energy giving you endless power. This Goal Zero Yeti 1000 Lithium Boulder 100 Solar Kit \u0026amp; MPPT brings convenience to the powering of your daily appliances; even off the grid! Pick up the Yeti 1000 Lithium Boulder 100 Solar Kit \u0026amp; MPPT and add convenient power to your trek.\u003c\/p\u003e\n\u003cp\u003e\u003cspan style=\"color: #ffffff;\"\u003espace\u003c\/span\u003e\u003c\/p\u003e\n\u003cdiv style=\"width: 48%; float: left;\"\u003e\n\u003ch3\u003eYeti 1000 Lithium Highlights\u003c\/h3\u003e\n\u003cp\u003eThe Yeti 1000 Lithium is packed with some of Goal Zero's best features that make powering your stuff that much easier and since it is paired with the Boulder 100 you are good to go!\u003c\/p\u003e\n\u003cul\u003e\n\u003cli\u003e\n\u003cp\u003eInstant power at the push of a button - silent and powerful 1045Wh, 96.8Ah (10.8V) lithium battery\u003c\/p\u003e\n\u003c\/li\u003e\n\u003cli\u003e\n\u003cp\u003eNo more extension cords, no more gasoline, no more fumes with multi-stage patent pending 1500W AC inverter\u003c\/p\u003e\n\u003c\/li\u003e\n\u003cli\u003e\n\u003cp\u003eVersatile powering options including: four USB ports, two AC outlets and 12V output\u003c\/p\u003e\n\u003c\/li\u003e\n\u003cli\u003e\n\u003cp\u003eInformative display featuring a runtime\/recharge time estimator, as well as a battery level monitor and an output\/input meter\u003c\/p\u003e\n\u003c\/li\u003e\n\u003c\/ul\u003e\n\u003c\/div\u003e\n\u003cdiv style=\"width: 50%; text-align: right;\"\u003e\u003cimg alt=\"Yeti 1000 Lithium Boulder 100 Solar Kit\" src=\"\/\/cdn.shopify.com\/s\/files\/1\/2962\/4800\/files\/YetiLi1000-LeftFace_large.jpg?v=1548202391\" style=\"float: none; margin: 10px;\"\u003e\u003c\/div\u003e\n\u003cp\u003e\u003cspan style=\"color: #ffffff;\"\u003espace\u003c\/span\u003e\u003c\/p\u003e\n\u003cdiv style=\"width: 50%; text-align: left;\"\u003e\u003cimg alt=\"Yeti 1000 Lithium Boulder 100 Solar Kit\" src=\"\/\/cdn.shopify.com\/s\/files\/1\/2962\/4800\/files\/Boulder100Highlights_large.jpg?v=1548204007\" style=\"float: none;\"\u003e\u003c\/div\u003e\n\u003cdiv style=\"width: 48%; float: right;\"\u003e\n\u003ch3 style=\"text-align: left;\"\u003eBoulder 100 Briefcase Highlights\u003c\/h3\u003e\n\u003cp style=\"text-align: left;\"\u003eThe Boulder 100 Briefcase has everything you need to get your solar kit started and charging with solar energy from the sun. It is one of the \"go to\" solar panels for Goal Zero's line of Yeti Power Stations.\u003c\/p\u003e\n\u003cul\u003e\n\u003cli style=\"text-align: left;\"\u003e\n\u003cp style=\"text-align: left:;\"\u003eRecharge the power station from the sun by plugging the Boulder 100 Solar Panel into the solar input port - the Boulder 100 is best if you need to recharge your Yeti 1000 Lithium from the sun about 20-40% each day - if you are going to consume more energy daily, it is recommended to add an additional or larger panel\u003c\/p\u003e\n\u003c\/li\u003e\n\u003cli style=\"text-align: left;\"\u003e\n\u003cp style=\"text-align: left;\"\u003e100 Watt (18-22V) panel features integrated kickstand providing optimal angle placement\u003c\/p\u003e\n\u003c\/li\u003e\n\u003cli style=\"text-align: left;\"\u003e\n\u003cp style=\"text-align: left:;\"\u003ePlug it into the wall - fully recharges in about 18 hours - Pro Tip: Purchase an additional wall charger to cut charging time in half\u003c\/p\u003e\n\u003c\/li\u003e\n\u003c\/ul\u003e\n\u003c\/div\u003e\n\u003cp\u003e\u003cspan style=\"color: #ffffff;\"\u003espace\u003c\/span\u003e\u003c\/p\u003e\n\u003cdiv style=\"width: 50%; float: left; margin-top: 7%;\"\u003e\n\u003ch3\u003eYeti Lithium MPPT Module Features\u003c\/h3\u003e\n\u003cp\u003eThe MPPT Module for Goal Zero's line of Yetis brings even more convenience to your solar kit by optimizing the charge for your power station.\u003c\/p\u003e\n\u003cul\u003e\n\u003cli\u003e\n\u003cp\u003eThe module is an external add-on built to optimize charging for the Yeti 1000 Lithium and Yeti 1400 Lithium - (Comes pre-installed on the Yeti 3000 Lithium)\u003c\/p\u003e\n\u003c\/li\u003e\n\u003cli\u003e\n\u003cp\u003eThe Solar Charging Optimization Module when installed actively monitors and optimizes the energy sourse to maximize power input, resulting in up to 40% faster charge times, especially from solar panels\u003c\/p\u003e\n\u003c\/li\u003e\n\u003c\/ul\u003e\n\u003c\/div\u003e\n\u003cdiv style=\"width: 48%; text-align: right;\"\u003e\u003cimg alt=\"Yeti 1000 Lithium Boulder 100 Solar Kit\" src=\"\/\/cdn.shopify.com\/s\/files\/1\/2962\/4800\/files\/GZMPPTModule-imag1_large.jpg?v=1548205326\" style=\"float: none; margin: 10px;\"\u003e\u003c\/div\u003e\n\u003cp\u003e\u003cspan style=\"color: #ffffff;\"\u003espace\u003c\/span\u003e\u003c\/p\u003e\n\u003cdiv style=\"width: 50%; text-align: left;\"\u003e\u003cimg src=\"\/\/cdn.shopify.com\/s\/files\/1\/2962\/4800\/files\/GZLittleGirl_large.jpg?v=1548208483\" alt=\"Yeti 1000 Lithium Boulder 100 Solar Kit \"\u003e\u003c\/div\u003e\n\u003cdiv style=\"width: 48%; float: right; margin-top: 5%;\"\u003e\n\u003ch3 style=\"text-align: left;\"\u003eWhat Can the Yeti Lithium 1000 Power\u003c\/h3\u003e\n\u003cp style=\"text-align: left;\"\u003eThe Yeti 1000 Lithium is great for all your larger sized power needs or multiple smaller devices - it is perfect for those pesky power outages and even emergency situations.\u003c\/p\u003e\n\u003cul\u003e\n\u003cli style=\"text-align: left;\"\u003eSmartphone 50+ Recharges\u003c\/li\u003e\n\u003cli style=\"text-align: left;\"\u003ePOV Camera 165+ Recharges\u003c\/li\u003e\n\u003cli style=\"text-align: left;\"\u003eHeadlamp 165+ Recharges\u003c\/li\u003e\n\u003cli style=\"text-align: left;\"\u003eTablet 37+ Recharges\u003c\/li\u003e\n\u003cli style=\"text-align: left;\"\u003eLaptop 17+ Recharges\u003c\/li\u003e\n\u003cli style=\"text-align: left;\"\u003eLight-a-Life 335+ Hours\u003c\/li\u003e\n\u003cli style=\"text-align: left;\"\u003eFridge 17+ Hours\u003c\/li\u003e\n\u003cli style=\"text-align: left;\"\u003e32 LCD TV 10 hours\u003c\/li\u003e\n\u003c\/ul\u003e\n\u003c\/div\u003e\n\u003cp\u003e\u003cspan style=\"color: #ffffff;\"\u003espace\u003c\/span\u003e\u003c\/p\u003e\n\u003cp\u003e\u003cspan style=\"color: #ffffff;\"\u003espace\u003c\/span\u003e\u003c\/p\u003e\n\u003ch5\u003eTech Specs\u003c\/h5\u003e\n\u003ch2\u003eYeti Lithium 1000\u003c\/h2\u003e\n\u003ch3\u003eCharge Times\u003c\/h3\u003e\n\u003ctable style=\"height: 90px;\" width=\"800\"\u003e\n\u003ctbody\u003e\n\u003ctr style=\"height: 58px;\"\u003e\n\u003ctd style=\"height: 58px; width: 610px;\"\u003e\n\u003cstrong\u003e\u003cspan class=\"feature-label\"\u003eWall Charger (5A):\u003c\/span\u003e\u003c\/strong\u003e 18 hours\u003c\/td\u003e\n\u003c\/tr\u003e\n\u003ctr style=\"height: 58px;\"\u003e\n\u003ctd style=\"height: 58px; width: 610px;\"\u003e\n\u003cstrong\u003e\u003cspan class=\"feature-label\"\u003eBoulder 50 Solar Panel:\u003c\/span\u003e\u003c\/strong\u003e 32-80 Hours\u003c\/td\u003e\n\u003c\/tr\u003e\n\u003ctr style=\"height: 58px;\"\u003e\n\u003ctd style=\"height: 58px; width: 610px;\"\u003e\n\u003cstrong\u003e\u003cspan class=\"feature-label\"\u003eBoulder 100 Solar Panel:\u003c\/span\u003e\u003c\/strong\u003e 16-40 Hours\u003c\/td\u003e\n\u003c\/tr\u003e\n\u003ctr style=\"height: 58px;\"\u003e\n\u003ctd style=\"height: 58px; width: 610px;\"\u003e\n\u003cstrong\u003e\u003cspan class=\"feature-label\"\u003eBoulder 200 Solar Panel:\u003c\/span\u003e\u003c\/strong\u003e 8-20 Hours\u003c\/td\u003e\n\u003c\/tr\u003e\n\u003c\/tbody\u003e\n\u003c\/table\u003e\n\u003cp\u003e \u003c\/p\u003e\n\u003ch2\u003eBattery Details\u003c\/h2\u003e\n\u003ctable style=\"height: 90px;\" width=\"800\"\u003e\n\u003ctbody\u003e\n\u003ctr style=\"height: 58px;\"\u003e\n\u003ctd style=\"height: 58px; width: 610px;\"\u003e\n\u003cstrong\u003e\u003cspan class=\"feature-label\"\u003eCell Type:\u003c\/span\u003e\u003c\/strong\u003e Li-ion NMC\u003c\/td\u003e\n\u003c\/tr\u003e\n\u003ctr style=\"height: 58px;\"\u003e\n\u003ctd style=\"height: 58px; width: 610px;\"\u003e\n\u003cstrong\u003e\u003cspan class=\"feature-label\"\u003ePeak Capacity:\u003c\/span\u003e\u003c\/strong\u003e 1045Wh (10.8V, 96.8Ah)\u003c\/td\u003e\n\u003c\/tr\u003e\n\u003ctr style=\"height: 58px;\"\u003e\n\u003ctd style=\"height: 58px; width: 610px;\"\u003e\n\u003cstrong\u003e\u003cspan class=\"feature-label\"\u003eLifecycles:\u003c\/span\u003e\u003c\/strong\u003e 500 Cycles to 80% capacity (Discharge: 1C, Full charge\/discharge, Temp 25C)\u003c\/td\u003e\n\u003c\/tr\u003e\n\u003ctr style=\"height: 58px;\"\u003e\n\u003ctd style=\"height: 58px; width: 610px;\"\u003e\n\u003cstrong\u003e\u003cspan class=\"feature-label\"\u003eShelf-life:\u003c\/span\u003e\u003c\/strong\u003e Charge every 3-6 months\u003c\/td\u003e\n\u003c\/tr\u003e\n\u003ctr style=\"height: 58px;\"\u003e\n\u003ctd style=\"height: 58px; width: 610px;\"\u003e\n\u003cstrong\u003eManagement System:\u003c\/strong\u003e PWM charge controller, low battery protection\u003c\/td\u003e\n\u003c\/tr\u003e\n\u003ctr style=\"height: 58px;\"\u003e\n\u003ctd style=\"height: 58px; width: 610px;\"\u003e\n\u003cstrong\u003e\u003cspan class=\"feature-label\"\u003eSingle Cell Equivalent Capacity\u003c\/span\u003e:\u003c\/strong\u003e 290.44 Ah @ 3.6V\u003c\/td\u003e\n\u003c\/tr\u003e\n\u003c\/tbody\u003e\n\u003c\/table\u003e\n\u003cp\u003e \u003c\/p\u003e\n\u003ch2\u003ePorts\u003c\/h2\u003e\n\u003ctable style=\"height: 90px;\" width=\"800\"\u003e\n\u003ctbody\u003e\n\u003ctr style=\"height: 58px;\"\u003e\n\u003ctd style=\"height: 58px; width: 610px;\"\u003e\n\u003cstrong\u003e\u003cspan class=\"feature-label\"\u003eUSB port (output):\u003c\/span\u003e\u003c\/strong\u003e 5V, up to 2.4A (12W max), regulated\u003c\/td\u003e\n\u003c\/tr\u003e\n\u003ctr style=\"height: 58px;\"\u003e\n\u003ctd style=\"height: 58px; width: 610px;\"\u003e\n\u003cstrong\u003e\u003cspan class=\"feature-label\"\u003e6mm port (output, 6mm, green, hexagon):\u003c\/span\u003e\u003c\/strong\u003e 12V, up to 10A (120W max)\u003c\/td\u003e\n\u003c\/tr\u003e\n\u003ctr style=\"height: 58px;\"\u003e\n\u003ctd style=\"height: 58px; width: 610px;\"\u003e\n\u003cstrong\u003e\u003cspan class=\"feature-label\"\u003e12V car port (output):\u003c\/span\u003e\u003c\/strong\u003e 12V, up to 10A (120W max)\u003c\/td\u003e\n\u003c\/tr\u003e\n\u003ctr style=\"height: 58px;\"\u003e\n\u003ctd style=\"height: 58px; width: 610px;\"\u003e\n\u003cstrong\u003e\u003cspan class=\"feature-label\"\u003e12V Power Pole Port (output):\u003c\/span\u003e\u003c\/strong\u003e 12V, up to 10A (120W max)\u003c\/td\u003e\n\u003c\/tr\u003e\n\u003ctr style=\"height: 58px;\"\u003e\n\u003ctd style=\"height: 58px; width: 610px;\"\u003e\u003cspan class=\"feature-label\"\u003e\u003cstrong\u003eAC inverter (output, pure sine wave):\u003c\/strong\u003e 120VAC 60Hz, 12.5A (1500W, 3000W surge)\u003cbr\u003e \u003c\/span\u003e\u003c\/td\u003e\n\u003c\/tr\u003e\n\u003ctr style=\"height: 58px;\"\u003e\n\u003ctd style=\"height: 58px; width: 610px;\"\u003e\n\u003cstrong\u003e\u003cspan class=\"feature-label\"\u003eCharging port (input, 8mm):\u003c\/span\u003e\u003c\/strong\u003e 14-22V, up to 10A (120W max)\u003c\/td\u003e\n\u003c\/tr\u003e\n\u003ctr style=\"height: 58px;\"\u003e\n\u003ctd style=\"height: 58px; width: 610px;\"\u003e\n\u003cstrong\u003e\u003cspan class=\"feature-label\"\u003ePower Pole Charging port (input):\u003c\/span\u003e\u003c\/strong\u003e 14-22V, up to 30A (360W max)\u003c\/td\u003e\n\u003c\/tr\u003e\n\u003ctr style=\"height: 58px;\"\u003e\n\u003ctd style=\"height: 58px; width: 610px;\"\u003e\n\u003cstrong\u003e\u003cspan class=\"feature-label\"\u003eExpansion Module Port:\u003c\/span\u003e\u003c\/strong\u003e Covered port under the lid - to be used with Goal Zero expansion modules only\u003c\/td\u003e\n\u003c\/tr\u003e\n\u003c\/tbody\u003e\n\u003c\/table\u003e\n\u003cp\u003e \u003c\/p\u003e\n\u003ch2\u003eGeneral\u003c\/h2\u003e\n\u003ctable style=\"height: 90px;\" width=\"800\"\u003e\n\u003ctbody\u003e\n\u003ctr style=\"height: 58px;\"\u003e\n\u003ctd style=\"height: 58px; width: 610px;\"\u003e\n\u003cstrong\u003e\u003cspan class=\"feature-label\"\u003eProduct SKU:\u003c\/span\u003e\u003c\/strong\u003e 38004\u003c\/td\u003e\n\u003c\/tr\u003e\n\u003ctr style=\"height: 58px;\"\u003e\n\u003ctd style=\"height: 58px; width: 610px;\"\u003e\n\u003cstrong\u003e\u003cspan class=\"feature-label\"\u003eChainable:\u003c\/span\u003e\u003c\/strong\u003e No\u003c\/td\u003e\n\u003c\/tr\u003e\n\u003ctr style=\"height: 58px;\"\u003e\n\u003ctd style=\"height: 58px; width: 610px;\"\u003e\n\u003cstrong\u003e\u003cspan class=\"feature-label\"\u003eWeight: \u003c\/span\u003e\u003c\/strong\u003e40 lbs (18.1 kg)\u003c\/td\u003e\n\u003c\/tr\u003e\n\u003ctr style=\"height: 58px;\"\u003e\n\u003ctd style=\"height: 58px; width: 610px;\"\u003e\n\u003cstrong\u003e\u003cspan class=\"feature-label\"\u003eDimensions:\u003c\/span\u003e\u003c\/strong\u003e 10.1 x 15.3 x 9.3 in (25.7 x 38.9 x 23.6 cm)\u003c\/td\u003e\n\u003c\/tr\u003e\n\u003ctr style=\"height: 58px;\"\u003e\n\u003ctd style=\"height: 58px; width: 610px;\"\u003e\n\u003cstrong\u003e\u003cspan class=\"feature-label\"\u003eOperating Use Temp:\u003c\/span\u003e\u003c\/strong\u003e 32-104 F (0-40 C)\u003c\/td\u003e\n\u003c\/tr\u003e\n\u003ctr style=\"height: 58px;\"\u003e\n\u003ctd style=\"height: 58px; width: 610px;\"\u003e\n\u003cstrong\u003e\u003cspan class=\"feature-label\"\u003eWarranty:\u003c\/span\u003e\u003c\/strong\u003e 12 Months\u003c\/td\u003e\n\u003c\/tr\u003e\n\u003c\/tbody\u003e\n\u003c\/table\u003e\n\u003cp\u003e \u003c\/p\u003e\n\u003ch2\u003eBoulder 1000 Lithium Tech Specs\u003c\/h2\u003e\n\u003ch3\u003eCharges Times\u003c\/h3\u003e\n\u003ctable style=\"height: 90px;\" width=\"800\"\u003e\n\u003ctbody\u003e\n\u003ctr style=\"height: 58px;\"\u003e\n\u003ctd style=\"height: 58px; width: 610px;\"\u003e\n\u003cstrong\u003e\u003cspan class=\"feature-label\"\u003eSherpa 50:\u003c\/span\u003e\u003c\/strong\u003e 3 Hours\u003c\/td\u003e\n\u003c\/tr\u003e\n\u003ctr style=\"height: 58px;\"\u003e\n\u003ctd style=\"height: 58px; width: 610px;\"\u003e\n\u003cstrong\u003eSherpa 100:\u003c\/strong\u003e 3-4 Hours\u003c\/td\u003e\n\u003c\/tr\u003e\n\u003ctr style=\"height: 58px;\"\u003e\n\u003ctd style=\"height: 58px; width: 610px;\"\u003e\u003cspan class=\"feature-label\"\u003e\u003cstrong\u003eGoal Zero Yeti 150:\u003c\/strong\u003e 3-6 Hours\u003c\/span\u003e\u003c\/td\u003e\n\u003c\/tr\u003e\n\u003ctr style=\"height: 58px;\"\u003e\n\u003ctd style=\"height: 58px; width: 610px;\"\u003e\u003cspan class=\"feature-label\"\u003e\u003cstrong\u003eGoal Zero Yeti 400:\u003c\/strong\u003e 8-16 Hours\u003c\/span\u003e\u003c\/td\u003e\n\u003c\/tr\u003e\n\u003ctr style=\"height: 58px;\"\u003e\n\u003ctd style=\"height: 58px; width: 610px;\"\u003e\u003cspan class=\"feature-label\"\u003e\u003cstrong\u003eGoal Zero Yeti 1000 Lithium:\u003c\/strong\u003e 20-40 Hours\u003c\/span\u003e\u003c\/td\u003e\n\u003c\/tr\u003e\n\u003ctr style=\"height: 58px;\"\u003e\n\u003ctd style=\"height: 58px; width: 610px;\"\u003e\n\u003cstrong\u003eGoal Zero Yeti 1250:\u003c\/strong\u003e 24-48 Hours\u003c\/td\u003e\n\u003c\/tr\u003e\n\u003c\/tbody\u003e\n\u003c\/table\u003e\n\u003cp\u003e \u003c\/p\u003e\n\u003ch3\u003ePorts\u003cstrong\u003e\u003cbr\u003e \u003c\/strong\u003e\n\u003c\/h3\u003e\n\u003ctable style=\"height: 90px;\" width=\"800\"\u003e\n\u003ctbody\u003e\n\u003ctr style=\"height: 58px;\"\u003e\n\u003ctd style=\"height: 58px; width: 610px;\"\u003e\n\u003cstrong\u003e\u003cspan class=\"feature-label\"\u003eSolar Port (blue, 8mm):\u003c\/span\u003e\u003c\/strong\u003e 14-22V up to 7A (100W max)\u003c\/td\u003e\n\u003c\/tr\u003e\n\u003c\/tbody\u003e\n\u003c\/table\u003e\n\u003cp\u003e \u003c\/p\u003e\n\u003ch3\u003eGeneral\u003c\/h3\u003e\n\u003ctable style=\"height: 90px;\" width=\"800\"\u003e\n\u003ctbody\u003e\n\u003ctr style=\"height: 58px;\"\u003e\n\u003ctd style=\"height: 58px; width: 610px;\"\u003e\n\u003cstrong\u003e\u003cspan class=\"feature-label\"\u003eProduct SKU:\u003c\/span\u003e\u003c\/strong\u003e 32407\u003c\/td\u003e\n\u003c\/tr\u003e\n\u003ctr style=\"height: 58px;\"\u003e\n\u003ctd style=\"height: 58px; width: 610px;\"\u003e\n\u003cstrong\u003e\u003cspan class=\"feature-label\"\u003eWeight:\u003c\/span\u003e\u003c\/strong\u003e 20.1 lbs (9.1 kg)\u003c\/td\u003e\n\u003c\/tr\u003e\n\u003ctr style=\"height: 58px;\"\u003e\n\u003ctd style=\"height: 58px; width: 610px;\"\u003e\n\u003cstrong\u003e\u003cspan class=\"feature-label\"\u003eDimensions:\u003c\/span\u003e\u003c\/strong\u003e 40.0 x 26.75 x 1.75 in (101.6 x 70 x 4.4 cm)\u003c\/td\u003e\n\u003c\/tr\u003e\n\u003ctr style=\"height: 58px;\"\u003e\n\u003ctd style=\"height: 58px; width: 610px;\"\u003e\n\u003cstrong\u003e\u003cspan class=\"feature-label\"\u003eWarranty:\u003c\/span\u003e\u003c\/strong\u003e 12 Months\u003c\/td\u003e\n\u003c\/tr\u003e\n\u003c\/tbody\u003e\n\u003c\/table\u003e\n\u003ch5\u003eDownloads\u003c\/h5\u003e\n\u003cdiv style=\"width: 48%; float: left; text-align: center;\"\u003e\n\u003ca href=\"https:\/\/apollosat.com\/download\/yeti-1000-lithium-user-guide\/\" target=\"_blank\" title=\"Yeti Lithium 1000 User Guide\" rel=\"noopener noreferrer\"\u003e\u003cimg src=\"\/\/cdn.shopify.com\/s\/files\/1\/2962\/4800\/files\/pdf-icon_large.png?v=1519722721\" alt=\"Goal Zero Yeti 1250 User Guide\" style=\"display: block; margin-left: auto; margin-right: auto;\"\u003e\u003c\/a\u003eYeti 1000 Lithium User Guide\u003c\/div\u003e\n\u003cdiv style=\"width: 50%; float: right; text-align: center;\"\u003e\n\u003ca href=\"https:\/\/apollosat.com\/download\/goal-zero-boulder-100-briefcase-user-guide\/\" target=\"_blank\" title=\"Goal Zero Boulder 100 Briefcase User Guide\" rel=\"noopener noreferrer\"\u003e\u003cimg src=\"\/\/cdn.shopify.com\/s\/files\/1\/2962\/4800\/files\/pdf-icon_large.png?v=1519722721\" alt=\"Goal Zero Boulder 100 Briefcase User Guide\" style=\"display: block; margin-left: auto; margin-right: auto;\"\u003e\u003c\/a\u003eBoulder 100 Briefcase Guide\u003c\/div\u003e\n\u003cp\u003e\u003cspan style=\"color: #ffffff;\"\u003espace\u003c\/span\u003e\u003c\/p\u003e"}
Quick View
{"id":1776492281898,"title":"AERO GPS and GNSS Survey Antenna AT1675-382","handle":"aero-gps-and-gnss-survey-antenna-at1675-382","description":"\u003ch5\u003eDescription\u003c\/h5\u003e\n\u003ch2 style=\"text-align: center;\"\u003eAERO GPS and GNSS Survey Antenna AT1675-382\u003c\/h2\u003e\n\u003cp style=\"text-align: center;\"\u003eThe AERO GPS and GNSS Survey Antenna AT1675-382 is a high performance multi-frequency, multi-constellation GPS, GLONASS, and Galileo antenna. It is NGS calibrated and can be used for RTK networks, scientific, and machine control applications. It can be flush mounted to a flat surface with eight mounting screws.\u003c\/p\u003e\n\u003cp style=\"text-align: center;\"\u003e\u003cstrong\u003eStandard Model: AT1675-382PW-TNCF-000-RG-39-NM-R\u003c\/strong\u003e\u003c\/p\u003e\n\u003ch5\u003eSpecifications\u003c\/h5\u003e\n\u003ch3\u003eSpecifications\u003c\/h3\u003e\n\u003ctable\u003e\n\u003ctbody\u003e\n\u003ctr class=\"first\"\u003e\n\u003ctd class=\"title first\"\u003e\u003cstrong\u003eFrequency\u003c\/strong\u003e\u003c\/td\u003e\n\u003ctd class=\"content last\"\u003e1525 ± 1615 Mhz L1\u003cbr\u003eGlonass (G1)\u003cbr\u003eL-Band\u003cbr\u003e1164-1260 MHz L2\u003cbr\u003eGlonass (G2)\u003cbr\u003eL5 (Galileo, E1, E5a, E5b)\u003c\/td\u003e\n\u003c\/tr\u003e\n\u003ctr class=\"shade\"\u003e\n\u003ctd class=\"title first\"\u003e\u003cstrong\u003ePolarization\u003c\/strong\u003e\u003c\/td\u003e\n\u003ctd class=\"content last\"\u003eRight Hand Circular\u003c\/td\u003e\n\u003c\/tr\u003e\n\u003ctr\u003e\n\u003ctd class=\"title first\"\u003e\u003cstrong\u003eAxial Ratio\u003c\/strong\u003e\u003c\/td\u003e\n\u003ctd class=\"content last\"\u003e3dB Max at Bore Sight\u003c\/td\u003e\n\u003c\/tr\u003e\n\u003ctr class=\"shade\"\u003e\n\u003ctd class=\"title first\"\u003e\u003cstrong\u003eRadiation Coverage\u003c\/strong\u003e\u003c\/td\u003e\n\u003ctd class=\"content last\"\u003e6.0 dBic\u003cbr\u003e-2.0 dBic\u003cbr\u003e-3.0 dBic\u003cbr\u003e-4.0 dBic\u003cbr\u003e-5.0 dBic\n\u003chr\u003e\n0°= 0° \u003cbr\u003e 0° \u0026lt; \u003cspan style=\"text-decoration: line-through;\"\u003e0\u003c\/span\u003e \u0026lt; 75° \u003cbr\u003e 75° ≤ \u003cspan style=\"text-decoration: line-through;\"\u003e0\u003c\/span\u003e \u0026lt; 80° \u003cbr\u003e 80° ≤ \u003cspan style=\"text-decoration: line-through;\"\u003e0\u003c\/span\u003e \u0026lt; 85°\u003cbr\u003eHorizon\u003c\/td\u003e\n\u003c\/tr\u003e\n\u003c\/tbody\u003e\n\u003c\/table\u003e\n\u003ch5\u003eDownloads\u003c\/h5\u003e\n\u003cp style=\"text-align: center;\"\u003e\u003ca href=\"https:\/\/apollosat.com\/download\/aero-gps-and-gnss-at1675-382-blueprint\/\" target=\"_blank\" title=\"AERO GPS and GNSS AT1675-382 Blueprint\" rel=\"noopener noreferrer\"\u003e\u003cimg src=\"\/\/cdn.shopify.com\/s\/files\/1\/2962\/4800\/files\/pdf-icon_large.png?v=1519722721\" alt=\"AERO GPS and GNSS Survey Antenna AT1675-382 Blueprint\"\u003e\u003c\/a\u003e\u003cbr\u003eBlueprint\u003c\/p\u003e","published_at":"2018-11-10T11:13:08-08:00","created_at":"2018-11-10T11:16:58-08:00","vendor":"AERO","type":"Antenna","tags":[],"price":142500,"price_min":142500,"price_max":142500,"available":false,"price_varies":false,"compare_at_price":null,"compare_at_price_min":0,"compare_at_price_max":0,"compare_at_price_varies":false,"variants":[{"id":14223705309226,"title":"Default Title","option1":"Default Title","option2":null,"option3":null,"sku":"AT1675-382","requires_shipping":true,"taxable":true,"featured_image":null,"available":false,"name":"AERO GPS and GNSS Survey Antenna AT1675-382","public_title":null,"options":["Default Title"],"price":142500,"weight":499,"compare_at_price":null,"inventory_management":"shopify","barcode":""}],"images":["\/\/cdn.shopify.com\/s\/files\/1\/2962\/4800\/products\/AT1675-382-1.jpg?v=1541892984","\/\/cdn.shopify.com\/s\/files\/1\/2962\/4800\/products\/AT1675-382-2.jpg?v=1541892990","\/\/cdn.shopify.com\/s\/files\/1\/2962\/4800\/products\/AT1675-382-3.jpg?v=1541892995","\/\/cdn.shopify.com\/s\/files\/1\/2962\/4800\/products\/AT1675-382-4.jpg?v=1541893000"],"featured_image":"\/\/cdn.shopify.com\/s\/files\/1\/2962\/4800\/products\/AT1675-382-1.jpg?v=1541892984","options":["Title"],"content":"\u003ch5\u003eDescription\u003c\/h5\u003e\n\u003ch2 style=\"text-align: center;\"\u003eAERO GPS and GNSS Survey Antenna AT1675-382\u003c\/h2\u003e\n\u003cp style=\"text-align: center;\"\u003eThe AERO GPS and GNSS Survey Antenna AT1675-382 is a high performance multi-frequency, multi-constellation GPS, GLONASS, and Galileo antenna. It is NGS calibrated and can be used for RTK networks, scientific, and machine control applications. It can be flush mounted to a flat surface with eight mounting screws.\u003c\/p\u003e\n\u003cp style=\"text-align: center;\"\u003e\u003cstrong\u003eStandard Model: AT1675-382PW-TNCF-000-RG-39-NM-R\u003c\/strong\u003e\u003c\/p\u003e\n\u003ch5\u003eSpecifications\u003c\/h5\u003e\n\u003ch3\u003eSpecifications\u003c\/h3\u003e\n\u003ctable\u003e\n\u003ctbody\u003e\n\u003ctr class=\"first\"\u003e\n\u003ctd class=\"title first\"\u003e\u003cstrong\u003eFrequency\u003c\/strong\u003e\u003c\/td\u003e\n\u003ctd class=\"content last\"\u003e1525 ± 1615 Mhz L1\u003cbr\u003eGlonass (G1)\u003cbr\u003eL-Band\u003cbr\u003e1164-1260 MHz L2\u003cbr\u003eGlonass (G2)\u003cbr\u003eL5 (Galileo, E1, E5a, E5b)\u003c\/td\u003e\n\u003c\/tr\u003e\n\u003ctr class=\"shade\"\u003e\n\u003ctd class=\"title first\"\u003e\u003cstrong\u003ePolarization\u003c\/strong\u003e\u003c\/td\u003e\n\u003ctd class=\"content last\"\u003eRight Hand Circular\u003c\/td\u003e\n\u003c\/tr\u003e\n\u003ctr\u003e\n\u003ctd class=\"title first\"\u003e\u003cstrong\u003eAxial Ratio\u003c\/strong\u003e\u003c\/td\u003e\n\u003ctd class=\"content last\"\u003e3dB Max at Bore Sight\u003c\/td\u003e\n\u003c\/tr\u003e\n\u003ctr class=\"shade\"\u003e\n\u003ctd class=\"title first\"\u003e\u003cstrong\u003eRadiation Coverage\u003c\/strong\u003e\u003c\/td\u003e\n\u003ctd class=\"content last\"\u003e6.0 dBic\u003cbr\u003e-2.0 dBic\u003cbr\u003e-3.0 dBic\u003cbr\u003e-4.0 dBic\u003cbr\u003e-5.0 dBic\n\u003chr\u003e\n0°= 0° \u003cbr\u003e 0° \u0026lt; \u003cspan style=\"text-decoration: line-through;\"\u003e0\u003c\/span\u003e \u0026lt; 75° \u003cbr\u003e 75° ≤ \u003cspan style=\"text-decoration: line-through;\"\u003e0\u003c\/span\u003e \u0026lt; 80° \u003cbr\u003e 80° ≤ \u003cspan style=\"text-decoration: line-through;\"\u003e0\u003c\/span\u003e \u0026lt; 85°\u003cbr\u003eHorizon\u003c\/td\u003e\n\u003c\/tr\u003e\n\u003c\/tbody\u003e\n\u003c\/table\u003e\n\u003ch5\u003eDownloads\u003c\/h5\u003e\n\u003cp style=\"text-align: center;\"\u003e\u003ca href=\"https:\/\/apollosat.com\/download\/aero-gps-and-gnss-at1675-382-blueprint\/\" target=\"_blank\" title=\"AERO GPS and GNSS AT1675-382 Blueprint\" rel=\"noopener noreferrer\"\u003e\u003cimg src=\"\/\/cdn.shopify.com\/s\/files\/1\/2962\/4800\/files\/pdf-icon_large.png?v=1519722721\" alt=\"AERO GPS and GNSS Survey Antenna AT1675-382 Blueprint\"\u003e\u003c\/a\u003e\u003cbr\u003eBlueprint\u003c\/p\u003e"}