Goal Zero Lighthouse Micro USB Rechargeable Lantern
Goal Zero Lighthouse Micro
The Goal Zero Lighthouse Micro USB Rechargeable Lantern is the smallest member of the Lighthouse family but it packs a big punch. It is USB rechargeable, dimmable, and has an IPX6 weatherproof design It's the perfect companion for the weight-conscious adventurer and pairs perfectly with Goal Zero Nomad Solar Panels.
There Are Two Ways to Charge Your Micro
The Sun
The Micro can be charged by connecting a compatible solar panel. The Nomad 7 Solar Panel can charge the Micro in about 3.5 hours
USB
It can also be charged by being plugged into a USB power source.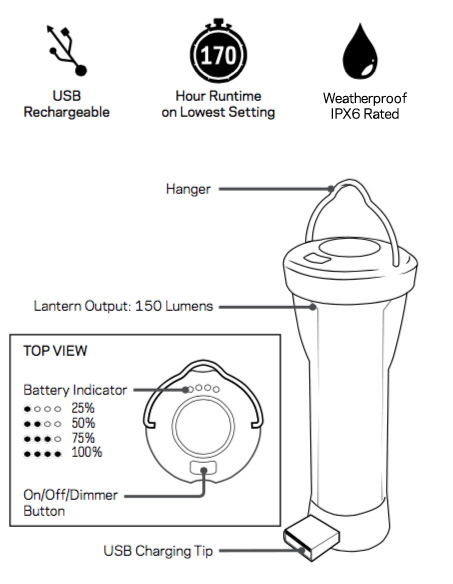 space
space
space
space
space
Charge Times
Goal Zero Nomad 7:

3.5 hours
USB Source:

3.5 Hours
Run Times
One Side Lit:

170 hours (low), 15 hours (high)
USB Source:

3.5 Hours
Light

Full Bright, 4 Lights (Average):

135 Lumens, 3800K
Dimmest, 2 Lights (Average):

7 Lumens, 3800K
Full Bright, 4 Lights (Full Battery):

150 Lumens, 3800K
Full Bright, 2 Lights (Full Battery):

10 Lumens, 3800K
Battery

Cell Chemistry:

Li-on NMC
Cell Type: 18650 by LG chem/Samsung
Cell Capacity:

9.62 Wh (3.7V, 2600mAh)
Lifecycles:

hundreds of cycles
Shelf Life:

Keep plugged in, or charge every 3-6 months
Management System:

Charging and low-battery protection built-in
Ports

USB port (input):

5V, up to 1A (5W max)
General

Chainable: No
Weight:
2.4 oz (68g)
Dimensions:
3.66 x 1.5 in (93 x 37.75mm)