Goal Zero Lighthouse Mini Lantern
Goal Zero Lighthouse Mini Lantern
The Goal Zero Lighthouse Mini Lantern is just like its big brother. The powerful Lighthouse Mini Lantern and the USB Power Hub commands attention and proves that smaller is better. Bring it on any trip with you and feel the convenience of Goal Zero's high-performance products.
Lighthouse Mini Lantern Features
Dimmable, Dual LED Light – Adjust brightness and direction for extended runtimes, up to 500 hours on low. Fold-down legs for maximum light dispersion. Built-in hook and magnets for versatile mounting.
Charge Phones and other USB Gear – Built-in 1A USB port with 3,000mAh battery for up to one full phone charge.
Recharge Anywhere, Anytime – Power up from Goal Zero Nomad solar panels, plug into any USB port with the built-in charging cable, or swap out the internal battery with a spare 18650 Goal Zero Battery.
space
Lighthouse Mini Lantern Powering
There Are Two Ways to Charge the Mini Lantern
The Sun
The Lighthouse Mini can be charged by connecting a compatible solar panel. The Nomad 7 Solar Panel can charge the Lighthouse Mini in about 4-6 hours.
USB
The Mini Lantern can also be charged by being plugged into a USB power source in about 4 hours helping keep you powered up for even longer.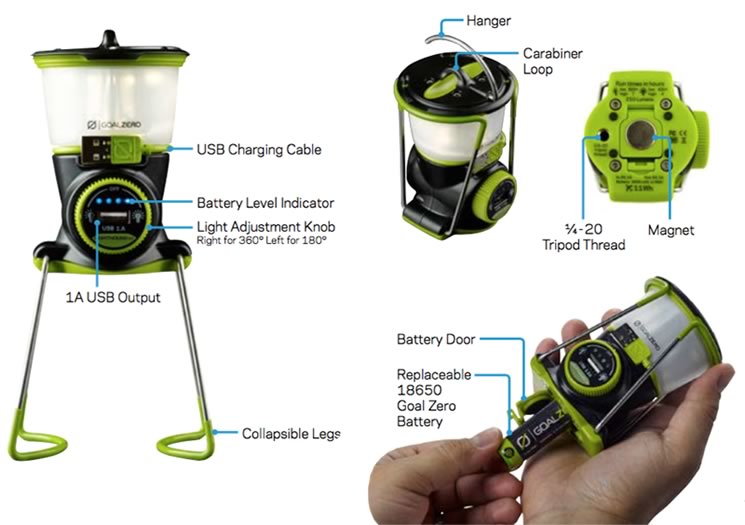 space
space
Charge Times
Goal Zero Nomad 7:

4-6 hours
USB Source:

4 Hours
Run Times
One side lit:

500+ hours (low), 7 hours (high)
Both sides lit:

400+ hours (low), 4 hours (high)
Light

LED (output):

5W max, 210 Lumens, 3500K LED's
Battery

Cell Type:

Li-NMC, 18650 by LG chem/Samsung
Cell Capacity:

11.1 Wh (3.7V, 3000mAh)
Lifecycles:

300+ with recommended use
Shelf Life:

Charge every 3-6 months
Management System:

Charging and low-battery protection built-in
Ports

USB port (input):

 5V, up to 1A (5W max)
USB port (output):

 5V, up to 1A (5W max)
General

Chainable: No
Weight:

 8oz (226.8g)
Dimensions:

 2.91 Dia x 4.15 in (73.8 Dia x 105.5mm)