Goal Zero Nomad 7 Plus Solar Panel
Nomad 7 Plus Solar Panel
Re-engineered to be lighter and smarter, the Goal Zero Nomad 7 Plus Solar Panel has the innovative technology to charge USB devices directly from the sun. It also has a detachable kickstand for modularity and a power-flow indicator that helps ensure the best solar charging experience. It brings top-notch convenience to the charging of your favorite devices.
Nomad 7 Plus Features
Auto Restart: The Nomad 7 Plus features an auto restart that's smarter than anything else on the market. With the ability to track power flow history, the Nomad 7 Plus knows the difference between a device that has reached a fully charged state and one that disconnects due to environmental causes, i.e. lack of sunlight, shadow, etc. When the latter is detected, the Nomad 7 Plus will automatically reconnect the charging device, no extra work on your part is needed.
Rugged and Modular: Detachable kickstand provides optimum angle placement, natural shade for charging devices and a vented pocket for temperature regulation. Weatherproof layering easily sloughs rain and snow.
Smart Charging for Phones: Charge phones and USB devices directly from the sun. Features a dynamic auto-restart and intelligent electronics that optimize output to match the device.
Solar Intensity Indicator + Junction Box: This is where the brains of the Nomad 7 Plus live. Easy-to-read LED indicator displays strength of solar conditions. Receive immediate feedback on panel-to-sun placement to improve solar charging experience.
space
Nomad 7 Plus Powering
What Can the Nomad 7 Plus Solar Panel Charge
The Nomad 7 Plus will directly charge most USB and 12V devices (not tablets). Most handheld USB devices, include: Cell phone, smart phone, GPS, MP3 player.
What Goal Zero Products Work Best w/the Nomad 7 Plus
Goal Zero Switch 8 & 10 Recharger, Flip 10 & 20 Recharger, Guide 10 Plus Recharger, Venture 30, Rock Out Portable Speakers, and Lighthouse Lanterns.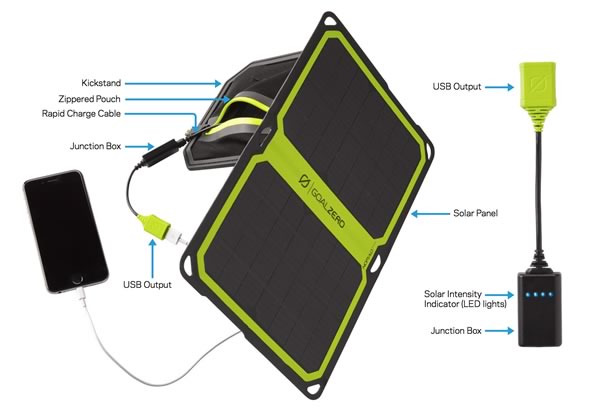 space
Charges the Following
Goal Zero Switch 10/Flip 10: 2.5-5 Hours
Flip 20: 5-10 Hours
Venture 30: 8-16 Hours
Ports
USB Port:

5V, up to 1.4 A (1400 mA)(7W max)
Mini Solar Port (2.5mm):

8-9V, up to 0.8A (800 mA)(7W max)
Solar Panel

Rated Power:

7W
Open Circuit Voltage:

8-9V
Cell Type:

Monocrystalline
General
Weight with Kickstand:

12.8 oz (363 g)
Weight without Kickstand:

9.2 oz (260 g)
Dimensions (unfolded):

13 x 8.75 x 0.5 in (33 x 22.23 x 1.27 cm)
Dimensions (folded):

6.5 x 8.75 x 0.75 in (16.5 x 22.23 x 1.9 cm)
Max Leg Angle:

90 degrees
Is it waterproof?
The best answer: it's weatherproof. Goal Zero has gone to great lengths to ruggedize this particular Nomad model; including beefing up the manufacturing process with advanced lamination techniques so it'll slough off rain and snow. However, take care to keep the Junction Box dry and if it does get wet, allow it to completely dry before trying to charge.
Does it have a built-in battery?
No. We made the Nomad 7 to be as modular and light-weight as possible, which means selling batteries as an optional accessory. You can either plug your phone or device directly into the Nomad 7 Plus, or pair it with one of our rechargers to store power for later (like at night or when you go inside).
Is this chainable with other Nomad panels?
Technically, yes; however, it is not recommended. You can plug the Rapid Charge Cable into the chaining ports on version 2 and 3 of the Nomad 7. That being said, the increase in output would be incredibly minimal so you probably wouldn't notice a significant difference.
How does the Solar Intensity work?
Goal Zero engineers have developed patent-pending electronic brains for the Nomad 7 Plus that ensures you have the best solar charging experience possible. Part of the electronics include an advanced current sensor (way better than a voltmeter) and unique maximum power point tracking (MPPT) charge controller to optimize the USB output. What you need to know is when conditions are right, you can plug a phone into the Nomad 7 Plus and charge it directly from the sun. You'll know the conditions are right by checking out the Solar Intensity Indicator.
Charge Times
| | | | |
| --- | --- | --- | --- |
| | Nomad 7 | Nomad 13 | Nomad 20 |
| Switch 8 | 4-8 Hours | 4 Hours | 4 Hours |
| Flip 10 | 2.5-5 Hours | 2.5 Hours | 2.5 Hours |
| Switch 10 | 4-8 Hours | 4 Hours | 4 Hours |
| Guide 10 Plus | 3-6 Hours | 2.5-5 Hours | 2.5-5 Hours |
| Venture 30 | 8-16 Hours | 6-12 Hours | 5-6 Hours |
| Sherpa 50 | Not Recommended | 8-16 Hours | 6-12 Hours |
| Sherpa 100 | Not Recommended | 15-30 Hours | 10-20 Hours |
| Escape 150 | Not Recommended | 26-52 Hours | 17-34 Hours |
| Yeti 150 | Not Recommended | 26-52 Hours | 17-34 Hours |
| Yeti 400 | Not Recommended | Not Recommended | 40-80 Hours |
| Yeti 1250 | Not Recommended | Not Recommended | Not Recommended |
Charge Times
Boulder 15
Boulder 30
Escape 30
Boulder 90
Switch 8
Not Compatible
Not Compatible
Not Compatible
Flip 10
2.5 Hours
Not Compatible
Not Compatible
Switch 10
4 Hours
Not Compatible
Not Compatible
Guide 10 Plus
Not Compatible
Not Compatible
Not Compatible
Venture 30
7-15 Hours
Not Compatible
Not Compatible
Sherpa 50
8-16 Hours
4-8 Hours
1-3 Hours
Sherpa 100
13-26 Hours
7-14 Hours
3-6 Hours
Escape 150
22-44 Hours
11-22 Hours
Not Compatible
Yeti 150
22-44 Hours
11-22 Hours
3-6 Hours
Yeti 400
53-106 Hours
26-52 Hours
9-18 Hours
Yeti 1250
Not Recommended
80-160 Hours
27-54 Hours