Goal Zero Switch 10 Core Recharger
Switch 10 Core Recharger
Discontinued - Reached End of Life January 15, 2019
CLICK HERE TO VIEW SWITCH 10 USB MULTI TOOL KIT
With the Switch 10 Core Recharger you can quick charge phones, POV cameras, and other USB-powered gear. It also boasts a flip-out USB charging tip and LED battery indicator making it simple to operate and read how much of a charge you have left. It brings an added convenience to the charging of some of your favorite devices that you use every day.
Switch 10 Core Recharger Charging
There Are Two Ways to Charge Your Core Recharger:
The Sun
It can be charged by connecting a compatible solar panel. The Goal Zero Nomad 7 can recharge it in about 3 hours.
USB Port

It can be recharged from a USB Source in about 3 hours.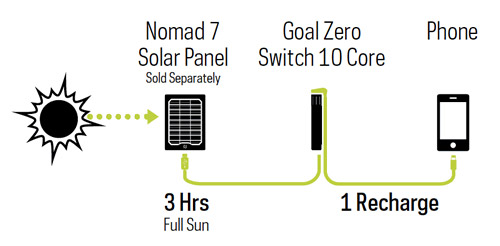 space
space
Switch 10 Core Recharger Powering

The Switch Powers Your Device By:
USB
Quick Charge USB Port (1.5A Output) Intelligent charging for any USB-powered device. Delivers smart power without overcharging or discharging.
How Long Will It Take to Charge Your Device From Goal Zero Power Packs
It takes the same amount of time to charge your device from a Goal Zero power pack as it does from the wall.
space
space
space
Charges Times
Nomad 7 Solar Panel:

3-5 hours
USB Source: 3 Hours
Battery Details

Cell Chemistry:

Li-ion NMC
Cell Type:

18650 by Highpower
Cell Capacity:

9.4Wh (3.7V, 2600mAh)
Lifecycles:

hundreds of cycles
Shelf-life:

Keep plugged in, or charge every 3-6 months
Fuses

: none
Management system:

Charging and low-battery protection built-in
Light Detail

LED Output:

100mW, white LED
Ports

USB port (output):

5V, up to 1.5A (7.5W max), regulated
USB port (input):

5V, up to 1A (5W max)
General
Chainable:

No
Weight (w/batteries):

4 oz (113 g)
Dimensions:

4.5 x 1 x 1 in (11.4 x 2.5 x 2.5 cm)
Operating usage temp.:

32-104 F (0-40 C)
Flip 10
Guide 10 Plus
Switch 10
Venture 30
Flip 30
Sherpa 50
Sherpa 100
Headlamp
2 Charges
5-10 Charges
12 Charges
25 Charges
Smartphone
1 Charge
3-5 Charges
7 Charges
14 Charges
GoPro
1-2 Charges
5 Charges
9 Charges
18 Charges
Digital Camera
1 Charge
3 Charges
5 Charges
10 Charges
Tablet
25% Boost
1 Charge
1-2 Charges
2-4 Charges
Laptop
N/A
N/A
1 Charge
1-2 Charges
Yeti 150
Yeti 400
LA & LI
Yeti 1250
Yeti 1400
Headlamp
37 Charges
100 Charges
200+ Charges
230+ Charges
Smartphone
15 Charges
30+ Charges
60+ Charges
70+ Charges
GoPro
25 Charges
70+ Charges
200+ Charges
230+ Charges
Digital Camera
12 Charges
20+ Charges
100+ Charges
120+ Charges
Tablet
6 Charges
10+ Charges
45+ Charges
52+ Charges
Laptop
1-2 Charges
3-5 Charges
20+ Charges
23+ Charges