Goal Zero Yeti 1000 Lithium Portable Power Station
Goal Zero Yeti 1000 Lithium Portable Power Station
With a variety of high-powered outputs, storage capacities, and multiples ways to recharge, a Goal Zero Yeti 1000 Lithium Portale Power Station will keep your gear running, indoors and out. A whole line of power stations give you power at the push of a button, all without the noise, fumes, or maintenance of a traditional gasoline-powered generator.
Goal Zero Yeti 1000 Lithium Features
Yeti 1000 Charging
The Sun
The Goal Zero Yeti 1000 Lithium can be charged by connecting a compatible solar panel. If you are a standard or light user and use about 30-40% of the power per day, one Boulder 100 Solar Panel is recommended. If you are a heavy user using all the power in one day, multiple Boulder 100 Solar Panels to recharge are recommended.
Wall
The Goal Zero Yeti 1000 Lithium can be recharged from a regular wall outlet in about 18 hours. You can charge your Yeti with solar panels, and a wall charger at the same time.
DO NOT ATTEMPT TO CHARGE YOUR YETI LITHIUM FROM A 12V SOURCE. Doing so may cause damage to the unit.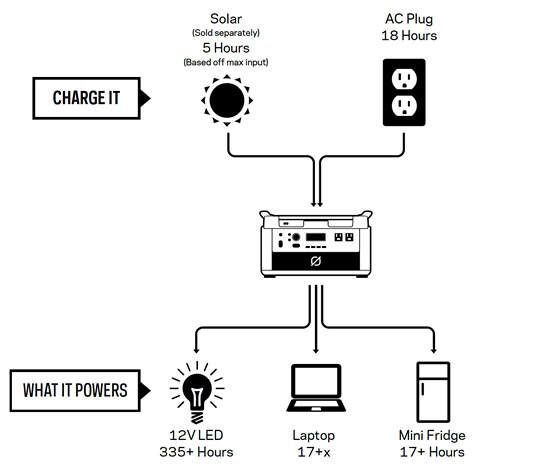 space
Yeti 1000 Powering
USB
4 high-speed USB ports (2.4A). Great for your phones, tablets, and wearables.
12V
The 12V best charges all your 12V powered devices. (10A, 120W max)
AC Inverter
Plug in your device just as you would the wall. There are two AC Outlets (pure-sine wave, 1500W, 3000W surge)
What to Power From the Goal Zero Yeti 1000 Lithium
Smartphones, Lights, Camera Equipment, Tablets,12V Appliances, Laptops, CPAP, Display Monitors, Blenders, Speakers, Drills, Grills/Smokers, Power Tools, TV/Electronics, Fridges, etc.
How Long Will it Take to Charge Your Device From Goal Zero Power Packs
It takes the same amount of time to charge your device from a Goal Zero power pack as it does from the wall.
space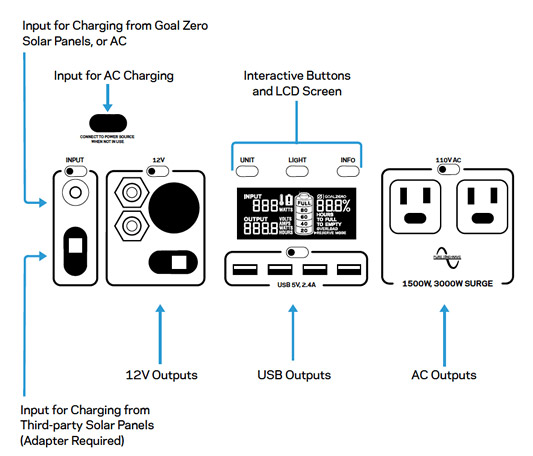 Best-Use Strategy
When charging gear with the Yeti 1000 Lithium, take note of the LCD Battery Display. If you plug in devices that have a high power requirement (a large refrigerator), the charge level of the Yeti can drop very quickly and you may not get exactly 1000Wh of energy. Also, especially when using the AC power output, the Goal Zero Yeti will be converting the energy from the DC power of the battery to the AC power needed by your device. Although your Goal Zero Yeti has a highly efficient inverter, there is still some energy lost in the conversion and you will not get the full rated capacity of the battery.
Storage and Downtime Maintenance
Having your Yeti 1000 Lithium connected to a power source, like a solar panel or wall outlet, between adventures or while in storage keeps its battery healthy and topped off. This prolongs battery life and will ensure your Yeti 1000 Lithium is charged and ready to go all day, every day. If you can't keep the Yeti 1000 Lithium plugged into a power source during storage, fully-charge your Yeti 1000 Lithium every 10-12 months and store in a cool, dry place. Failure to maintain the Yeti 1000 Lithium by following these steps can result in battery damage which will void the product warranty.
space
Charge Times
Wall Charger (5A): 18 hours
2 x Boulder 100:

12-23 Hours
General
Chainable:

No
Weight:

40 lbs (18.1 kg)
Dimensions:

10.1 x 15.3 x 9.3 in (25.7 x 38.9 x 23.6 cm)
Operating usage temp.:

32-104 F (0-40 C)
Battery Details
Cell Chemistry:

Li-ion NMC
Peak Capacity:

1045Wh (10.8V, 96.8Ah)
Lifecycles:

500 Cycles to 80% (Discharge rate: 1C, full charge/discharge, Temp 25C)
Shelf-life:

Charge every 3-6 months
Management system:

PWM charge controller, low battery protection
Ports
USB port (output):

5V, up to 2.4A (12 W max), regulated
6mm port (output, 6mm):

12V, up to 10A (120W max)
12V car port (output):

12V, up to 10A (120W max)
12V Power Pole port (output):

12V, up to 10A (120W max)
AC inverter (output, pure sine wave):

120VAC 60Hz, 12.5A (1500W, 3000W surge)
Charging port (input, 8mm):

14-22V, up to 10A (120W max)
Power Pole Charging port (input):

14-22V, up to 20A (240W max)
User Guide
Flip 10
Guide 10 Plus
Switch 10
Venture 30
Flip 30
Sherpa 50
Sherpa 100
Headlamp
2 Charges
5-10 Charges
12 Charges
25 Charges
Smartphone
1 Charge
3-5 Charges
7 Charges
14 Charges
GoPro
1-2 Charges
5 Charges
9 Charges
18 Charges
Digital Camera
1 Charge
3 Charges
5 Charges
10 Charges
Tablet
25% Boost
1 Charge
1-2 Charges
2-4 Charges
Laptop
N/A
N/A
1 Charge
1-2 Charges
Yeti 150
Yeti 400
LA & LI
Yeti 1250
Yeti 1400
Headlamp
37 Charges
100 Charges
200+ Charges
230+ Charges
Smartphone
15 Charges
30+ Charges
60+ Charges
70+ Charges
GoPro
25 Charges
70+ Charges
200+ Charges
230+ Charges
Digital Camera
12 Charges
20+ Charges
100+ Charges
120+ Charges
Tablet
6 Charges
10+ Charges
45+ Charges
52+ Charges
Laptop
1-2 Charges
3-5 Charges
20+ Charges
23+ Charges
What type of battery is in the Yeti 1000 Lithium?
The Yeti Lithium uses custom designed Lithium Ion. Here are some basic facts about Lithium Ion batteries. 1. Lithium Ion batteries can store and release a lot of energy in a short period of time. The batteries in your Goal Zero Yeti are in a protective enclosure with a sophisticated battery management and protection system controlling its terminals to the outside world. 2. It is critical that your battery does not get wet as moisture and water can get into the battery cells behind the protection circuitry and bypass that protection.
How do I know if my device will work with the Goal Zero Yeti 1000 Lithium?
First, you'll need to determine the amount of power your device requires. This may require some research on your end, a good internet search or examining the user guide for your device should suffice. Second, you will need to check the capacity for the individual output ports. For example, the Goal Zero Yeti's AC port is powered by an inverter that allows for 1500W of power. This means if your device is pulling more than 1500W for an extended period of time, the Goal Zero Yeti's inverter will shut off. Another number to watch for is the surge rating of your device as compared to that of the port. The Goal Zero Yeti inverter has an advanced surge management system that will maximize its compatibility with various devices, but there will still be items that will surge at a higher rate, and for longer time, than the Goal Zero Yeti can manage, in which case the port will turn itself off. Finally, once you know your device is compatible, you'll want to determine how long you'll be able to power your gear from the Goal Zero Yeti. For example, a 200Wh recharger should run a 100W light for 2 hours (200/100=2). If your gear falls within the 1000Wh capacity of the Yeti, you'll want to check the restrictions on each of the output ports.
Can I replace the battery in my Goal Zero Yeti?
Yes, the battery inside the Goal Zero is designed to be easy to replace.
How do I know if my Goal Zero Yeti is charged?
To check the charge level of your Goal Zero Yeti, refer to the LCD Battery Display. When lit up, you'll see a battery outline with 5 segments, indicating the current charge level. It is OK to use your Goal Zero Yeti even when it's not fully charged.
Why is the light on the AC button blinking?
A blinking light on the AC button indicates that at the current load, the AC inverter will be shutting off soon; you should also see RESERVE MODE blinking on the display. Recharge your Goal Zero Yeti as soon as possible to continue powering your device. Once the AC inverter has shut off, the Yeti will attempt to reset itself three times. After three attempts, the AC inverter will remain off until you physically reset it by pushing the AC button or by recharging the battery a small amount.
Charging from Solar?
When solar recharging your Goal Zero Yeti Lithium, take note of the voltages of the solar panels and do not exceed 30V. Individual solar panels, or solar panels chained in a series in excess of 30V cannot be used with the Goal Zero Lithium and can cause serious damage to the unit. For help on chaining solar panels, call Apollo Customer Support at 1-844-248-0123.