Goal Zero Yeti 3000 V2 Lithium Portable Power Station
Goal Zero Yeti 3000 V2 Lithium Portable Power Station
On Backorder Status
The Goal Zero Yeti 3000 Lithium Portable Power Station is the largest Goal Zero Yeti and also stores over 3000Wh of power for longer runtimes and serious projects. It includes pre-installed Solar Charging Optimization Module (MPPT) as well as mobility wheels and a handle for easy moving. With Goal Zero products and devices you can always expect high-performance that is worth every penny. Also, with Goal Zero Portable Power Stations you can expect them to perform when you need them most. Whether it is a serious emergency, a simple power outage, or if you need some power off the grid to run anything from appliances to power tools the Yeti 3000 will outperform the competition at every turn.
Goal Zero Yeti 3000 V2 Lithium Portable Power Station
Overview
No Fuel, Noise, or Fumes
Just because you need big power, doesn't mean you need to step up to the pump and fork over the cash for gas. The Goal Zero Yeti Portable Power Stations have some serious benefits over the competitions.
No Maintenance
It's as easy as keeping it plugged into the wall or solar panel.
Lower Cost of Ownership
Power is stored and consumed as needed, maximizing output.
No Lost Power
Costs 40% less than popular gasoline powered inverter generators over its lifetime.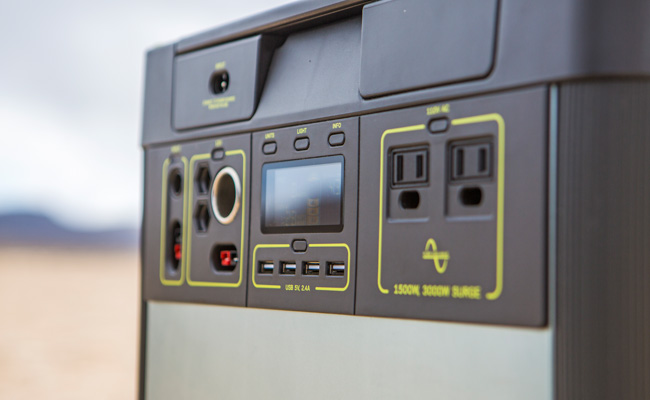 space
Patent Pending AC Inverter

Goal Zero invented a new way to power more devices through a highly efficient, multi-stage inverter, which means increased compatibility and capability. The robust Goal Zero Yeti Lithium Portable Power Stations are designed to be your source of reliable power both indoors, and out.
Exclusive Lithium Pack
Goal Zero has swapped out lead-acid batteries for lightweight lithium for increased runtimes, shelf-life, and added monitoring circuits for increased safety and ultimate peace of mind. The lithium packs are user replaceable and are easily changed out at the end of the lifecycle (depends on usage).
space
Charge Times
Maximum Input:
9 Hours
Wall Charger (2x5a):

25 Hours
Boulder 100:

60-120 Hours
Boulder 200 Briefcase 200:

30-60 Hours
Inputs
Charging Port (input, 8mm):
16-30V, up to 10A (160W max)
Power Pole Charging Port:

16-30V, up to 30A (360W max)
Outputs

USB Port:
5V, up to 2.4A (12W max), regulated
USBC Port:
5V, up to 3A
6mm Port:
12V, up to 10A (120W max)
12V Car Port:
12V, up to 10A (120W max)
12V Power Pole Port:
12V, up to 10A (120W max)
120V AC Inverter:
120VAC 60Hz, 10A (1500W, 3000W surge)
General

Weight:
67.3 lbs (30.5 kg)
Dimensions:

10.1 x 15.3 x 13.1 inches (25.7 x 38.9 x 33.3 cm)
Battery

Cell Chemistry:
Li-ion NMC
Pack Capacity:
3024Wh (10.8V, 280Ah)
Yeti 3000 Lithium Brochure
Flip 10
Guide 10 Plus
Switch 10
Venture 30
Flip 30
Sherpa 50
Sherpa 100
Headlamp
2 Charges
5-10 Charges
12 Charges
25 Charges
Smartphone
1 Charge
3-5 Charges
7 Charges
14 Charges
GoPro
1-2 Charges
5 Charges
9 Charges
18 Charges
Digital Camera
1 Charge
3 Charges
5 Charges
10 Charges
Tablet
25% Boost
1 Charge
1-2 Charges
2-4 Charges
Laptop
N/A
N/A
1 Charge
1-2 Charges
Yeti 150
Yeti 400
LA & LI
Yeti 1250
Yeti 1400
Headlamp
37 Charges
100 Charges
200+ Charges
230+ Charges
Smartphone
15 Charges
30+ Charges
60+ Charges
70+ Charges
GoPro
25 Charges
70+ Charges
200+ Charges
230+ Charges
Digital Camera
12 Charges
20+ Charges
100+ Charges
120+ Charges
Tablet
6 Charges
10+ Charges
45+ Charges
52+ Charges
Laptop
1-2 Charges
3-5 Charges
20+ Charges
23+ Charges