Intellian FleetBroadband 250 INT-FB250
Intellian FleetBroadband 250 INT-FB250
With the Intellian FleetBroadband 250 INT-FB250 users will benefit from increased data speeds and improved features while continuing to receive global coverage and high-quality voice & data services in a compact, lightweight size factor at a compelling price point.
Intellian FleetBroadband 250 INT-FB250 Highlights
Inmarsat's global broadband I4 satellite coverage

Compact and reliable hardware designed to operate in all ocean conditions

Streaming IP Capability for mission-critical services and remote support
Simultaneous Voice, Data, SMS and Fax service

Built-in Wi-Fi Access Point for immediate connectivity to any device

Matching dome solutions to Intellian's i-Series (Marine Satellite TV Antenna System)
space
A Simple Solution
With its compact radome size, a single cable to run between the antenna and below deck unit, and a built in Wi-Fi Access Point, the FleetBroadband 250 is easy to install and provides immediate connectivity to anyone onboard the vessel. The standard web console can be accessed via a web browser on any device, making it easy to enable email on your smart phone or tablet. Users will appreciate the ability to plug it in, turn it on and connect to the web in minutes.
Simultaneous Voice & Data
The FleetBroadband 250 provides simultaneous access to voice, SMS and data services, making it an excellent solution for keeping in touch with work or family wherever your voyage may take you.

Having been extensively tested and type-approved by Inmarsat to operate on their industry-leading FleetBroadband network, you can be confident in both the quality of the equipment and the support behind it.
Intellian FleetBroadband 250 INT-FB250 Features
Compact Global Maritime Terminal
Available in the same size antenna as the FB150, Intellian's FB250 is a compact FleetBroadband maritime terminal offering increased connectivity speeds
Simultaneous Data & Voice Access
Up to 250Kbps data rates, as many as nine separate phone calls at one time, Fax, SMS and IP Streaming capability keeps you and your crew connected at all times
Built-in Wi-Fi Access Point
Connect any device to the internet using the built-in Wi-Fi functionality

No additional hardware required to get your vessel linked up to the web
Rack Mountable ACU Option
For vessels preferring to keep their electronics equipment neatly stored in a server rack configuration, a rack-mountable Below Deck Unit is available for the FB250
Reliable Hardware
In addition to passing Inmarsat's rigorous type approval process for designing a terminal that meets their highest standards, all Intellian FB terminals are extensively tested prior to shipment
Three Year Global Warranty
Intellian's industry-leading Three Year Warranty is backed by 

and

extensive global support network of more than 300 trained service technicians in over 45 countries
Ruggedized Handset
The plug-and-play handset provides a familiar user interface on a 2.2″ TFT color screen and features common-sense technology, such as an echo cancellation and noise suppression function to eliminate background engine or wind noise and ensure excellent audio clarity
Matching Dome Solution
The FleetBroadband 250 radome can be matched with the Intellian i-Series (i2, i3, i4) satellite TV antenna systems to create just the right look for your vessel
space
FleetBroadband 250 Diagram/Dimensions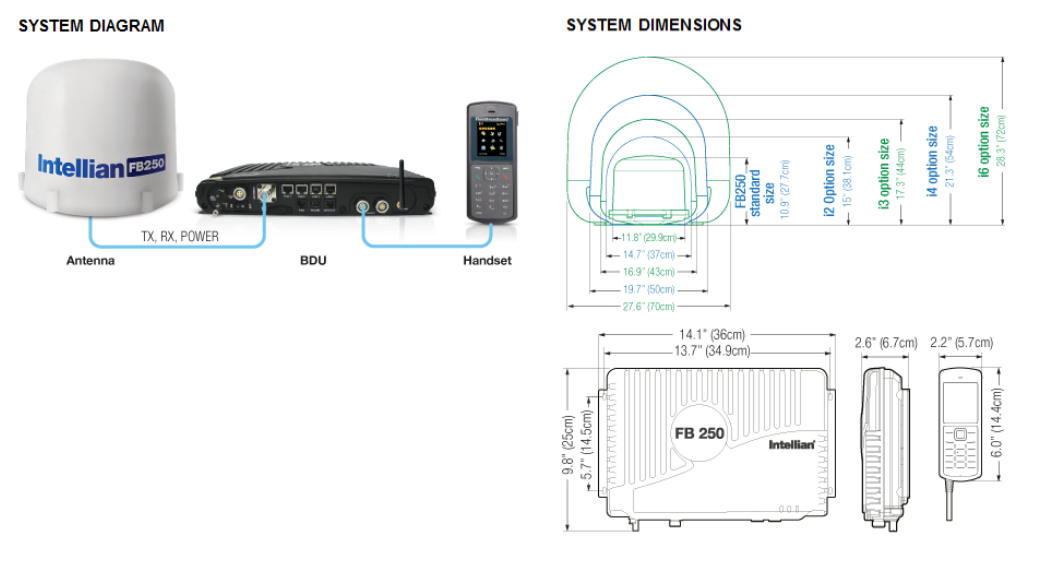 | | |
| --- | --- |
| Weight | 18 lbs |
| Dimensions | 32 x 24 x 16 in |
| Brands | Intellian |
Product Models
| | |
| --- | --- |
| Intellian FB250 | Inmarsat FleetBroadband 250 Marine Satellite Communication Antenna System |
Dimension and Weight
| | |
| --- | --- |
| ADU | 29.9 × 27.7cm (11.8 × 10.9 inch) / 3.0 kg (6.6 Ibs) |
| BDU | 36 × 25 × 6.7 cm (14.1 × 9.8 × 2.6 inch) / 3.9 kg (8.5 Ibs) |
Environmental Conditions
| | |
| --- | --- |
| Operating Temperature | -25°C ~ 55°C (-13°F to +131°F) |
| Operating Humidity | [ACU] EN60945, [BDU] 95% non-condensing at 40°C |
| Water Ingress | [ACU] IP56, [BCU] IP31 |
| Approvals | Inmarsat FleetBroadband / RTTE / CE / FCC |
| Warranty | 3 Years Parts and 2 Year Labor |
Global Services
| | |
| --- | --- |
| Voice | Digital 4 kbps Voice, 3.1 kHz Audio |
| Standard IP | Up to 284 kbps |
| Streaming IP | 8, 16, 32, 64, 128 kbps |
| SMS | Up to 160 characters (3G standard) |
| Fax | Group 3 (via 3.1 kHz Audio) |
| Airtime Service | Inmarsat airtime |
Frequency Band
| | |
| --- | --- |
| Tx | 1626.5 MHz - 1675.0 MHz |
| Rx | 1518.0 MHz - 1559.0 MHz |
| Ch. Width | [Rx] 10.5 - 189 kHz, [Tx] 21 - 189 kHz |
Power Supply & Consumption
| | |
| --- | --- |
| DC Input Range | 10 - 32V DC (isolated) |
| Power (Max) | 150W @ 10 - 32V (including antenna) |
| | | | |
| --- | --- | --- | --- |
| Model | FleetBroadband 150 | FleetBroadband 250 | FleetBroadband 500 |
| Radome Dimension(WxH) | 29.9x27.7 (11.8x10.9") | 29.9x27.7 (11.8x10.9") | 72x70cm (28.3x27.6inch) |
| BDU Dimensions | 36x25x6.7cm (14x9.8x2.6") | 36x25x6.7cm (14x9.8x2.6") | 36x25x6.7cm (14x9.8x2.6inch) |
| Standard IP | up to 150kbps | up to 284kbps | up to 432kbps |
| Streaming IP | 8, 16, 32, 64, 128kbps | 8, 16, 32, 64, 128kbps | 8, 16, 32, 64, 128kbps |
| WiFi | No | Yes | Yes |
| Voice | Digital 4kbps Voice | Digital 4kbps Voice | Digital 4kbps Voice |
| SMS | Up to 160 characters | Up to 160 characters | Up to 160 characters |
| Fax | Group 3 (via 3.1kHz Audio) | Group 3 (via 3.1kHz Audio) | Group 3 (via 3.1kHz Audio) |
| RX | 1518.0~1559.0MHz | 1518.0~1559.0MHz | 1518.0~1559.0MHz |
| TX | 1626.5~1675.0MHz | 1626.5~1675.0MHz | 1626.5~1675.0MHz |
| Ch Width | RX 10.5~189kHz, TX 21~189kHz | RX 10.5~189kHz, TX 21~189kHz | RX 10.5~189kHz, TX 21~189kHz |
| Ethernet | PoE (RJ45) | 2 | 2 plus 2 POE | 2 plus 2 POE |