Intellian s6HD Satellite TV Intell-s6HD
Intellian s6HD Satellite TV Intell-s6HD
The Intellian s6HD Satellite TV Intell-s6HD is a complete all-in-one satellite TV solution that enables boaters to enjoy high-definition TV channels just like at home. The antenna's stylish polished radome design makes it a perfect fit for boats over 45 feet; see more for less, with the Intellian s6HD Satellite TV Intell-s6HD.
Intellian s6HD Satellite TV Intell-s6HD Highlights
Track all 3 DirecTV Satellites at once

Experience DirecTV just like home: updated channel guide and seamless channel changing

Built-in HD module for Ka-band DirecTV channels

Simplicity of design, no external compass or rate sensors required
Watch HD TV onboard, underway or at anchor

Built-in Wifi enables one-touch diagnostic and updates from your PC or iOS device

Smaller size with better performance

60° per second turn rate ensures signal lock at high speeds or in rough seas
space
DirecTV HD
Because DirecTV offers so many different channels, their service is simultaneously broadcast from three separate satellites. The Intellian s6HD processes all three signals at once, delivering the complete DirecTV HD experience right aboard your boat. Multiple TVs onboard can tune to any program independent of what other sets might be watching, which means no more debating over Cartoons vs. Sports. Additionally, tracking three satellites at once keeps the channel guide up to date and enables use of your DVR.
Performance Delivered
The Intellian s6HD incorporates Intellian's proprietary iQ² Technology, which guarantees boaters the fastest signal acquisition and most rock-solid TV reception in all sea conditions. Unlike conventional systems, the s6HD is lightweight has a wide elevation angle (5°-90°) and boasts a next-generation alignment control system that delivers seamless, uninterrupted satellite reception for boaters traveling throughout US waters.
With its Single Wire Multi-switch (SWM) the Intellian s6HD enables up to 16 receivers to view all DirecTV channels, with the possibility to upgrade to 32 SWM receivers.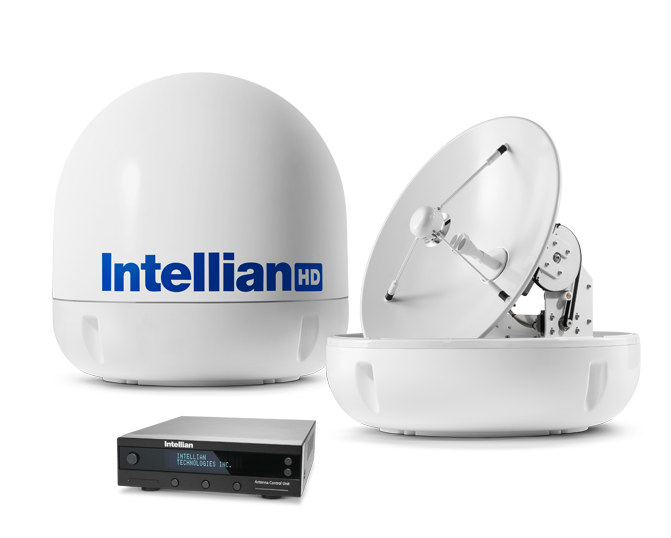 space
space
Intellian s6HD Features
Fully Automated System
Automatic Satellite Search and Identification Function

2-axis Stabilization provides high-speed tracking
Enhanced Antenna for dual bands
Dual Ku and Ka-band feed with automatic alignment to maintain the best quality picture

Highly efficient parabolic antenna enables reception at 47dBW minimum EIRP
iQ² Quick&Quiet℠ Technology
iQ² Technology allows you to tune in quickly, maintain a solid signal lock, and enjoy your favorite TV programming in quiet comfort

The Wide Range Search (WRS) Algorithm delivers the fastest signal acquisition available anywhere

Dynamic Beam Tilting (DBT) technology uses intelligent, real-time beam analysis to ensure superior signal tracking while eliminating intrusive background noise experienced with conventional antennas
Fully Automated Digital Video Broadcasting (DVB-S2) Network Identification
DVB Decoder with LDPC enables

high-speed

Network Identification
Wi-Fi Enabled Antenna Control Unit
Wireless updates and diagnostics via the Aptus PC

Intuitive controls and digital satellite information display on the ACU

Simple antenna status quick reference
Built-in GPS and NMEA 0183 Interface
The s6HD includes a built-in GPS inside of the antenna unit for faster signal acquisition

The ship's GPS can also be

connected through

the NMEA 0183 port on the rear panel of the ACU
Lightest HD Antenna Available
Antenna weighs less than 22 kg (48 lbs)

60cm (24 in) antenna reflector diameter
Three Year Global Warranty
Industry leading 3-year parts and workmanship guarantee with a 2-year labor warranty for all antenna systems, ensuring peace of mind with your hardware investment

The new warranty policy (3-year parts and 2-year labor) is only valid for products purchased after 1st, January 2017
space
Product Models
| | |
| --- | --- |
| B4-639HD | s6HD DirectTV HDTV Multi-Feed Antenna System |
Physical
| | |
| --- | --- |
| Radome Height | 72 cm (28.3 inch) |
| Radome Diameter | 70 cm (27.5 inch) |
| Reflector Diameter | 61 cm (24 inch) |
| Weight | 21.6 kg (47.8 lbs) |
Environmental
| | |
| --- | --- |
| Operating Temp. Range | -25°C ~ 55°C (-13°F ~ 131°F) |
| Storage Temp. Range | -40°C ~ 80°C (-40°F ~ 176°F) |
| Water Ingress | IPX6 |
| Approvals | CE / FCC |
| Warranty | 3 Years Parts and 2 Year Labor |
Performance
| | |
| --- | --- |
| Reception Frequency | Ka-band : 18 ~ 22 GHz, Ku-band :10.7 ~ 12.75 GHz |
| Minimum EIRP | 47 dBW |
| Azimuth Range | 680° |
| Elevation Range | 5° ~ 90° |
| Ship's Motion | Roll ±25°, Pitch ±15° |
| Roll & Pitch Response Rate | 45° / sec |
| Turn Rate | 45° / sec |
| RF Output | Quad Output |
Antenna Control Unit
| | |
| --- | --- |
| Dimensions (W × D × H) | 17.8cm × 21.7cm × 5.4 cm (7.0 inch × 8.5 inch × 2.1 inch) |
| Weight | 1.2 kg (2.6 lbs) |
| Display | 2 line 20 character VFD module |
| Control Key | 5 Integrated Push Buttons |
| Power Output | 9.0~30.0V DC (Typ. 30W, max 50W) |
| GPS Interface | Built-In (NMEA 0183 GPS) |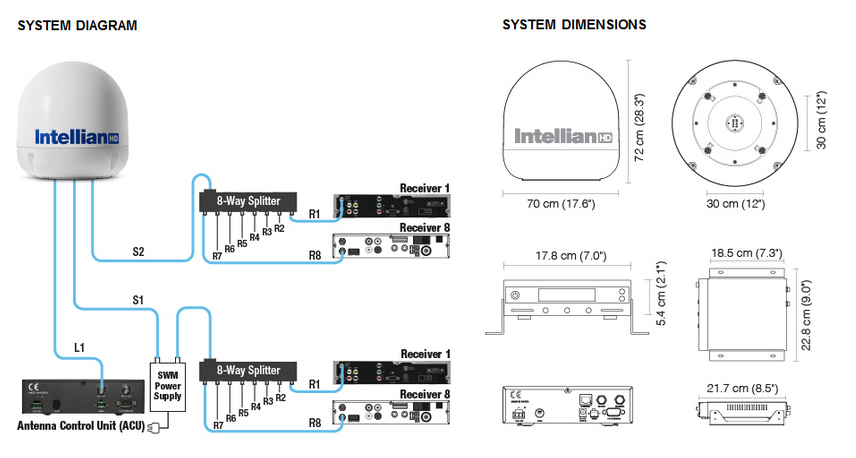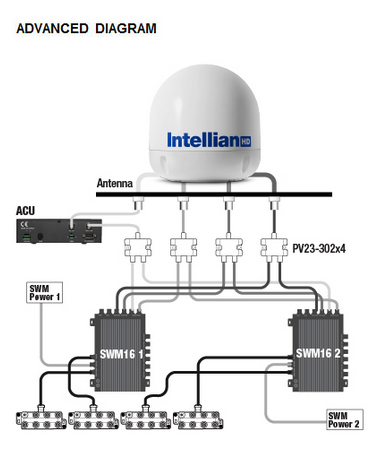 All Satellite Systems include the following parts as standard
Antenna & Radome 60 cm (23.6 inches); Reflector & Dual Ka - Ku-Band LNB
ACU (Antenna Control Unit)
PC Controller Program (Software CD included)
Installation & Operation Manual
Installation Template
Quick Installation Guide
Installation Kit
ACU Table Mounting Bracket × 2EA
15 m (49 ft) × 2EA Antenna-ACU RG6 Coaxial Cable
3 m (10 ft) × 2EA ACU-IRD RG6 Coaxial Cable
10 m (33 ft) × 1EA Power Cable
1.8 m (6 ft) × 1EA PC Serial Cable
SWM Power Supply; 1EA
1.8 m (6 ft) × 2EA SWM 8-Way Splitter
Connectors & Screws
space
MODEL
s6HD
s80HD
WorldView
s100HD
WorldView
Antenna Dish Size
61 cm (24 inch)
83 cm (32.7 inch)
109 cm (42.9 inch)
Radome Dimension(WxH)
70x72 cm (27.5x28.3 inch)
113x120.5 cm (44.5x47.4 inch)
138x151.4 cm (54.33x59.64 inch)
Antenna Weight
21.6 kg (47.8 lbs)
86.2 kg (190lbs)
100 kg (220 lbs)
Minimum EIRP
47 dBW
43 dBW
42 dBW
Automatic Skew Control
Yes
Yes
Yes
Antenna Control Unit
Yes
Yes
Yes
Built-in HDTV Module
Yes
Yes
Yes
Built-in Trisat Function
Yes
Yes
Yes
Built-in GPS System
Yes
Yes
Yes
GPS Interface
Yes
Yes
Yes