Intellian s80HD Satellite TV Intell-s80HD
Intellian s80HD Satellite TV Intell-s80HD
The Intellian s80HD Satellite TV Intell-s80HD is the most feature-packed satellite antenna system available today. When cruising in North America this dual-band system delivers DirecTV in full HD with all the features you have at home, including DVR, up-to-date channel guide, and the ability for everyone on board to watch different channels at once. When it's time to weigh anchor and head to another part of the world, the Ku-band WorldView Trio LNB allows the system to provide HDTV around the globe.
Intellian s80HD Satellite TV Intell-s80HD Highlights
Simultaneous Reception of DirecTV Ka- and Ku-band

Watch HD TV onboard, underway or at anchor

Global Satellite Library

Simplicity of design, no fragile

compass

and no rate sensors
WorldView™ Trio LNB Provides Global Coverage of Ku-Band Satellites

Able to service up to 16 receivers out of the box

Aptus Mobile user controls for iPhone, iPad, and Android

3-axis Stabilized Antenna System
space
Simultaneous Reception
The Intellian s80HD WorldView antenna system with its triple feed horn simultaneously receives signals from two DirecTV Ka-Band satellites and one DirecTV Ku-Band satellite. This allows viewing of all DirecTV HD channels without manually changing the satellites, for an uninterrupted viewing experience.
Intellian WorldView Trio LNB Provides Global Coverage
Gone are the days of reconfiguring complex systems, and manually changing out LNBs with each crossover into a new satellite service area. Intellian's WorldView Trio LNB technology enables reception of all Ku-Band satellites around the globe. The WorldView Trio LNB module is programmed to select each satellite automatically, allowing mariners to enjoy any satellite TV service by simply selecting the correct satellite from a drop down menu and connecting the corresponding receiver. The LNB automatically switches to the correct polarization and local frequency required by the satellite service provider.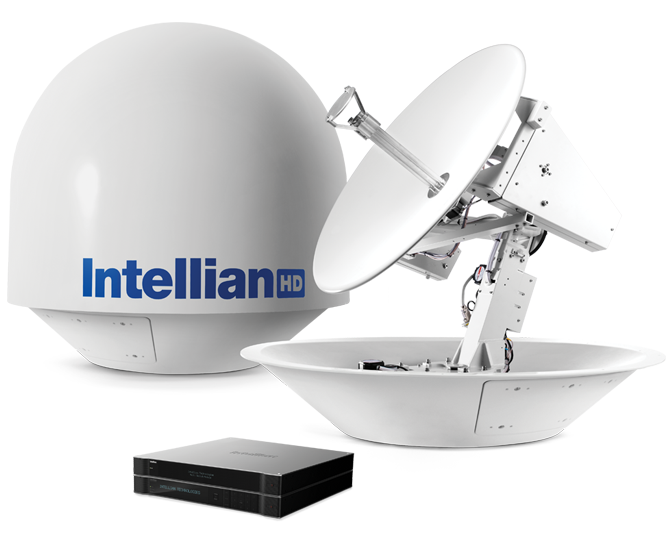 space
Multi-Switch Module
The Intellian s80HD WorldView comes standard with an SWM capable Multi-Switch module to connect up to 16 DirecTV satellite receivers without additional splitters. The Multi-Switch supports both Single Wire and standard installations, reducing the need for additional hardware.
Intellian s80HD Features
Intellian WorldView Trio LNB
In addition to offering reception of DirecTV's HD service when operating in the US, The s80HD WorldView also enables global reception of Ku-band Satellites without changing LNBs, making it a single antenna to watch it all
Enhanced Antenna performance across dual bands
Highly efficient parabolic antenna enables 43dBW minimum EIRP

Ku and Ka-Band LNB with automatic level alignment to maintain the best quality picture
Fully Automated System
Automatic satellite search and identification

3-axis stabilized antenna remains locked on in all sea conditions
Multi-Switch Module
SWM capable, supporting both Single Wire and Standard receivers

Rack mountable. Matches ACU design
Wide Range Search (WRS) Function
Intellian's patented WRS search provides the fastest satellite acquisition available today by searching for the entire signal rather than only part of it
Wi-Fi Enabled Antenna Control Unit
Wireless updates and diagnostics via the Aptus PC

Intuitive controls and digital satellite information display on the ACU

Simple antenna status quick reference
Built-in GPS and NMEA 0183 Interface
The s80HD WorldView includes a built-in GPS inside of the antenna unit for faster signal acquisition

An external ship's GPS can also be

connected through

the NMEA 0183 port on the rear panel of the ACU
Dedicated Mobile Application for ease-of-use
Dedicated iOS Mobile Application connects over WiFi to offer simple, intuitive control of the system

Users can check and update satellite library and antenna firmware all from the palm of their hand
Three Year Global Warranty
Industry leading 3-year parts and workmanship guarantee with a 2-year labor warranty for all antenna systems, ensuring peace of mind with your hardware investment

The new warranty policy (3-year parts and 2-year labor) is only valid for products purchased after 1st, January 2017
space
Product Models
| | |
| --- | --- |
| T2-878T | s80HD WorldView HDTV Multi-Feed &e Trio LNB |
Physical
| | |
| --- | --- |
| Radome Height | 120.5 cm (47.4 inch) |
| Radome Diameter | 113 cm (44.5 inch) |
| Reflector Diameter | 83 cm (32.7 inch) |
| Weight | 86.2 kg (190 lbs) |
Environmental
| | |
| --- | --- |
| Operating Temp. Range | -25°C ~ 55°C (-13°F ~ 131°F) |
| Storage Temp. Range | -40°C ~ 80°C (-40°F ~ 176°F) |
| Water Ingress | IPX6 |
| Approvals | CE / FCC |
| Warranty | 3 Years Parts and 2 Year Labor |
Performance
| | |
| --- | --- |
| Reception Frequency | Ka-band : 18.3 ~ 18.8 GHz, 19.7~20.2GHz, Ku-band : 10.7 ~ 12.75 GHz |
| Polarization | Ka-band : Circular, Ku-band : Linear / Circular Switchable |
| Minimum EIRP | Ka-band : 44 dBW, Ku-band : 43 dBW |
| Azimuth Range | 690° |
| Elevation Range | -15° ~ 110° |
| Cross Level Range | ±32° |
| Axis | 3-axis : Azimuth / Elevation / Cross-level. Auto Skew |
| Positioning | 3-axis Velocity Mode Servo Control : Azimuth, Elevation and Cross-Level |
| Stabilization Accuracy | 0.2° max in presence of specified ship motions |
Max Ship's Motion
| | |
| --- | --- |
| Roll /Pitch / Yaw | Roll ±25°, Pitch ±15°, Yaw ±8° @ 6 sec period |
| Turn Rate | Up to 12° per/sec 5° sec ² |
Antenna Control Unit
| | |
| --- | --- |
| Dimensions (W × D × H) | 43.1cm × 38.1cm × 4.4 cm (17 inch × 15 inch × 1.7 inch) |
| Weight | 3.5 kg (7.7 lbs) |
| Display | 2 line 40 character VFD module |
| Control Key | 20 Backlit Touch Key |
| Serial Port | 57600bps 8, N, 1, RS-232C |
| Remote Access | TCP / IP, Wi-Fi (Range : ~ 120 meters) |
| Flash Memory | 256 MB |
| Ethernet Port | 2 × RJ45 (Front 1, Rear 1) |
| USB | Log Download, Firmware Upload |
| Connector | Antenna Interface : F-Type, STB Interface : F-Type, RS-232C Interface : DSUB-9 |
| Power Input | 100~240V AC, 50~60Hz, 2A |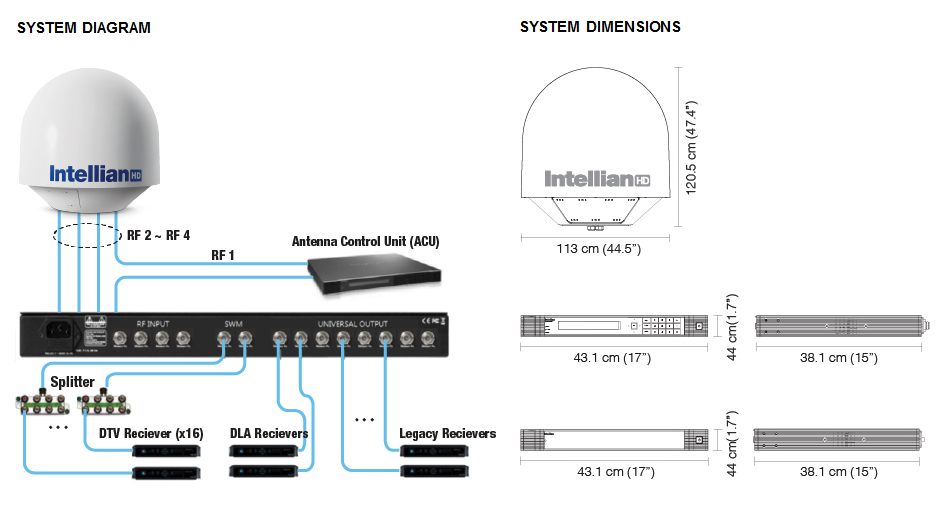 All s80HD Satellite Systems include the following parts as standard
Antenna & Radome 32.7 inch; (83 cm) Reflector & LNB
ACU (Antenna Control Unit)
MSM (Multi-Switch Module)
WiFi Antenna
USB Flash Drive
Aptus PC Software CD
Installation & Operation Manual
Installation Template
Installation Kit
ACU 19″ Rack Bracket × 2EA
ACU Table Mounting Bracket × 2EA
MSM 19″ Rack Bracket × 2EA
MSM Table Mounting Bracket × 2EA
3 m (10 ft) × 1EA ACU-MSM RG6 Coaxial Cable
3 m (10 ft) × 1EA MSM-Rx RG6 Coaxial Cable
1.5 m (5 ft) × 2EA CEEE7/7 AC Power Cord
1.8 m (6 ft) × 1EA PC Serial Cable
1 EA USB Cable (A-A)
2 EA SWM 8-Way Splitter
Connectors & Screws
space
MODEL
s6HD
s80HD
WorldView
s100HD
WorldView
Antenna Dish Size
61 cm (24 inch)
83 cm (32.7 inch)
109 cm (42.9 inch)
Radome Dimension(WxH)
70x72 cm (27.5x28.3 inch)
113x120.5 cm (44.5x47.4 inch)
138x151.4 cm (54.33x59.64 inch)
Antenna Weight
21.6 kg (47.8 lbs)
86.2 kg (190lbs)
100 kg (220 lbs)
Minimum EIRP
47 dBW
43 dBW
42 dBW
Automatic Skew Control
Yes
Yes
Yes
Antenna Control Unit
Yes
Yes
Yes
Built-in HDTV Module
Yes
Yes
Yes
Built-in Trisat Function
Yes
Yes
Yes
Built-in GPS System
Yes
Yes
Yes
GPS Interface
Yes
Yes
Yes