Intellian t130W/t130Q Satellite TV Intell-t130W
Intellian t130W/t130Q Satellite TV Intell-t130W
The Intellian t130W/t130Q Satellite TV Intell-t130W is a 1.25m Marine Stabilized Ku-Band Global Satellite TV System.
Intellian t130W/t130Q Highlights
WorldView LNB for global operation with any satellite TV provider / Universal Quad LNB for European Market

Travel further north or south with the extended elevation range of -15° to 120°

Automatic satellite switching from your remote control
30° per second turn rate and high-speed 3-axis stabilization platform ensures signal lock at high speeds and in rough seas

Global Satellite library for simple setup and easy regional switching

Simplicity of design, no external compass or rate sensors required

Built-in HD module for Ku-band
space
Outstanding Performance Anywhere
Intellian's t130W provides outstanding performance in a 125cm (49.2in) reflector with the added benefits of Intellian's proprietary WorldView Technology. This system receives SD or HD programming from any Ku-band satellite TV service around the globe without requiring LNB changes or re-wiring of the system when the vessel travels from one region to another.
Fully Integrated Solution
For those managing larger fleets, the Intellian t130W/t130Q can be networked with any onboard, Intellian-built satellite communications system (VSAT or FleetBroadband) to allow remote access and management via Aptus Web no matter where the vessel is located around the globe.
With its Wi-Fi capable ACU, users can connect wirelessly to the t130W/t130Q using Aptus PC or Aptus Mobile, an iOS Mobile Application available for free download through the App Store. Aptus offers users instant diagnostics, performance logging functions, and one-touch updates to the antenna's firmware and the Global Satellite Library, ensuring the antenna delivers peak performance at all times.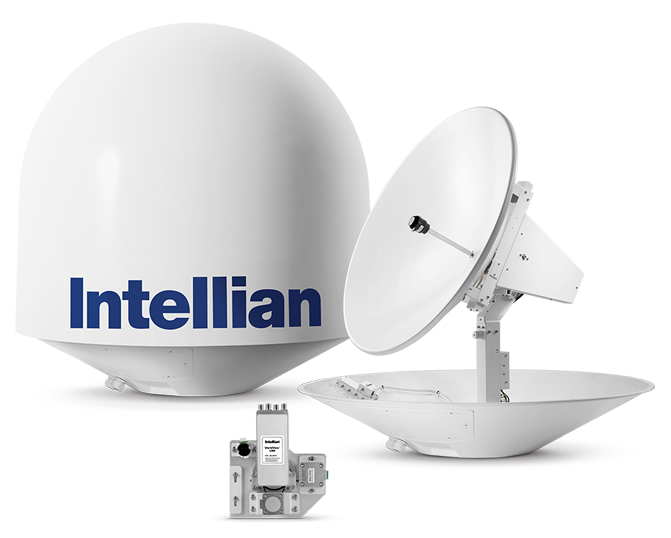 space
Unrivaled Satellite Performance at Sea
It's not easy finding a satellite that's 22,000 miles away, but thanks to Intellian's Wide Range Search technology, our antennas search over a wider range and lock onto a signal in seconds – four to five times faster than conventional antennas.
Holding on to that signal while underway or when the boat moves is another reason to choose Intellian. Their patented Dynamic Beam Tilting (DBT) technology uses intelligent, real time beam analysis to maintain the strongest signal even when the vessel is cruising at high speeds or in rough weather. It also reduces the need for constant dish adjustment, reducing overall wear and tear on the antenna.
Intellian t130W/t130Q Satellite TV Intell-t130W Features
Global Reception
The WorldView™ LNB offers the clearest, most reliable global TV reception for guests or crew to tune in any channels on any satellite seamlessly throughout the voyage

Receives circularly polarized programming from the Americas or linear polarization for the rest of the world

Universal Quad LNB models receives linear polarization for Europe, Middle East, Africa and some Asia countries
Remote Management & Control
Remotely accessible via the Aptus platform

Perform firmware upgrades, monitor tracking parameters, log performance data and run system diagnostics from anywhere in the world
Wi-Fi Enabled Antenna Control Unit
Wireless updates and diagnostics via the Aptus PC

Intuitive controls and digital satellite information display on the ACU

Simple antenna status quick reference
Digital Video Broadcasting Signal Identification
High-Speed Identification employing a DVB-S2 decoder

QPSK Demodulator Lock for DSS signal
Multiple Receiver connections
Supports multiple receivers through a Multi-Switch or using the Intellian MIM

Using the Intellian MIM a master receiver can be selected to control the target satellite
iQ²: Quick&Quiet℠ Technology
iQ² Technology allows you to tune in quickly, maintain a solid signal lock, and enjoy your favorite TV programming in quiet comfort

The Wide Range Search (WRS) Algorithm delivers the fastest signal acquisition available anywhere

Dynamic Beam Tilting (DBT) technology uses intelligent, real-time beam analysis to ensure superior signal quality while eliminating intrusive background noise experienced with conventional antennas
Quattro Switching Module Pre-installed
Embedded Quattro Switching Module, which intelligently distributes different tone signals to the correct ports on any legacy multi-switches installed throughout the ship

No need for reconfiguring anything below deck apart from the ACU
Built-in GPS, NMEA Interface, Heading Interface
The Intellian t130W/t130Q Satellite TV Intell-t130W includes a built-in GPS inside of the antenna unit for faster signal acquisition and can interface with onboard heading sensors

The ship's GPS can also be connected through the NMEA 0183/2000 ports on the rear panel of the ACU
Three Year Global Warranty
Industry leading 3-year parts and workmanship guarantee with a 2-year labor warranty for all antenna systems, ensuring peace of mind with your hardware investment

The new warranty policy (3-year parts and 2-year labor) is only valid for products purchased after 1st, January 2017
space
Product Models
| | | |
| --- | --- | --- |
| 3-axis Ku-band Satellite TV Antenna system | Intellian t130W | Intellian t130Q |
Physical
| | | |
| --- | --- | --- |
| Radome Height | 168.4 cm (66.3 inch) | 168.4 cm (66.3 inch) |
| Radome Diameter | 165.2 cm (65 inch) | 165.2 cm (65 inch) |
| Reflector Diameter | 125 cm (49.2 inch) | 125 cm (49.2 inch) |
| Weight | 117 kg (258 lbs) | 117 kg (258 lbs) |
Environmental
| | | |
| --- | --- | --- |
| Operating Temp. Range | -25°C ~ 55°C (-13°F ~ 131°F) | -25°C ~ 55°C (-13°F ~ 131°F) |
| Storage Temp. Range | -40°C ~ 80°C (-40°F ~ 176°F) | -40°C ~ 80°C (-40°F ~ 176°F) |
| Water Ingress | IPX6 | IPX6 |
| Approvals | CE / FCC | CE / FCC |
| Warranty | 3 Years Parts and 2 Year Labor | 3 Years Parts and 2 Year Labor |
Performance
| | | |
| --- | --- | --- |
| Reception Frequency | Ku-band : 10.7 ~ 12.75 GHz | Ku-band : 10.7 ~ 12.75 GHz |
| Minimum EIRP | 40 dBW | 40 dBW |
| Azimuth Range | 680° | 680° |
| Elevation Range | -15° ~ 120° | -15° ~ 120° |
| Roll/Pitch/Yaw | Roll ±25°, Pitch ±15°, Yaw ±8° @ 6 sec period | Roll ±25°, Pitch ±15°, Yaw ±8° @ 6 sec period |
| Turn Rate | Up to 12° per/sec 15° sec ² | Up to 12° per/sec 15° sec ² |
| RF Output | Dual / Quad output | Dual / Quad output |
Antenna Control Unit
| | | |
| --- | --- | --- |
| Dimensions (W × D × H) | 43cm × 29.6cm × 4.4 cm (17 inch × 11.6 inch × 1.7 inch) | 43cm × 29.6cm × 4.4 cm (17 inch × 11.6 inch × 1.7 inch) |
| Weight | 3.2 kg (7.1 lbs) | 3.2 kg (7.1 lbs) |
| Display | 2 line 40 character VFD module | 2 line 40 character VFD module |
| GPS Interface | Built-in (NMEA 0183 GPS) | Built-in (NMEA 0183 GPS) |
| Gyrocompass Interface | NMEA 0183 / 2000 | NMEA 0183 / 2000 |
| Power Requirement | 100~240V AC, 50~60 Hz, 2A | 100~240V AC, 50~60 Hz, 2A |
| Power Consumption | Typ. 50W, Max 100W | Typ. 50W, Max 100W |
LNB LO Frequencies
| | | |
| --- | --- | --- |
| Local Oscillator Frequency | Polarization / Area | N/A |
| 11.250 GHz | Dual Circular / North America, Russia | N/A |
| 10.500 GHz | Dual Circular / Latin America | N/A |
| 10.750 GHz | Single Circular / Korea | N/A |
| 10.750 GHz | Dual Circular / China | N/A |
| 10.678 GHz | Single Circular / Japan | N/A |
| 11.300 GHz | Dual Linear / South East Asia | N/A |
| 10.700 GHz | Dual Linear / Australia | N/A |
| Universal (Low:9.75 GHz, Heigh:10.6 GHz) | Quad Linear / Europe, Middle East, Africa, some Asia countires | Quad Linear / Europe, Middle East, Africa, some Asia countires |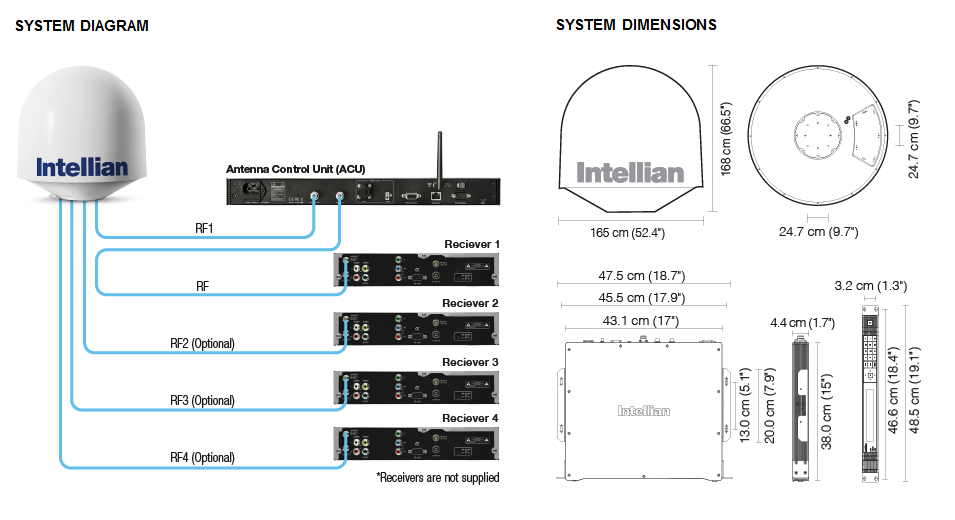 Datasheet
| | | | | | |
| --- | --- | --- | --- | --- | --- |
| MODEL | t80W/t80Q | t100W/t100Q | t110W/t110Q | t130W/t130Q | t240CK |
| Antenna Dish Size | 85 cm (33.5 inch) | 105 cm (41.3 inch) | 105 cm (41.3 inch) | 125 cm (49.2 inch) | 240 cm (94 inch) |
| Radome Dimension(WxH) | 113x121 cm (44.5x47.5 inch) | 138.0x151.4 (54.3x59.6 inch) | 133x142 cm (52.4x55.9 inch) | 169x165 (66.5x65 inch) | 330x353 cm (130x139 inch) |
| Antenna Weight | 83.4 kg (184 lbs) | 91 kg (201 lbs) | 91 kg (201 lbs) | 117 kg (258 lbs) | 63 kg (1389 lbs) |
| Minimum EIRP | 44 dBW | 42 dBW | 42 dBW | 40 dBW | 31 dBW |
| Automatic Skew Control | Yes | Yes | Yes | Yes | Yes |
| Antenna Control Unit | Yes | Yes | Yes | Yes | Yes |
| Built-in HDTV Module | Yes | Yes | Yes | Yes | Yes |
| Built-in Trisat Function | Yes | Yes | Yes | Yes | Yes |
| Built-in GPS System | Yes | Yes | Yes | Yes | Yes |
| GPS Interface | Yes | Yes | Yes | Yes | Yes |