Intellian v100GX Global Xpress Terminal INT-v100GX
Intellian v100GX Global Xpress Terminal INT-v100GX
The Intellian v100GX Global Xpress Terminal INT-v100GX is a 1-meter Ku-band to Ka-band convertible maritime stabilized antenna, a ready-to-use system for the super-fast, GlobalXpress (GX) Ka-band broadband service from Inmarsat. The Intellian v100GX Global Xpress Terminal INT-v100GX increases your return on investment with its plug and play conversion kit to enable a smooth upgrade path from Ku-band to the GX service without replacing the reflector or the radome. The precision molded carbon fiber reflector and frequency tuned radome are each optimized to deliver superior RF performance in both Ku and Ka-band. The smart design of the convertible RF package means the system can be upgraded from Ku-band to GX in 10 minutes, without requiring a specialized service engineer.
Intellian v100GX Highlights
Simple 4-Step Conversion from Ku to Ka-band conversion in under 10 minutes

Gyro-Free Satellite Search Capability without input from 

a ships compass

Remote management and control using the Aptus platform, with direct Wi-Fi connection
Precision Carbon Fiber reflector delivers optimal performance in Ka-band

Dual VSAT Mediator integrates two VSAT antennas to combat onboard blockage zones

Patented Intellian Global PLL LNB

3-axis stabilized antenna platform with unlimited azimuth
space
Superior RF Performance
To ensure efficient operations for both Ku-band VSAT and Ka-band Inmarsat GX systems, the radome of the Intellian v100GX Global Xpress Terminal INT-v100GX is designed to enhance both the Ka- and Ku-band system performance. The new Radome is also designed to match conventional domes, an important benefit on installations where great aesthetics are important. The Intellian v100GX is designed and engineered to operate on Ku and Ka-bands while maximizing the RF performance on both bands.
Ku to GX in 4 Easy Steps
Easily and quickly convert from a Ku-band system to a Ka-band GX system in under 10min without removing the radome. All RF components are mounted on a single chassis to form an integrated RF module consisting of the BUC and the Intellian Global PLL LNB. By removing only four bolts the whole module can be detached and taken out of the radome through the access hatch. The new BUC & LNB module fit right back into the same space with no need to re-balance the system. Finally, the Ku-band feed is easily replaced with the Ka-band feed.
space
Intellian v100GX Features
Simple Conversion from Ku to Ka
Converts easily and quickly from Ku-band system to a Ka-band system with a simple integrated RF module consisting of the BUC and LNB

The combined RF BUC & LNB assembly is attached to the rear side of the reflector, with no need to rebalance the system after conversion
Gyro-Free Satellite Search Capability
No external heading device input required

Reduces installation time, automated Bow offset using Aptus
Remote Access via Aptus
Built-in web interface for remote management, control and updating brings tech support aboard the vessel

Automated Diagnostics including internal Spectrum Analyzer
Global Satellite Library
Preinstalled database of detailed satellite data with one-touch remote updating feature through Aptus

Customizable satellite library for a specific network
Auto Beam Switching (ABS)
Supports ABS via the OpenAMIP protocol from iDirect and Comtech's ROSS Open Antenna Management (ROAM) protocol
Global PLL LNB
Standard equipped with Intellian's patented Global PLL LNBs

The Global PLL LNB is the world's first Ku-band LNB module capable of receiving a full range of operating frequencies from any VSAT satellite around the globe
Optional Dual VSAT Mediator
Ensures uninterrupted broadband communications by seamlessly switching between two antennas

Communicates simultaneously with two Antenna Control Units (ACU). Ideal for redundant antenna environments
Global Support
Over 480 Intellian Service and Support centers around the world
Three Year Global Warranty
Industry leading 3-year parts and workmanship guarantee with a 2-year labor warranty for all antenna systems, ensuring peace of mind with your hardware investment

The new warranty policy (3-year parts and 2-year labor) is only valid for products purchased after 1st, January 2017
space
space
Intellian v100GX Diagram/Dimensions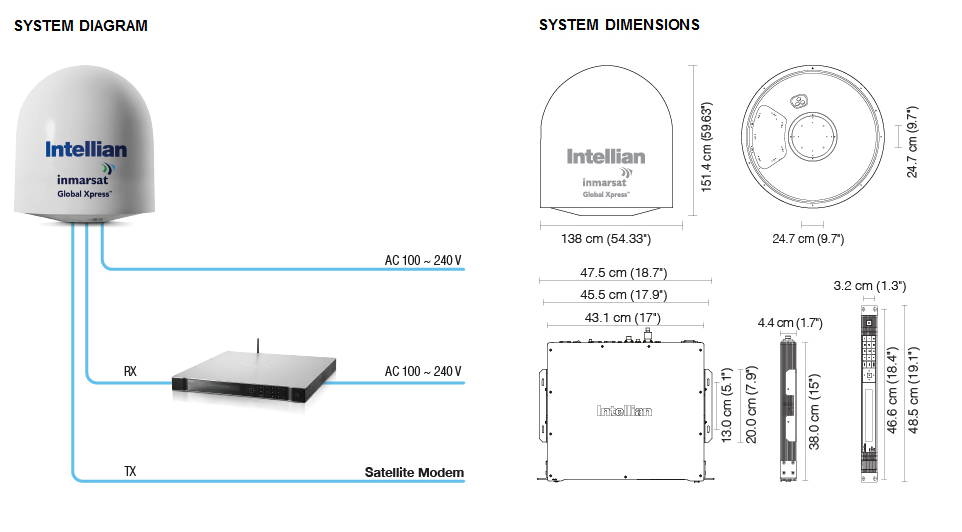 Weight
639 lbs
Primary Features
Maritime Connectivity Made Simple
All-in-one Below Deck Terminal
Enterprise Enabling Speed
Industry-leading Standards Compliance
One Touch Commissioning
Uninterrupted Global Coverage
Radome/Reflector Dimensions
Radome Height – 151.4cm (59.63 inches)
Radome Diameter – 138.0cm (54.33 inches)
Reflector Diameter – 103cm (41 inches)
Antenna Control Unit
43.1cm (17 inches) W x 38.1cm (15 inches) D x 4.4cm (1.7 inches) H
Brands
Intellian
Product Models
| | |
| --- | --- |
| Intellian v100GX X-pol and Co-pol w/o BUC | Part Number: V3-11A |
BUC Options
| | |
| --- | --- |
| NJRC mini 8W Extended w/ M&C (NJT 8318UNMR) | Part Number:V1-2212 |
| NJRC mini 16W Extended w/ M&C (NJT 8319UNMR) | Part Number:V1-2213 |
| CODAN Mini 8W Extended (4908-W/E-DC/EX-CE-NI) | Part Number:V1-2203 |
| CODAN Mini 16W Extended (4916-W/E-48/EX-CE-NI) | Part Number:V1-2204 |
Radome & Antenna
| | |
| --- | --- |
| Radome Height | 151.4 cm (59.63 inch) |
| Radome Diameter | 138.0 cm (54.33 inch) |
| Reflector Diameter | 103 cm (41 inch ) |
| Weight | Approx. 128 kg (282 lbs) |
Stabilized Pedestal Assembly
| | |
| --- | --- |
| Pedestal Type | 3-axis (Azimuth, Elevation, Cross-level) |
| Azimuth Range | Unlimited |
| Elevation Range | -20° ~ 115° |
| Cross Level Range | ±37° |
| Stabilization Accuracy | 0.2° peak mis-pointing @ max ship motion condition |
| Motor Brake System | Azimuth, Elevation, Cross Level |
Reflector & Feed Assembly
| | |
| --- | --- |
| TX Frequency | 13.75 ~ 14.5 GHz Ku-band |
| TX Gain | 41.6 dBi @ Mid band |
| RX Frequency | 10.7 ~ 12.75 GHz Ku-band |
| RX Gain | 39.4 dBi @ Mid band |
| G/T | > 19.6 dB/K (Clear Sky, 30° Elevation) |
| BUC Power | 8W, 16W (Optional) |
| LNB | Intellian PLL LNB |
| Polarization | Cross-pol and Co-pol |
Antenna Control Unit
| | |
| --- | --- |
| Dimensions (W × D × H) | 43.1 cm × 38.1 cm × 4.4 cm (17 inch × 15 inch × 1.7 inch) |
| Weight | 3.5 kg (7.7 lbs) |
| Display | 2 line 40 character graphic VFD module |
| Ship's Gyrocompass Interface | NMEA / NMEA 2000 |
| Modem Interface | Ethernet port / RS-232C / I / O ports |
| Modem Protocol | iDirect, Comtech, SatLink, Hughes, GILAT |
| Remote Management | Yes |
| Wi-Fi Operation | Yes |
| Management Port | Yes |
| Power Requirement | 100~240V AC, 50~60Hz, 4A |
Datasheet
| | | | | |
| --- | --- | --- | --- | --- |
|  Model |  GX60 |  GX100/GX100HP |  GX100pm |  v100GX |
|  System |  GX Terminal System |  GX Terminal |   GX Terminal |  GX Convertible Antenna System |
|  Radome Dimension(WxH) |  90x103cm (35.5x25.6 inch) |  138X151.4cm (54.3x59.6 inch) |   138X151.4cm (54.3x59.6 inch) |    138X151.4cm (54.3x59.6 inch) |
|  Reflector Diameter |  65cm (25.6in) |  103cm (41 inch) |   103cm (41 inch) |    103cm (41 inch) |
|  Antenna Weight |  Approx. 60kg/132lbs |  128kg (282lbs) |  113.3kg (249.78lbs) |  127.4kg (280.8lbs) |
|  Elevation Range |  -20˚ to 115˚ |   -20˚ to 115˚ |    -20˚ to 115˚ |     -20˚ to 115˚ |
|  Cross-Level Range |  Up to ±37˚ |   Up to ±37˚ |    Up to ±37˚ |     Up to ±37˚ |
|  Turn Rate |  Up to 12˚/sec 5˚/sec |  N/A |   N/A |  Up to 12˚/sec 5˚sec |
|  TX Frequency |  29~30GHz Ka-band |  29~30GHz |   29~30GHz |  13.75~14.5GHz Ku-band |
|  RX Frequency |  19.2~20.2GHz Ka-band |  19.2~20.2GHz |   19.2~20.2GHz |  10.7~12.75GHz Ku-band |
|  TX Gain |  43.75 dBi @ 29.5GHz w/Radome |  47.7dB |   47.7dB |  41.6dBi @ Mid band |
|  RX Gain |  40 dBi @ 19.7GHz w/Radome |  43.7dB |   43.7dB |   39.4dBi @ Mid band |
|  LNB Pol Control |  Circular, Tx:RHCP Rx:LHCP |   Circular, Tx:RHCP Rx:LHCP |    Circular, Tx:RHCP Rx:LHCP |  Cross-pol & Co-pol as Standard |
|  Cross-Pol Isolation |  Minimum 35 dB |  Tx: 29dBW Rx: 24 dBW |   Tx: 29dBW Rx: 24 dBW |  >35dB @ beam counter |