Simrad R2009 and 3G Radome Kit
Simrad R2009 and 3G Radome Kit
The Simrad R2009 and 3G Radome Kit is a full-featured radar control and display unit with a brilliant 9″ color LCD in portrait orientation and this kit also comes complete with the radome as well. It has a new, fresh user interface with eight direct-access menu keys and large buttons for reliable operation in all conditions. Also, since it is a Simrad device, you can always count on it to perform as needed.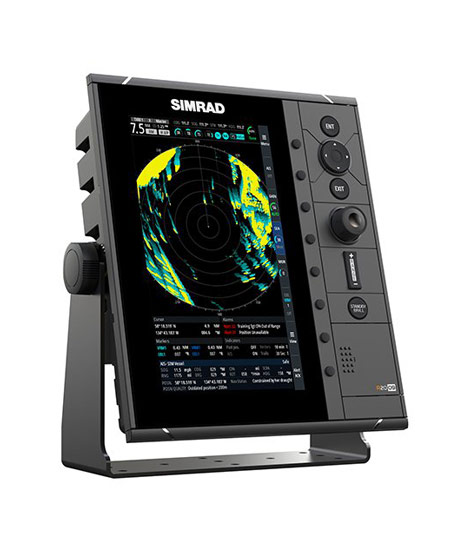 Dedicated Radar Control Display
The Simrad R2009 and 3G Radome Kit sports a professional-grade interface to Simrad Halo™ Pulse Compression, Broadband 3G™/4G™, and HD Digital radar solutions.
Designed to match the modern styling of Simrad glass bridge displays and instruments, this dedicated radar display is a perfect complement to your NSS evo2 or NSO evo2 multifunction display system.
Maximize your radar's utility by adding its own dedicated screen and controls, without compromising on a clean and consistent helm design.
Dedicated radar control unit

Compatible with Simrad Halo™ Pulse Compression, Broadband 3G™/4G™, and HD Digital Radar systems

Automatic tuning system

Anti-sea-clutter technology for an optimum picture under adverse weather conditions

MARPA target tracking

9-inch portrait display

High brightness for outside use

Keypad and rotary-dial interface with 8 direct-access menu keys

Bracket and flush-mount installation options

Ethernet, NMEA0183 & NMEA2000 connectivity
space
space
Simrad 3G Radome
The R2009 Display comes paired with a 3G Broadband radome, featuring extremely low transmitter radiation, superior close-in target definition, and low power consumption.
Superior short-range target discrimination allows clear identification of targets near your boat

Fantastic for tight maneuvers in marinas or in conditions of limited visibility

Proven Harbor and Offshore auto modes offer a simple solution that requires no tuning

Track up to 10 targets (requires a heading sensor)

Protect yourself from more angles

Solid-state technology produces an immediate, accurate on-screen image unlike normal warm-up times associated with magnetron pulse radars

Ideal for boats of any size, sail, cruise or fish

Safer than any other radar currently on the market and emitting less radiation than a mobile phone enable it to be mounted anywhere

No reason to open the dome, no tune or zero mile adjustment and no radar-licensed technician required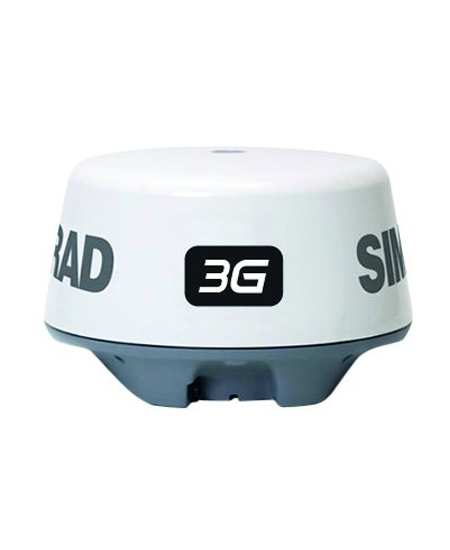 space
| | |
| --- | --- |
| Weight | 30 lbs |
| Dimensions | 24 x 32 x 24 in |
| Brands | Simrad |
Simrad R2009 Tech Specs
Technical/Environmental
| | |
| --- | --- |
| Product Height | 260.1 mm / 10.24 in |
| Product Weight | 1.95 kg / 4.3 lb |
| Operating Temperature | -15°C to +55°C / 5°F to 131°F |
| Product Width | 224.3 mm / 8.83 in |
| Product Depth | 82.3 mm / 3.24 in |
| Water Resistance | IPX7 |
| Specified Standards | CE, RTCM SC112 Radar for non-IMO vessels, IEC62252 European small craft radar Class B (Pending Approval) |
Overview
Screen Brightness


≥1200cd/m

2

Languages


40 languages



Power
| | |
| --- | --- |
| Power Consumption | 11 W |
| Power Supply (Supply Voltage) | 12-24 V DC |
Display
| | |
| --- | --- |
| Display Resolution [pixels x pixels] | 480 x 800 |
| Display Size | 9-inch portrait |
| Display Type | 9-inch LED-backlit Colour TFT LCD |
Simrad 3G Radome Tech Specs
Technical/Environmental
Product Height


280 mm / 11 in



Product Weight


7.4 kg / 16 lbs (no cable)



Operating Temperature

-25° to +55°C (-13° to +130°F)

Humidity


+35°C (95°F) 95% R

H



Waterproof Standard/rating


IPX6



Overview
| | |
| --- | --- |
| Description | Broadband Radome |
| Radar Antenna Width | 19" |
| Radar Technology | Broadband FMCW |
| Radar Max Range | 24nm |
| Radar Power Requirements | 12v / 17 watt |
| Radar Features | MARPA, Guard Zones, InstantOn |
Power
| | |
| --- | --- |
| Power Consumption | 18W (Typ.) @ 13.8Vdc (Power Consumption Standby:2W (Typ.) @ 13.8Vdc – only 150ma) |
| Power Supply (Supply Voltage) | 9V to 31.2Vdc (12/24 Volt systems) Reverse polarity protection vDC |
Radar
| | |
| --- | --- |
| Antenna Horizontal Beam Width [deg] | 5.2°+/-10% (-3dB width) |
| Antenna Receiver Noise Figure [dB] | 6 |
| Antenna Rotation Speed | 24/36 rpm +/- 10% RPMs |
| Antenna Vertical Beam Width | 25°+/-20% (-3dB width) ° |
| Radar Wind Resistance | 51 m/sec (Max:100 Knots) |
| Radar Warm Up Time [minutes] | 0 |