Simrad R3016 and HALO-4 Radar Kit
Simrad R3016 and HALO-4 Radar Kit
The R3016 and HALO-4 Radar Kit comes paired with a HALO Pulse Compression Pedestal and 4′ open array antenna, featuring low transmitter radiation, superior target definition, and low power consumption. It also features Beam Sharpening, which provides increased target separation for an easier to interpret presentation. The R3016 can be remotely controlled using the optional O2000 remote control, can be flush or bracket mounted, and has NMEA 0183, NMEA 2000, and Ethernet connectivity, along with an HDMI video output. It has a highly advanced digital auto-tune system, latest generation anti-clutter control, and beam sharpening (with 4G and Halo antennas).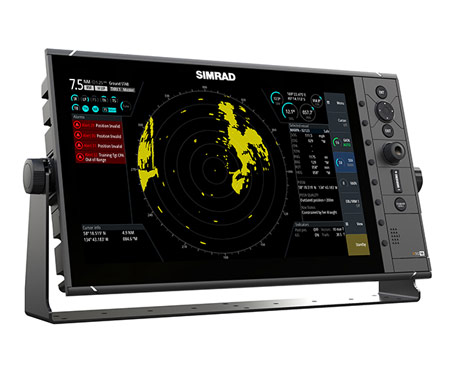 Dedicated Radar Control Display
The Simrad R3016 and HALO-4 Radar Kit comes with a dedicated radar control unit with an integrated 16-inch widescreen display that is compatible with a range of Simrad radar solutions including Halo™ Pulse Compression, Broadband 3G™/4G™, and HD Digital Radar.
An ideal safety and navigation accessory for offshore cruisers and sportfishing vessels, the R3016 offers versatile flush or bracket-mount installation options and intuitive keypad based operation for reliable control in all conditions.
Dedicated radar control unit

Compatible with Simrad Halo™ Pulse Compression, Broadband 3G™/4G™, and HD Digital Radar systems

Automatic tuning system

Anti-sea-clutter technology for an optimum picture under adverse weather conditions

MARPA target tracking

16-inch HD widescreen display

HDMI output for an optional secondary display or remotely-operated 'clone' station

Keypad and rotary-dial interface with 8 direct-access menu keys

Bracket and flush-mount installation options

Ethernet, NMEA0183 & NMEA2000 connectivity
space
space
space
space
HALO-4 Radar
Combining the best characteristics of traditional pulse and FMCW broadband radar systems, our Halo™ Radar uses Pulse Compression technology to provide an unprecedented mix of long and short detection range, high target definition, and minimal clutter. Solid State technology means minimal warm-up time and maximum ocean-going reliability, while low-power pulsed transmissions make Halo Radar safe to run in anchorages and marinas.
True 64nm range

with

4-foot open array antenna

Beam Sharpening with Target Separation Control

Dual Range operation

Advanced signal processing with Custom, Harbour, Offshore, Weather, and BIRD modes

High-speed 48RPM operation

InstantOn™, ready in 16-25 seconds from power-on, instant from standby

MARPA target tracking, up to 10 targets (20 with dual range)

Low electromagnetic emissions and radiation

Low power consumption with 12/24V operation

Ethernet connectivity

Unique blue LED accent lighting with brightness control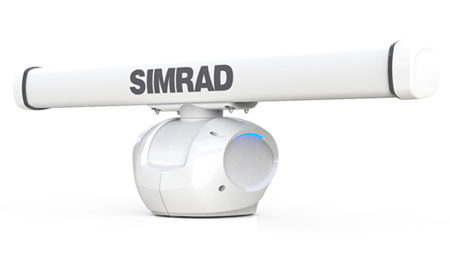 space
space
space
space
space
Solid-State with Pulse Compression Technology
Simrad Halo Radar is the world's first high performance, solid-state radar with pulse compression technology designed specifically for recreational mariners. Unlike traditional pulse radar, Halo Radar isn't reliant on a high-powered magnetron (vacuum tube) to transmit. Instead, Halo Radar uses solid-state electronics and low-power 25W pulsed, frequency-swept transmission bursts to deliver pulse radar-like range and resolution, without the associated warm-up time, power consumption, or electromagnetic emissions.
Dual Range Operation
With Dual Range, Halo Radar functions like two arrays in one – monitor two distance ranges simultaneously with independent displays, controls, and totally independent MARPA target tracking. Take full advantage of Halo Radar's combination of short-, mid-, and long-range performance to keep an eye on faraway weather cells, while monitoring channel markers and high-speed watercraft up close.
space
64nm Range
Halo Radar delivers a maximum range comparable to traditional 6kW pulse radar, at up to 64nm with the HALO-4 Radar's 4-foot open array antenna. It offers unprecedented 6m (20ft) minimum range, peering into that pulse-radar blind spot where once only FMCW (3G/4G) Broadband Radar could operate.
Beam Sharpening
Whether you're looking at a flock of birds or a string of channel markers, separating one radar target from another is key. Beam Sharpening with Target Separation Control provides unmatched target resolution, granting the Halo Pulse Compression Radar's 4-foot open array antenna the same effective target resolution as a 6-foot array without beam sharpening.
space
| | |
| --- | --- |
| Weight | 65 lbs |
| Dimensions | 18 x 40 x 24 in |
| Brands | Simrad |
Simrad R3016 Tech Specs
Technical/Environmental
| | |
| --- | --- |
| Product Height | 260.1 mm / 10.24 in |
| Product Weight | 4 kg / 8.8 lb |
| Operating Temperature | -15°C to +55°C / 5°F to 131°F |
| Product Width | 455.5 mm / 17.93 in |
| Product Depth | 82.3 mm / 3.24 in |
| Water Resistance | IPX6 |
| Specified Standards | CE, RTCM SC112 Radar for non-IMO vessels, IEC62252 European small craft radar Class A (Pending Approval) |
Overview
| | |
| --- | --- |
| Screen Brightness | 300cd/m2 |
| Languages | 40 languages |
Power
| | |
| --- | --- |
| Power Consumption | 20 W |
| Power Supply (Supply Voltage) | 12-24 V DC |
Display
| | |
| --- | --- |
| Display Resolution [pixels x pixels] | 1366 x 768 |
| Display Size | 16-inch widescreen |
| Display Type | 16-inch LED-backlit Colour TFT LCD |
Simrad HALO-4 Tech Specs
Technical/Environmental
Product Height


448mm /17.6"



Product Weight

Unpacked System: 27.6kg/60.8lb±10%
Pedestal:18.75kg/41.5lb±10%
Antenna 4': 4.9kg/10.8lb±10%
RI-12: 1.6kg/3.5lb±10%


20m (33ft) Cable: 2.3kg/5.0lb±10%



Operating Temperature


-25° to +55°C



Water Resistance


IPX6



Specified Standards

FCC ID: RAYHALO
IC: 4697A-HALO


Emissions compliant to SM1541-4 (including -40dB/dec future design objectives)



Humidity


+40°C, 93% RH



Waterproof Standard/rating


IEC60945-4



Overview
Cable Length


20m (65ft). Optional 10m (33ft) cable



Radar Max Range


100m / 300ft to 48nm



Radar Technology


Solid-state X-Band transceiver with Pulse Compression technology



Radar Features

Peak Power Output: 25W ±10% under any transmit condition (up to 10% duty cycle max)
Radiation Safe Distance: 100W/m2 (Occupational) at 0m - touch anywhere; 10W m2 (Public) measured at .28m/.92ft. FCC CFR47 Part 2.1091 calculated public safe distance is 0.80m/2.6ft. (less than the swing circle of the antenna with either method).
Power
| | |
| --- | --- |
| Power Consumption | 150W (peak in 70kt winds), 40W (average with zero wind velocity), 6.5W (standby) |
| Power Supply (Supply Voltage) | 10.8V – 31.2V DC (12/24 Volt DC systems) |
Radar
Antenna Horizontal Beam Width [deg]

1.8° ±10% (-3dB width), 1.6/1.4/1.2° with Beam Sharpening mode enabled (Low/Med/High)


1.2° ±10% (-3dB width), 1.1/0.9/0.8° with Beam Sharpening mode enabled (Low/Med/High)



Antenna Receiver Noise Figure [dB]


5



Antenna Rotation Speed


Approx. 24-48RPM (min 20RPM at 70 knots)



Antenna Vertical Beam Width


25° +20% (-3dB width)



Radar Vibration


2-100Hz and 20G, 100,000 cycles



Antenna Type


Circulator and Isolator; Radar Mixer: MIC front-end