Intellian FleetBroadband 500 INT-FB500
Intellian FleetBroadband 500 INT-FB500
The Intellian FleetBroadband 500 INT-FB500 is a truly professional grade solution used by the world's leading commercial shipping companies, offshore operators and ocean cruisers around the globe.
Intellian FleetBroadband 500 Highlights
Inmarsat's global broadband I4 satellite coverage

Compact and reliable hardware designed to operate in all ocean conditions

Streaming IP Capability for 

mission-critical

 services and remote support

Matching dome solutions to Intellian's i-Series and s-Series (Marine Satellite TV Antenna System)
Simultaneous Voice, Data, SMS and Fax service

Built-in Wi-Fi Access Point for immediate connectivity to any device

LAN interface and router features with Handset interface

Approved for use in all XpressLink and Global Xpress packages
space
space
Professional Grade
Global operations require reliable connectivity regardless of rough ocean conditions or remote location. Whether for critical services such as telemedicine and remote technical support, or simply to improve crew morale by providing a means to connect with family and friends, the FB500 is capable of providing the level of connectivity required to keep your operation moving forward. With the Intellian FleetBroadband 500 you get everything you need to stay connected at sea and also the convenience of some impressive high speeds as well.
Expand your Enterprise
With simultaneous voice & data capability and Multi-voice functionality, crew members can stay connected with family and up-to-date on the latest sports scores, ensuring strong morale aboard any vessel throughout even the most challenging offshore passages. With the Intellian FleetBroadband 500, you have improved speeds up to 432Kbps and additional features, such as VPN functionality and Push-to-Talk connectivity over standard smart phones, global businesses can realize the efficiencies of bringing their offshore assets into the corporate IT infrastructure.
space
Intellian FleetBroadband 500 INT-FB500 Features
Compact Global Maritime Terminal
With its 15.5 lbs weight and 

27.6 inch

 height, Intellian FB500 is a compact FleetBroadband maritime terminal
Simultaneous Data & Voice Access
Up to 432Kbps data rates, as many as nine separate phone calls at one time, Fax, SMS and IP Streaming capability keeps your crew connected
Built-in Wi-Fi Access Point
Connect any device to the internet using the 

built-in

 Wi-Fi functionality. No additional hardware required to get your vessel linked up to the web
Rack Mountable ACU Option
For vessels preferring to keep their electronics equipment neatly stored in a server rack configuration, a 

rack mountable

 Below Decks Unit is available for the FleetBroadband 500
Reliable Hardware
In addition to passing Inmarsat's rigorous type approval process for designing a terminal that meets their highest standards, all Intellian FB terminals are extensively tested prior to shipment
Global Three Year Warranty
Intellian's industry-leading Three Year Warranty is backed by and extensive global support network of more than 300 trained service technicians in over 45 countries
Ruggedized Handset
The plug-and-play handset provides a familiar user interface on a 2.2″ TFT color screen and features common-sense technology, such as an echo cancellation and noise suppression function to eliminate background engine or wind noise and ensure excellent audio clarity
Matching Dome Solution
The FB500 radome can be matched with the Intellian i6 or s6HD satellite TV antenna systems to create just the right look for your vessel
space
space
FleetBroadband 500 Diagram/Dimensions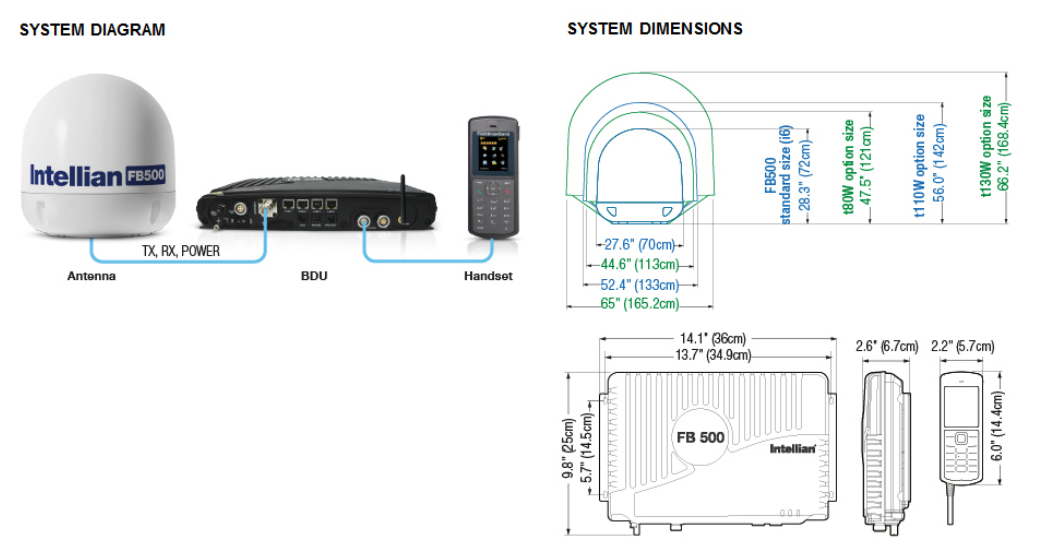 | | |
| --- | --- |
| Weight | 50 lbs |
| Dimensions | 48 x 42 x 12 in |
| Brands | Intellian |
Product Models
| | |
| --- | --- |
| Intellian FB500 | Inmarsat FleetBroadband 500 Marine Satellite Communication Antenna System |
Dimension and Weight
| | |
| --- | --- |
| ADU | 72 × 70cm (28.3 × 27.6″) / 15.5 kg (34.1 Ibs) |
| BDU | 36 × 25 × 6.7 cm (14.1 × 9.8 × 2.6 inch) / 3.9 kg (8.5 Ibs) |
Environmental Conditions
| | |
| --- | --- |
| Operating Temperature | -25°C ~ 55°C (-13°F to +131°F) |
| Operating Humidity | [ACU] EN60945, [BDU] 95% non-condensing at 40°C |
| Water Ingress | [ACU] IP56, [BCU] IP31 |
| Approvals | Inmarsat FleetBroadband / RTTE / CE / FCC |
| Warranty | 3 Years Parts and 2 Year Labor |
Global Services
| | |
| --- | --- |
| Voice | Digital 4 kbps Voice, 3.1 kHz Audio |
| Standard IP | Up to 432 kbps |
| Streaming IP | 8, 16, 32, 64, 128, 256 kbps |
| SMS | Up to 160 characters (3G standard) |
| Fax | Group 3 (via 3.1 kHz Audio) |
| Airtime Service | Inmarsat airtime |
Frequency Band
| | |
| --- | --- |
| Tx | 1626.5 MHz - 1675.0 MHz |
| Rx | 1518.0 MHz - 1559.0 MHz |
| Ch. Width | [Rx] 10.5 - 189 kHz, [Tx] 21 - 189 kHz |
Power Supply & Consumption
| | |
| --- | --- |
| DC Input Range | 10 - 32V DC (isolated) |
| Power (Max) | 150W @ 10 - 32V (including antenna) |
| | | | |
| --- | --- | --- | --- |
| Model | FleetBroadband 150 | FleetBroadband 250 | FleetBroadband 500 |
| Radome Dimension(WxH) | 29.9x27.7 (11.8x10.9") | 29.9x27.7 (11.8x10.9") | 72x70cm (28.3x27.6inch) |
| BDU Dimensions | 36x25x6.7cm (14x9.8x2.6") | 36x25x6.7cm (14x9.8x2.6") | 36x25x6.7cm (14x9.8x2.6inch) |
| Standard IP | up to 150kbps | up to 284kbps | up to 432kbps |
| Streaming IP | 8, 16, 32, 64, 128kbps | 8, 16, 32, 64, 128kbps | 8, 16, 32, 64, 128kbps |
| WiFi | No | Yes | Yes |
| Voice | Digital 4kbps Voice | Digital 4kbps Voice | Digital 4kbps Voice |
| SMS | Up to 160 characters | Up to 160 characters | Up to 160 characters |
| Fax | Group 3 (via 3.1kHz Audio) | Group 3 (via 3.1kHz Audio) | Group 3 (via 3.1kHz Audio) |
| RX | 1518.0~1559.0MHz | 1518.0~1559.0MHz | 1518.0~1559.0MHz |
| TX | 1626.5~1675.0MHz | 1626.5~1675.0MHz | 1626.5~1675.0MHz |
| Ch Width | RX 10.5~189kHz, TX 21~189kHz | RX 10.5~189kHz, TX 21~189kHz | RX 10.5~189kHz, TX 21~189kHz |
| Ethernet | PoE (RJ45) | 2 | 2 plus 2 POE | 2 plus 2 POE |