Intellian v100Ka Satellite Comms INT-V100KA
Intellian v100Ka Satellite Communications INT-V100KA
Ready for service on Telenor's High Throughput Thor-7 network, the Intellian v100Ka Satellite Communications INT-V100KA builds on the success of Intellian's v100 Platform, the most popular 1m antenna available today. Industry-leading communications integrators, global fleets, and the world's leading Ministries of Defense rely on the v100's outstanding RF performance, integrated modular approach and overall ease of use. Call for Quote.
Intellian v100Ka Highlights
Live network testing shows the v100Ka is the best performing 1m Ka-band antenna available

Gyro-Free Satellite Search Capability eliminates need for integration with a shipboard compass

3-axis stabilized antenna platform with unlimited azimuth

Built-in spectrum analyzer for better faster fault finding and remote support
Remote Management using Aptus Web Wi-Fi enabled ACU for local control using Aptus Mobile or PC

Dual VSAT Mediator integrates two VSAT antennas to combat onboard blockage zones
3-Year Global Warranty backed by Intellian's Global Support Network

ACU includes two line display and keypad for quick access to critical control parameters
space
A Truly Managed Solution
Intellian has partnered with Telenor to create an offering that makes maritime communications simple. The combination of Intellian's robust remote management and control capability with Telenor's well-planned network architecture means that end users will be required to do little more than ensure the system is receiving power and is free of blockage. In the event that support is required, Intellian's Aptus software allows shore-based staff to remotely troubleshoot, diagnose and update terminals in the field without ever setting foot aboard the ship. This capability reduces costly service visits and cuts downtime from days to minutes.
From In-Port to Online in No Time
Optimized for Rapid Installation: The pace of operations in today's maritime environment requires a communications solution that can keep up. From quick deploy packaging to pre-slung lifting straps to Intellian's Aptus graphical user interface, the Intellian v100Ka installs quickly and easily eliminating any negative impact to vessel operations. Preconfigured for Connectivity in <4 Hours: Experienced partners average total installation times of less than 4 hours per system. Open-BMIP functionality enables remote calibration of the BUC via the iDirect Modem, meaning the NOC effectively commissions the system on the network remotely once the system is installed and powered up.
space
Intellian v100Ka Satellite Communications INT-V100KA Features
Single 19″ 1U Rackmount ACU
Includes 2 line display and easy navigation buttons for those who prefer to control system via the ACU

Built-in Power Supply saves cost and rack space
Remote Access via Aptus
Built-in web interface for remote management, control and updating brings tech support aboard the vessel

Automated Diagnostics including internal Spectrum Analyzer
Gyro-Free Satellite Search Capability
No external heading device input required

Automatically calculates bow offset using Aptus to reduce installation time
Fully iDirect Compliant
Supports ABS via the OpenAMIP protocol

Supports remote TX Power Calibration via the OpenBMIP Protocol
Optional Dual VSAT Mediator
Ensures uninterrupted broadband communications by seamlessly switching between two antennas

Communicates simultaneously with two Antenna Control Units (ACU)

Ideal for redundant antenna environments
Intellian LAN
Network all onboard Intellian devices easily so that onboard or shore-based staff can access, manage and control all antenna systems simultaneously from a single screen

Easy Out of Band solution
Global Support
24/7 Global Support Desk staffed by Intellian field technicians who answer the phone
Three Year Global Warranty
Industry leading 3-year parts and workmanship guarantee with a 2-year labor warranty for all antenna systems, ensuring peace of mind with your hardware investment

The new warranty policy (3 year parts and 2 year labor) is only valid for products purchased after 1st, January 2017
space
space
Intellian v100Ka Diagram/Dimensions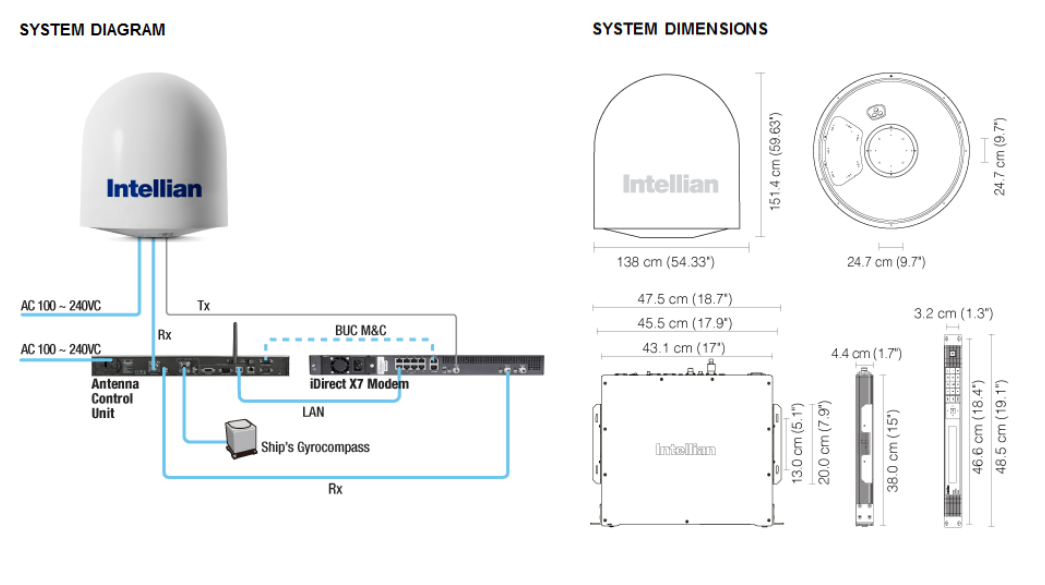 | | |
| --- | --- |
| Weight | 300 lbs |
| Dimensions | 45 x 60 x 65 in |
| Brands | Intellian |
Product Models
| | |
| --- | --- |
| Intellian v100Ka Part Number | V3-11F-STC |
Radome & Antenna
| | |
| --- | --- |
| Radome Height | 151 cm (59.63 inch) |
| Radome Diameter | 138 cm (54.33 inch) |
| Reflector Diameter | 103 cm (41 inch) |
| Weight | 128 kg (282 lbs) Variable w/ RF components |
Stabilized Pedestal Assembly
| | |
| --- | --- |
| Pedestal Type | 3-axis (Azimuth, Elevation, Cross-level) |
| Azimuth Range | Unlimited |
| Elevation Range | -20° ~ 115° |
| Cross Level Range | ±37° |
RF Performance
| | |
| --- | --- |
| TX Frequency | 29.00 ~ 30 GHz Ka-band |
| TX Gain | 47.7 dBi @ 29.5GHz |
| RX Frequency | 19.2~20.2GHz Ka-band |
| RX Gain | 43.7 dBi @ 19.7GHz |
| G/T | > 20.3 dB/K (min.) |
| BUC Power | 5W Ka-band BUC |
| LNB | Ka-band LNB (L.O. 18.25GHz) |
| Polarization | Circular, Tx |
Antenna Control Unit
| | |
| --- | --- |
| Dimensions (W × D × H) | 43.1 cm × 38.1 cm × 4.4 cm (17 inch × 15 inch × 1.7 inch) |
| Weight | 3.5 kg (7.7 lbs) |
| Display | 2 line 40 character graphic VFD module |
| Ship's Gyrocompass Interface | NMEA 2000 / NMEA 0183 |
| Modem Interface | Ethernet port / RS-232C / I / O ports |
| BUC Interface | RS-232 / RS-422 |
| Remote Management | Yes |
| Wi-Fi Operation | Yes |
| Power Requirement | 100~240V AC, 50~60Hz, 4A |
Datasheet
| | | | | |
| --- | --- | --- | --- | --- |
| MODEL | v60 | v60Ka | v65 | v80G |
| Radome Dimension(WxH) | 78x84.5cm (30.7x33.3 inch) | 90x103cm (35.5x40.5 inch) | 90x104 cm (35.5x40.9 inch) | 113x121cm (44.5x47.5 inch) |
| Reflector Diameter | 60 cm (23.6 inch) | 65 cm (25.6 inch) | 65 cm (25.6 inch) | 83cm (32.7 inch) |
| Antenna Weight | 59.5 kg (131.2 lbs) | 60 kg (132 lbbs) | 60 kg (132 lbs) | 90.4 kg (199lbs) |
| Elevation Range | -10º~100º | -20˚ to +115˚ | -20˚ to +115˚ | -10˚~110˚ |
| Cross-Level Range | Up to ±30º | Up to ±37˚ | ±37˚ | Up to ± 30˚ |
| Turn Rate | Up to 12˚/sec 5˚/sec | Up to 12˚/sec 5˚/sec | none | Up to 12˚/sec 5˚/sec |
| TX Frequency | 13.75~14.5 GHz Ku-band | 29.00~30GHz Ka-band | 13.75~14.5GHz Ku-band | 13.75~14.5GHz Ku-band |
| RX Frequency | 10.95~12.75 GHz Ku-band | 19.2~20.2GHz Ka-band | 10.7~12.75GHz Ku-band | 10.7~12.75GHz Ku-band |
| TX Gain | 37 dBi @ Mid band | 43.75 dBi @ 29.5 GHz | 37.7 dBi @ Mid band | 40 dBi @ Mid band |
| RX Gain | 35.6 dBi @ Mid band | 40 dBi @ 19.7GHz | 36.3 dBi @ Mid band | 37.6 dBi @ Mid band |
| LNB Pol Control | Cross-pol & Co-pol as standard | Circular, Tx:RHCP/Rx:LHCP | Intellian PLL LNB | Cross-pol & Co-pol as standard |
| Cross-Pol Isolation | >30 dB at beam center | Minimum 35 dB | Linear, Cross-pol only | >35 dB @ beam center |
| G/T | 15.0 dB/K | > 16.2 dB/K (min.) | 15.7 dB/K | 17.7 dB/K |
| | | | | |
| --- | --- | --- | --- | --- |
| MODEL | v85NX | v100 | v100Ka | v130G |
| Radome Dimension(WxH) | 113x123cm (44.5 x 48.4 inch) | 138x151.4cm (54.3x59.6 inch) | 138x151.4cm (54.3x59.6 inch) | 165.2x168.9cm (65x66.5 inch) |
| Reflector Diameter | 85cm (33.5 inch) | 103cm (41 inch) | 103cm (41 inch) | 125 cm (49.2 inch) |
| Antenna Weight | 96kg/211.6lbs | 127.4 kg (280.8 lbs) | 128 kg (282lbs) | 149.7 kg (337 lbs) |
| Elevation Range | -20˚~115˚ | -20˚~115˚ | -20˚~115˚ | -20˚~120˚ |
| Cross-Level Range | ±37˚ | Up to ±37˚ | Up to ±37˚ | Up to ±37˚ |
| Turn Rate | Up to 12˚/sec 5˚/sec | Up to 12˚/sec 5˚/sec | Up to 12˚/sec 5˚/sec | Up to 12˚/sec 5˚/sec |
| TX Frequency | 13.75~14.5GHz Ku-band | 13.75~14.5GHz Ku-band | 29~30GHz Ka-band | 13.75~14.5GHz Ku-band |
| RX Frequency | 10.7~12.75GHz Ku-band | 10.7~12.75GHz Ku-band | 19.2~20.2GHz Ka-band | 10.95~12.75 GHz Ku-band |
| TX Gain | 40.7dBi @ 14.25GHz | 41.6 dBi @ Mid band | 47.7 dBi @ 29.5GHz | 43.2 dBi @ Mid band |
| RX Gain | 38.9dBi @ 11.7GHz | 39.4 dBi @ Mid band | 43.7 dBi @ 19.7GHz | 42.1 dBi @ Mid band |
| LNB Pol Control | Intellian PLL LNB | Cross-pol & Co-pol as standard | Circular, Tx:RHCP/Rx:LHCP | Cross-pol & Co-pol as standard |
| Cross-Pol Isolation | >35 dB @ beam center | >35 dB @ beam center | Mininum 35dB | >35 dB @ beam center |
| G/T | 18.3 dB/K | 19.6 dB/K | >20.3 dB/K (min.) | 20.4 dB/K |
MODEL
v240
v240M
v240MT Dual-band
v240MT Tri-band
Radome Dimension(WxH)
330x352cm (130x139 in)
390x414 cm (153.5x162.9in)
391x434 cm (154x169.5 in)
391x434 cm (154x169.5 in)
Reflector Diameter
240cm (94.5 inch)
240cm (94.5 inch)
240cm (94.5 inch)
240cm (94.5 inch)
Antenna Weight
670kg (1477lbs)
880kg (1940 lbs)
960kg (2116 lbs)
960kg (2116 lbs)
Elevation Range
-15˚ to +120˚
-15˚~120˚
-15˚~120˚
-15˚~120˚
Cross-Level Range
Up to ± 30˚
Up to ± 30˚
Up to ± 30˚
Up to ± 30˚
Turn Rate
Up to 12˚/sec 5˚/sec
Up to 12˚/sec 5˚/sec
Up to 12˚/sec 5˚/sec
Up to 12˚/sec 5˚/sec
TX Frequency
C=5.85~6.425GHz
Ku=13.75~14.5GHz
C=5.85~6.425GHz
Ku=13.75~14.5GHz
C=5.85~6.425GHz
Ku=13.75~14.5GHz
C=5.85~6.425GHz
Ku=13.75~14.5GHz
Ka=27.5~30.0GHz
RX Frequency
C=3.625~4.2GHz
Ku=10.95~12.75GHz
C=3.625~4.2GHz
Ku=10.7~12.75GHz
C=3.625~4.2GHz
Ku=10.7~12.75GHz
C=3.625~4.2GHz
Ku=10.7~12.75GHz
Ka=17.7~20.2GHz
TX Gain
C=41.7 dBi/Ku=48dBi
C=41.9 dBi/Ku=49dBi
C=41.9 dBi/Ku=49dBi
C=41.9 dBi/Ku=49dBi
RX Gain
C=37.7dBi/Ku=48.6GHz
C=38.6 dBi/Ku=48dBi
C=38.6 dBi/Ku=48dBi
C=38.6 dBi/Ku=48dBi
LNB Pol Control
C=Cir&Lin/Ku=Linear
C=Cir&Lin/Ku=Linear
C=Cir&Lin/Ku=Linear
C=Cir&Lin/Ku=Linear
Cross-Pol Isolation
>35dB @ beam center
>30dBc Typical
>30dBc Typical
>30dBc Typical
G/T
C:20dB/K / Ku:28.2dB/K
C:20.3dB/K,Ku:28.2dB/K
C:20.3dB/K,Ku:28.2dB/K
C:20.3dB/K,Ku:28.2dB/K