Intellian v65 Satellite Communications INT-V65
Intellian v65 Satellite Communications INT-V65
The Intellian v65 Satellite Communications INT-V65 is the world's first and only 60cm class antenna capable of top RF performance in either Ku-band or Ka-band. Intellian v65 X-pol only w/o BUC.
Convertible from Ku-band to Ka-band operation in as little as 10 minutes

Intellian v65 Simple dual cable installation with external cable connectors at the base of the radome

Dual VSAT Mediator integrates two VSAT antennas to combat onboard blockage zones

Open platform system architecture works with all leading Ku-band service providers
Remote Management using Aptus Web. Wi-Fi enabled ACU for local control using Aptus Mobile or PC

Supports 4W, 8W, & 16W BUC out of the box

Dynamic motor brakes permit shipping without stow brackets eliminating the need to remove the radome during installation

3-Year Global Warranty backed by over 480 Intellian Service and Support centers around the world
space
Best RF Performance
The v65's high-efficiency reflector and feed design deliver dramatically improved gain performance for increased fidelity of service and improved overall link margin. Service providers can now leverage the superior performance to access new market segments by building new, attractive service plans offering truly global coverage, higher throughput, and larger sized data plans. Live network testing shows the v65 offers an average of 1.2 dB/k improvement in G/T over any other system in its class, and can achieve download speeds up to 100Mbps over high throughput satellites, such as Intelsat's EPIC constellation.
Built for Scale
The rate of adoption is increasing for maritime satellite communications. While this is a positive development for the industry, the challenge is keeping up with demand. Intellian understands that clients are not earning revenue until the system is installed and activated. The Intellian v65 aims to solve this problem through a few key features.
The product is shipped without any stow brackets on the pedestal, and the RF connectors are now accessible from a small external panel, meaning there is no longer any need to remove to radome during pre-installation testing or during installation itself. Saving time through both of these processes enhances the efficiency of your business and gets you to activation far more quickly. The v65 is also capable of supporting automated commissioning once it has been properly integrated with a given network.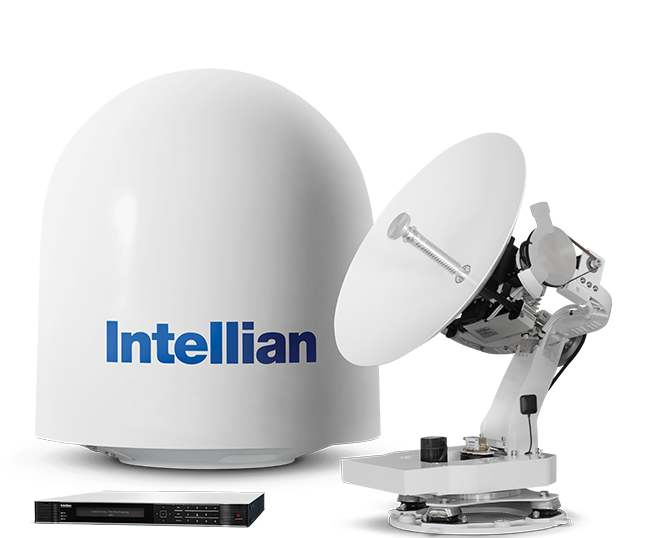 space
Frequency Flexible
In today's market, there are a number of barriers to adoption. As satellite technology evolves more and more quickly, users are faced with important technology decisions, such as to move in the direction of next-generation Ka-band services, or newly launched Ku-band offerings. Many express concerns over being stuck one way or the other based on hardware limitations. The Intellian v65 Satellite Communications INT-V65 is the world's first and only 60cm class antenna system which can operate in both Ku- and Ka-bands through a simple conversion process. Using one of Intellian's signature onboard conversion kits, users can swap out key RF components in as little as 10 minutes to move from one frequency to another, delivering maximum performance in any geography and ensuring a Futureproof communications solution for end users all over the world.
Intellian v65 Satellite Communications INT-V65 Features
Remote Access via Aptus Web
Built-in web interface: Remote Upgrades, Automatic Diagnostics

Access all onboard Intellian antennas (including TVRO) through the onboard network
Frequency Flexibility
Standard equipped in Ku-band configuration for top RF performance on all major satellite networks

Convertible to Ka-band operation in as little as 10 minutes for instant conversion to Inmarsat GX or Telenor THOR-7 services
Gyro-free Operation
No required input from ship's heading device

Quick setup to reduce installation time. Automated Bow offset function in Aptus
Global Satellite Library
Preinstalled database of detailed satellite data with one-touch remote updating feature through Aptus

Customizable satellite library for a specific network
Auto Beam Switching (ABS)
Supports ABS via the OpenAMIP protocol from iDirect and Comtech's ROSS Open Antenna Management (ROAM) protocol
Open Platform Compatibility
Fully compatible with all major service providers

Preconfigured modem settings provided in a simple

drop down

menu using Aptus
Optional Dual VSAT Mediator
Ensures uninterrupted broadband communications by seamlessly switching between two antennas

Communicates simultaneously with two Antenna Control Units (ACU). Ideal for redundant antenna environments
Global Support
Over 480 Intellian Service and Support centers around the world
Three Year Global Warranty
Industry leading 3-year parts and workmanship guarantee with a 2-year labor warranty for all antenna systems, ensuring peace of mind with your hardware investment

The new warranty policy (3 year parts and 2 year labor) is only valid for products purchased after 1st, January 2017
space
space
Product Models
| | |
| --- | --- |
| Intellian v65 X-pol only w/o BUC | PN: VG-650 |
BUC Options
| | |
| --- | --- |
| NJRC 4W Standard | Part Number:V1-2101 |
| NJRC 8W Standard (NJT5118NM) | Part Number:V1-2216 |
| NJRC 8W Extended (NJT5118NM) | Part Number:V1-2212 |
| NJRC 16W Extended | Part Number:V1-2213 |
Radome & Antenna
| | |
| --- | --- |
| Radome Height | 104 cm (40.9 inch) |
| Radome Diameter | 90.0 cm (35.5 inch) |
| Reflector Diameter | 65.0 cm (25.6 inch) |
| Weight | 60 kg (132 lbs) Variable w/ RF components |
Stabilized Pedestal Assembly
| | |
| --- | --- |
| Pedestal Type | 3-axis (Azimuth, Elevation, Cross-level) |
| Azimuth Range | Unlimited |
| Elevation Range | -20° to 115° |
| Cross Level Range | ±37° |
RF Performance
| | |
| --- | --- |
| TX Frequency | 13.75 ~ 14.5 GHz Ku-band |
| TX Gain | 37.7 dBi @ Mid band |
| RX Frequency | 10.7 ~ 12.75 GHz Ku-band |
| RX Gain | 36.3 dBi @ Mid band |
| G/T | 15.7 dB/K (Clear Sky, 30° Elevation) |
| BUC Power | 8W EXT (Optional 4W, 8W, 16W) |
| LNB | Intellian PLL LNB |
| Polarization | Linear, Cross-pol only |
Antenna Control Unit
| | |
| --- | --- |
| Dimensions (W × D × H) | 43.1 cm × 38.1 cm × 4.4 cm (17 inch × 15 inch × 1.7 inch) |
| Weight | 3.5 kg (7.7 lbs) |
| Display | 2 line 40 character graphic VFD module |
| Ship's Gyrocompass Interface | NMEA0183 / NMEA2000 |
| Modem Interface | Ethernet port / RS-232C / I / O ports |
| Modem Protocol | iDirect, Comtech, SatLink, Hughes, GILAT |
| Remote Management | Yes |
| Wi-Fi Operation | N/A |
| Power Requirement | 100~240V AC, 50~60Hz, 4A |
Datasheet
| | | | | |
| --- | --- | --- | --- | --- |
| MODEL | v60 | v60Ka | v65 | v80G |
| Radome Dimension(WxH) | 78x84.5cm (30.7x33.3 inch) | 90x103cm (35.5x40.5 inch) | 90x104 cm (35.5x40.9 inch) | 113x121cm (44.5x47.5 inch) |
| Reflector Diameter | 60 cm (23.6 inch) | 65 cm (25.6 inch) | 65 cm (25.6 inch) | 83cm (32.7 inch) |
| Antenna Weight | 59.5 kg (131.2 lbs) | 60 kg (132 lbbs) | 60 kg (132 lbs) | 90.4 kg (199lbs) |
| Elevation Range | -10º~100º | -20˚ to +115˚ | -20˚ to +115˚ | -10˚~110˚ |
| Cross-Level Range | Up to ±30º | Up to ±37˚ | ±37˚ | Up to ± 30˚ |
| Turn Rate | Up to 12˚/sec 5˚/sec | Up to 12˚/sec 5˚/sec | none | Up to 12˚/sec 5˚/sec |
| TX Frequency | 13.75~14.5 GHz Ku-band | 29.00~30GHz Ka-band | 13.75~14.5GHz Ku-band | 13.75~14.5GHz Ku-band |
| RX Frequency | 10.95~12.75 GHz Ku-band | 19.2~20.2GHz Ka-band | 10.7~12.75GHz Ku-band | 10.7~12.75GHz Ku-band |
| TX Gain | 37 dBi @ Mid band | 43.75 dBi @ 29.5 GHz | 37.7 dBi @ Mid band | 40 dBi @ Mid band |
| RX Gain | 35.6 dBi @ Mid band | 40 dBi @ 19.7GHz | 36.3 dBi @ Mid band | 37.6 dBi @ Mid band |
| LNB Pol Control | Cross-pol & Co-pol as standard | Circular, Tx:RHCP/Rx:LHCP | Intellian PLL LNB | Cross-pol & Co-pol as standard |
| Cross-Pol Isolation | >30 dB at beam center | Minimum 35 dB | Linear, Cross-pol only | >35 dB @ beam center |
| G/T | 15.0 dB/K | > 16.2 dB/K (min.) | 15.7 dB/K | 17.7 dB/K |
| | | | | |
| --- | --- | --- | --- | --- |
| MODEL | v85NX | v100 | v100Ka | v130G |
| Radome Dimension(WxH) | 113x123cm (44.5 x 48.4 inch) | 138x151.4cm (54.3x59.6 inch) | 138x151.4cm (54.3x59.6 inch) | 165.2x168.9cm (65x66.5 inch) |
| Reflector Diameter | 85cm (33.5 inch) | 103cm (41 inch) | 103cm (41 inch) | 125 cm (49.2 inch) |
| Antenna Weight | 96kg/211.6lbs | 127.4 kg (280.8 lbs) | 128 kg (282lbs) | 149.7 kg (337 lbs) |
| Elevation Range | -20˚~115˚ | -20˚~115˚ | -20˚~115˚ | -20˚~120˚ |
| Cross-Level Range | ±37˚ | Up to ±37˚ | Up to ±37˚ | Up to ±37˚ |
| Turn Rate | Up to 12˚/sec 5˚/sec | Up to 12˚/sec 5˚/sec | Up to 12˚/sec 5˚/sec | Up to 12˚/sec 5˚/sec |
| TX Frequency | 13.75~14.5GHz Ku-band | 13.75~14.5GHz Ku-band | 29~30GHz Ka-band | 13.75~14.5GHz Ku-band |
| RX Frequency | 10.7~12.75GHz Ku-band | 10.7~12.75GHz Ku-band | 19.2~20.2GHz Ka-band | 10.95~12.75 GHz Ku-band |
| TX Gain | 40.7dBi @ 14.25GHz | 41.6 dBi @ Mid band | 47.7 dBi @ 29.5GHz | 43.2 dBi @ Mid band |
| RX Gain | 38.9dBi @ 11.7GHz | 39.4 dBi @ Mid band | 43.7 dBi @ 19.7GHz | 42.1 dBi @ Mid band |
| LNB Pol Control | Intellian PLL LNB | Cross-pol & Co-pol as standard | Circular, Tx:RHCP/Rx:LHCP | Cross-pol & Co-pol as standard |
| Cross-Pol Isolation | >35 dB @ beam center | >35 dB @ beam center | Mininum 35dB | >35 dB @ beam center |
| G/T | 18.3 dB/K | 19.6 dB/K | >20.3 dB/K (min.) | 20.4 dB/K |
MODEL
v240
v240M
v240MT Dual-band
v240MT Tri-band
Radome Dimension(WxH)
330x352cm (130x139 in)
390x414 cm (153.5x162.9in)
391x434 cm (154x169.5 in)
391x434 cm (154x169.5 in)
Reflector Diameter
240cm (94.5 inch)
240cm (94.5 inch)
240cm (94.5 inch)
240cm (94.5 inch)
Antenna Weight
670kg (1477lbs)
880kg (1940 lbs)
960kg (2116 lbs)
960kg (2116 lbs)
Elevation Range
-15˚ to +120˚
-15˚~120˚
-15˚~120˚
-15˚~120˚
Cross-Level Range
Up to ± 30˚
Up to ± 30˚
Up to ± 30˚
Up to ± 30˚
Turn Rate
Up to 12˚/sec 5˚/sec
Up to 12˚/sec 5˚/sec
Up to 12˚/sec 5˚/sec
Up to 12˚/sec 5˚/sec
TX Frequency
C=5.85~6.425GHz
Ku=13.75~14.5GHz
C=5.85~6.425GHz
Ku=13.75~14.5GHz
C=5.85~6.425GHz
Ku=13.75~14.5GHz
C=5.85~6.425GHz
Ku=13.75~14.5GHz
Ka=27.5~30.0GHz
RX Frequency
C=3.625~4.2GHz
Ku=10.95~12.75GHz
C=3.625~4.2GHz
Ku=10.7~12.75GHz
C=3.625~4.2GHz
Ku=10.7~12.75GHz
C=3.625~4.2GHz
Ku=10.7~12.75GHz
Ka=17.7~20.2GHz
TX Gain
C=41.7 dBi/Ku=48dBi
C=41.9 dBi/Ku=49dBi
C=41.9 dBi/Ku=49dBi
C=41.9 dBi/Ku=49dBi
RX Gain
C=37.7dBi/Ku=48.6GHz
C=38.6 dBi/Ku=48dBi
C=38.6 dBi/Ku=48dBi
C=38.6 dBi/Ku=48dBi
LNB Pol Control
C=Cir&Lin/Ku=Linear
C=Cir&Lin/Ku=Linear
C=Cir&Lin/Ku=Linear
C=Cir&Lin/Ku=Linear
Cross-Pol Isolation
>35dB @ beam center
>30dBc Typical
>30dBc Typical
>30dBc Typical
G/T
C:20dB/K / Ku:28.2dB/K
C:20.3dB/K,Ku:28.2dB/K
C:20.3dB/K,Ku:28.2dB/K
C:20.3dB/K,Ku:28.2dB/K